Ladies, gather around! It's high time we got knee-deep into the secret minefield of men's relationship red flags. Yes, you heard right. Men have their own set of red flags, and they're waving them high and proud just like we do. This isn't about blame or stereotypes but a little insider info from the other side of the dating fence.
So, hold on tight; this ride might get a little bumpy, but that's relationships for you, right? Buckle up, and let's dive headfirst into the top 20 relationship red flags that make men want to pull the eject handle.
Insecurity Overdrive
If she needs you to validate every outfit, approve every Instagram post, and affirm her worth every hour, you're dating an emotional vampire.
Phone Intrusion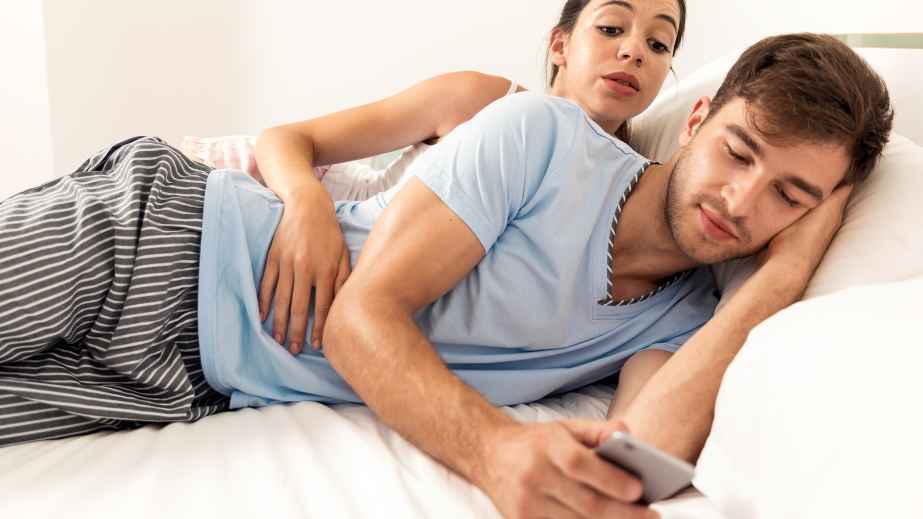 When she's more interested in your phone than you… and not in a cute, "what game are you playing?" sort of way. If she's snooping through your phone, it's a red flag that her trust levels are dangerously low.
The Green-eyed Monster
If she gets jealous of your female colleagues, friends, and family members, that's a massive red flag!
All Exes Are Psycho
If all her exes are supposedly "crazy," maybe it's not them. I am just saying! If she's handing out psycho badges to all her exes like Halloween candy, tread cautiously, my friend. It's one thing to have a rogue ex who went off the deep end, but if it's a repeating pattern, it's a glaring red flag.
You might want to consider the possibility that she's not picking the wrong guys every single time. It could be that she's the common denominator in the Psychoville equation. So unless you're itching to be the next contestant on the "My Ex is a Psycho" show, you might want to rethink this relationship.
Disdain for Your Hobbies
Have you ever met a woman who rolls her eyes at your collection of vintage comic books or scoffs at your Sunday morning ritual of watching car racing with a bowl of cheesy nachos? Fellas, we're talking about the "Disdain for Your Hobbies" red flag fluttering in the relationship wind. Now, she doesn't need to share your love for 1960s Batman comics or understand your obsession with Formula 1, but a healthy dash of respect and interest in your passions is non-negotiable.
So, if she's constantly belittling your hobbies, it's high time you questioned if she's the Lois Lane to your Clark Kent. Your love for late-night gaming or Sunday football isn't up for negotiation either.
Cancelling Plans Consistently
If she's consistently ditching plans, she's showing you where her priorities lie. Ladies, your man is a real-life human being, not a flaky pastry – so don't treat him like one! If you've found yourself canceling plans more often than keeping them, you might as well be waving a red flag in his face.
Consistently canceling plans is like telling him without words that he's way down on your priority list. Do you know what most people like? Reliability and a bit of predictability. It's okay to reschedule once in a blue moon – hey, life happens, right? But if your guy can't count on you to show up when you say you will, he might think he can't count on you for much else.
No Respect for Boundaries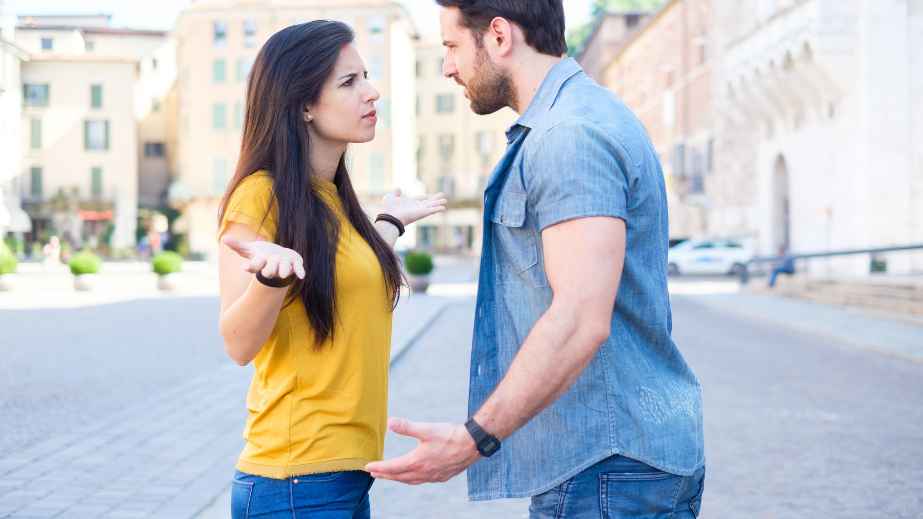 Alright, gentlemen, let's talk boundaries – now, these aren't just those old fences around your grandma's vegetable garden. These invisible lines define your comfort zone, your `me-time,` and your sanity! If your lady friend crosses these willy-nilly, it's a massive red flag!
Maybe she's snooping through your phone while you shower or turning up unannounced at your guy's night out. It's not about trust; it's about respect. A healthy relationship needs a healthy dose of boundaries. Without them, you might as well be wearing your heart on a platter – an all-you-can-eat buffet of your peace of mind!
The Blame Game
If she constantly blames you for things going wrong, even when it's not your fault, beware! Meet "The Blame Game," everyone's most minor favorite party event. It's when your lady love, rather than admitting her mistakes or sharing responsibility, finds it easier to pass the buck on to you. Yes, you, the unsuspecting chap who probably just wanted to enjoy his coffee in peace.
If she's always pointing the finger your way without a hint of self-awareness or humility, consider it a bright red flag waving in the wind. Dodging accountability is not just irritating – it's a first-class ticket to resentment city. Proceed with caution, gentlemen.
Lack of Support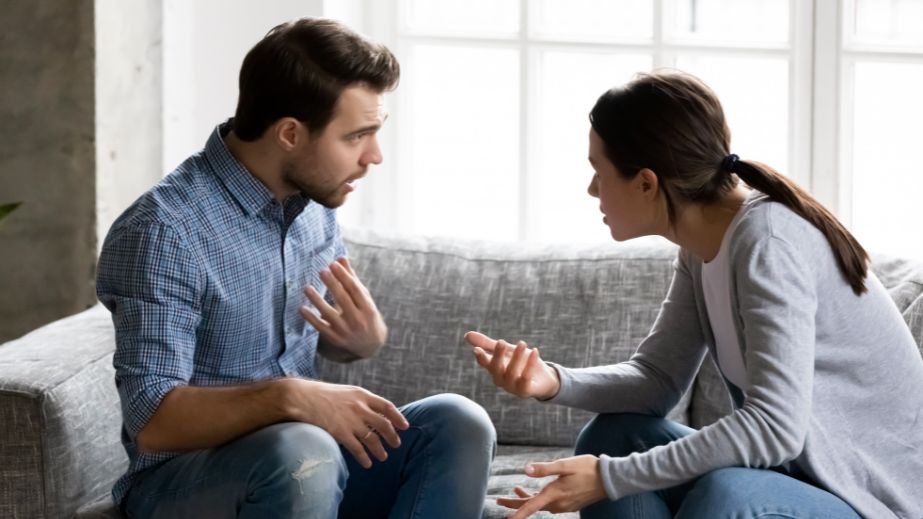 If she's not supportive of your personal or professional goals, that's a red flag. This isn't about not helping with household chores (though that's a biggie, too!). It's about emotional support that comes as a listening ear or a comforting word after a hard day.
Men need a supportive partner just as much as women do. So, ladies, if you're too busy to lend an ear or are often dismissive of his problems, your man might see this as a glaring red flag. Remember, a relationship is a two-player game, and 'support' is not just a bra feature.
Overly Controlling
Now, let's talk about Madame Control-freak. Yes, she's trying to micromanage every minute of your day. While it's great to have someone who cares about you, trying to control every aspect of your life is a different ball game.
It's like living with a strict school principal who's also your romantic partner – not fun, right? Remember, fellas, love is about freedom, not turning your relationship into a dictatorship. If she needs to control everything, from your clothes to your friends, it's a warning signal.
Drama Queen
Beware of the Drama Queen, gentlemen, unless you're ready for a daily soap opera! These ladies thrive on chaos and love turning minor incidents into major productions. Broken fingernail? Apocalypse incoming!
Late text reply? Better prepare an Oscar-worthy apology because you've just shattered her world. If the constant mood swings, exaggerated stories, and theatrical sighs give you more stress than Game of Thrones' final season, it may be time to reconsider if this is your ideal leading lady.
Tantrums Over Small Things
When your significant other has a meltdown over the type of cheese in their sandwich, it's more than just a question of dairy preference. We're all entitled to our quirks, but frequent tantrums over small things are akin to navigating a minefield daily.
It's a sign that they may not have the maturity or emotional capacity to handle life's minor inconveniences. So, tread carefully unless you're gunning for a role in a soap opera!
Never Apologizes
Oh, the never-apologizer, a true master in the art of deflection. This one's a classic, gents. She could accidentally set your favorite shirt on fire while ironing, and somehow, it's your fault for not having a fire extinguisher at arm's length.
This red flag waves gallantly in the wind, signaling an apparent lack of accountability. A simple "I'm sorry" can mend many a mistake, but the absence of it? It's like putting out that shirt fire with a squirt gun. Good luck with that!
No Future Plans
If she avoids discussing the future or making plans, it might be a sign that she doesn't see you in it. This isn't to say that one or two dates will guarantee long-term success, but a lack of dialogue can hint at her intentions.
If she's not keen on discussing potential milestones like meeting your parents, six-month anniversaries, or shared vacations, ask yourself why.
Takes but Never Gives
In relationships, it's all about give and take, right? But what if you're always on the giving end while she's perpetually at the receiving end with a "more, please" signboard? It's like running a marathon with a backpack full of rocks.
Her demands might run the gamut from emotional support to financial assistance, but if she never returns the favor, you might start feeling more like a human ATM than a love partner. Remember, it's a relationship, not a charity. Balance is key!
Negativity Nelly
Hold onto your hats, gentlemen, because Negativity Nelly embodies gloom and doom. You know the type – she can spot a cloud in any silver lining and knack for turning a cheery gathering into a sob-fest.
Nothing is ever good enough for her. The pizza's too cold, the movie's too long, the weather's too hot – she's got an endless list of complaints. If you are dating a Negativity Nelly, brace yourself for a roller coaster of pessimism.
Lack of Trust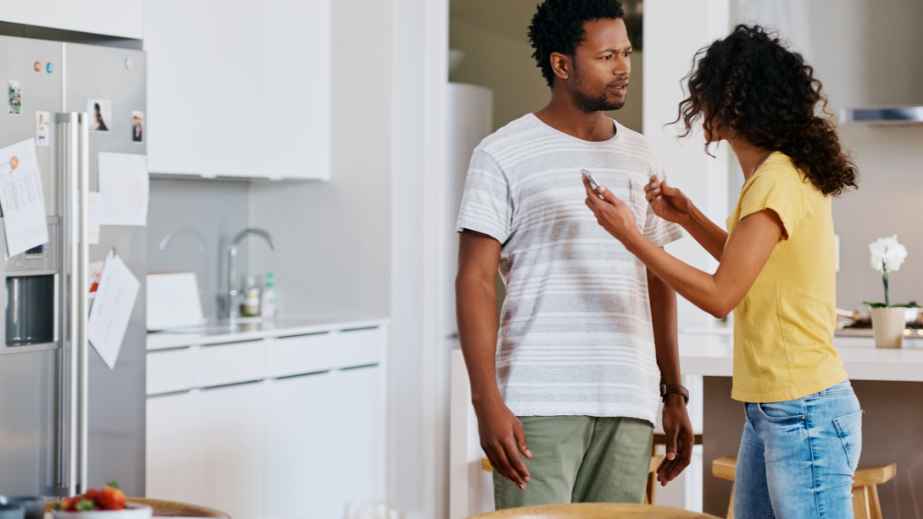 Nothing gets a man packing faster than the suspicion of insincerity. Trust is the foundation of any solid relationship, and when it's missing, it's like being in a canoe without a paddle – you're not going anywhere fast.
If you're always looking over your shoulder, questioning every text message, or doubting each word that comes out of your partner's mouth, that's a giant, waving red flag. Men crave authenticity, and a lack of trust can turn a romantic fairytale into a never-ending courtroom drama episode.
Frequent Guilt Trips
Buckle up for a guilt trip because this one is a real doozy. If she's constantly playing the blame game and making you feel like a villain for harmless human mistakes, it's time to raise an eyebrow.
Frequent guilt trips are like those annoying toll roads on a scenic drive. They keep popping up, draining your emotional wallet and adding unnecessary stress to your journey. Remember, a healthy relationship should feel like a free-flowing freeway, not a toll road!
Lies, Big or Small
Let's talk about fibs, falsehoods, and the fascinating world of fiction presented as fact-lies. Big or small, they're like termites, gnawing at the foundation of a relationship. Have you noticed her swearing she was on a salad diet but discovered a hidden stash of candy wrappers? That's a red flag!
Don't dismiss those little lies, gentlemen. They might seem insignificant, but they're often a telltale sign of bigger mistruths lurking beneath the surface. So, keep your eyes wide open and your ears perked up!
Lack of Communication
Ah, the silent treatment: the classic, ice-cold, and utterly frustrating silent symphony that can drive any man to insanity. Men crave a healthy and lively exchange of thoughts and feelings like anyone else. When communication dwindles to non-existent, it's like living in an emotional ghost town.
Everyone needs quiet moments, but a relationship is not a game of charades. Open up, speak freely, and let the words flow – because nothing screams 'red flag' louder than a love life where "silent night" becomes a daily anthem.
Source: Quora. 
12 Innocent Habits That Reveal a Lot About Your Personality
Who knew that the little things we do, often unconsciously, could speak volumes about our personalities? From how you hang your toilet paper roll to how you handle your smartphone, these tiny routines are like puzzles waiting to be solved. After all, 'The devil is in the details,' or in this case, 'The personality is in the peculiarities.' So, buckle up!
12 Innocent Habits That Reveal a Lot About Your Personality
8 Best Dog Backpacks for Hiking and Outdoor Adventures
Dog backpacks are designed to fit comfortably on your dog's back, freeing up your hands for carrying other things. In addition, they typically have multiple pockets for storing food, water, and toys, and some even have built-in bowls for easy feeding on the go. This post provides all the information you need to select the best dog backpack for your furry friend as clearly and concisely as possible.
8 Best Dog Backpacks for Hiking and Outdoor Adventures
15 Harsh Realities About Life No One Wants to Admit
Welcome, brave souls, to life's rollercoaster ride! Buckle up because we're about to dive into some cold, hard truths that might make you uncomfortable or squirm. But fear not; recognizing these realities is the first step to conquering the chaotic cosmos we call existence.
15 Harsh Realities About Life No One Wants to Admit
When Office Drama Goes Overboard: This Woman Gives Nosy Coworker a Verbal Shutdown Due To Fiery Personal Finance Questions! Can She Defend Her Epic Outburst?
A woman in her thirties has been hitched to her college sweetheart. Over time, their financial situation has sky-rocketed thanks to her husband's killer career as a quant PM. But with great wealth comes pesky nosiness, like that one chatty co-worker who can't keep their beak shut.
When Office Drama Goes Overboard: This Woman Gives Nosy Coworker a Verbal Shutdown Due To Fiery Personal Finance Questions! Can She Defend Her Epic Outburst?
Is She Pushing the Boundaries? Lady Sparks Dinner Table Drama by Calling Boyfriend's Mom Fat
In the tangled web of love, a 22-year-old lady ponders her relationship with her boyfriend, whom she encountered approximately two years ago. Alas, a dark cloud hangs over their sunny prospects – the boyfriend's mother, cryptically referred to as Mary. Time for a dash of melodrama! 😜
Is She Pushing the Boundaries? Lady Sparks Dinner Table Drama by Calling Boyfriend's Mom Fat