What is Calming Dog Bed?
Dogs are usually very happy creatures; however, they can have their anxieties.
Dogs might have anxieties about being alone or being left in a particular place or situation; otherwise, many dogs might be anxious because of changes to their routine. And there is no better way to treat this than to help them feel safe and secure by getting them the best calming dog bed.
Many Calming dog beds are on the market today, and it can be hard to decide which one will work best for your four-legged friend. For this reason, we took a look at several popular styles, from elevated cot-style beds to fleece-lined ones, and investigated the best-rated products on Amazon.com and other trusted websites.
We intend to make the process of choosing a dog bed easier for you by presenting our findings in a straightforward review format. But first, let's get into why Calming dog beds are suitable for your pet.
---
What Are The Different Types Of Calming Dog Beds?
There are different types of anti-anxiety dog beds that you can buy, and we've mentioned some of them here.
Many of the beds designed for dogs who suffer from anxiety come with soft cushioning inside, which makes it feel very cozy for your dog, plus a cover around this so they can rest their head on it if they want to.
Another type of dog calming bed is a form of a fleece blanket which is also often made with a cushioning layer on the inside. Some have a little pocket where you can put your dog's favorite toy to have something to cuddle up with.
We want to mention that some dog beds are also elevated, which means that your dog can sleep at a raised level. This might be good for some dogs because it makes them feel less exposed and vulnerable and offers head and neck support.
---
What Are The Benefits Of Calming Dog Beds?
There are many benefits of anxiety beds for dogs, but here are the main ones- Dogs with anxieties can have a safe place to relax and be away from everything.
The anxiety bed means that they'll always have a comfortable, familiar place to sleep, so it will help them get over any fears of being somewhere new or trying something new.
Anxiety-calming beds for dogs are often very cozy with soft cushioning, so your dog will love curling upon them. They are also portable, so you can take them with your dog if they need to come on trips with you.
---
Best Calming Dog Beds
This Solid Wood Frame calming dog bed is covered in soft micro suede fabric, and the pet bed has a plush pillow top on it.
The Big Barker 7-inch pet bed is extra-large and has enough cushioning to support dogs up to 150 pounds. However, it's pretty heavy at around 21 pounds, so it will stay put when your dog wants to lounge on it.
The Big Barker calming dog bed comes with a 90-day money-back guarantee and a 10-year warranty which means that you can be sure that your dog will love this calming bed. It's also very durable and comfortable, plus it's waterproof, so it is perfect for inside or outside use.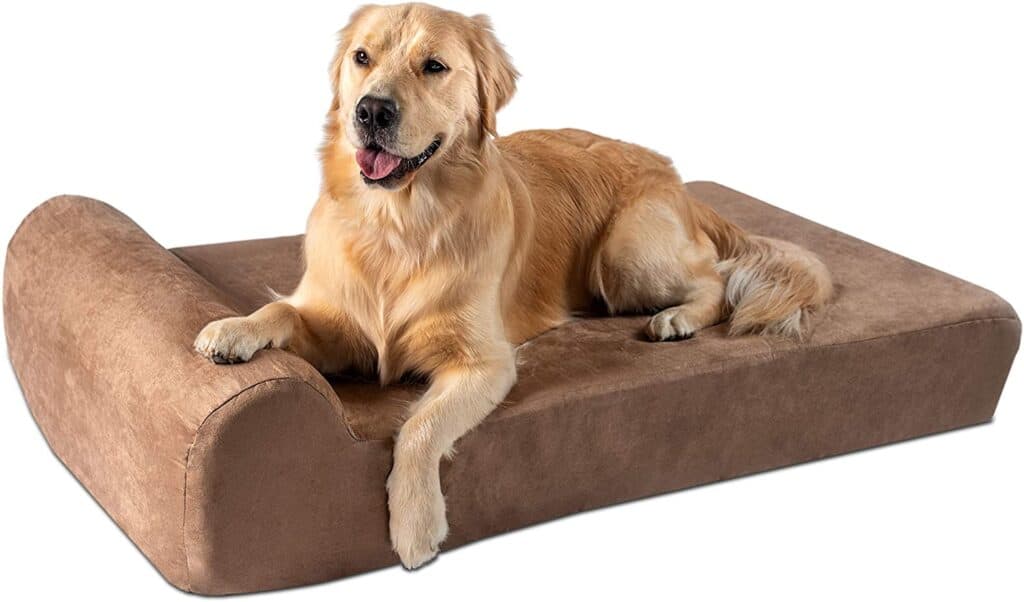 Key Features
---
This cave is perfect for your canine to snuggle up, nap, or even just relax. It measures 2 feet long by 1 foot wide by 17 inches high, which means that even the bigger breeds might fit inside it comfortably.
It is a warming luxury dog bed for your beloved pets, especially small puppies.
Key Features
---
This calming bed is a more affordable alternative to the Big Barker, and it's also very comfortable. It's also important to note that this calming bed comes in four different sizes, so you can pick one that will fit your pooch perfectly.
It has a memory foam interior, so your canine will find the perfect position to relax in. This bed is also machine washable, which is very convenient.
Key Features
---
If your puppy likes car journeys, this is the bed for them, it also has a two-seater option, so if you have two dogs, they can sit next to each other and cuddle up.
It's also machine washable, making it super easy to clean too.
Key Features
---
If you want a relaxing and luxurious morning for your furry friend, then a bolster calming bed (free of skin-irritating chemicals) is best suited to them. This bed comes in four sizes and has an aluminum frame that provides support for your pet.
It's also made of pet-safe materials; in other words, it's chew-proof, which means that if your pup likes to chew their bed as mine does, then this dog bed should put a stop to that.
Further, it has a non-stick surface, making it easy for them to get in and out of the dog bed when they want to.
Key Features
---
This calming dog bed is extra-large and comes with an orthopedic mattress that helps to provide head and neck support for your pooch. It's 100% memory foam and has a cooling gel, which helps your canine relax, especially after a long day of playing.
The dog bed itself has thick Sherpa Fleece material on both sides that feel soft against the skin while still offering enough support when sleeping upright (or lying down.)
Key Features
---
Your dog can get anxious on car trips too. Therefore, it's essential to provide them with a calming dog bed, especially during long trips.
This model comes in many different colors and sizes so that you can find a perfect fit for your dog and car. It also has a rope which is an excellent feature as it will stop the seat from budging about during a journey.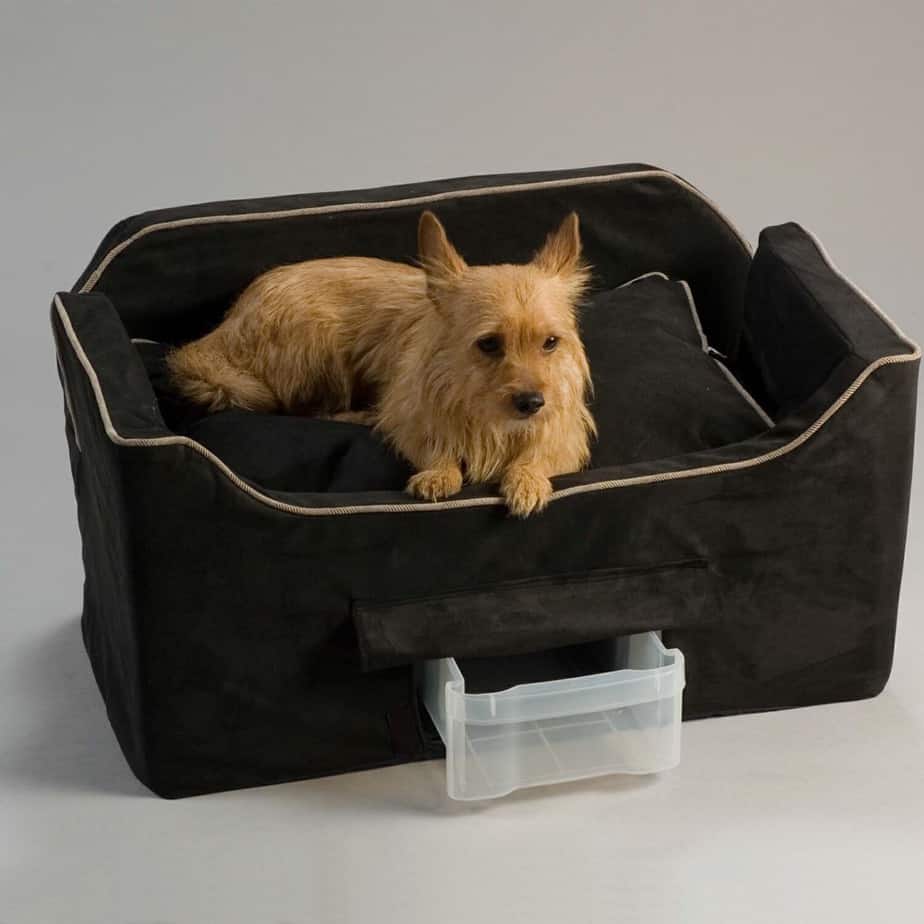 Key Features
---
This bed is extra fluffy in four sizes, making it super comfy for your canine friend to curl upon. It's important to note that the bolster on this dog bed is made of durable mesh material, so it won't be damaged by your dog using its paws or teeth on it.
Key Features
---
This wraparound dog bed comes in four sizes and has a plush 360-degree oval bolster making it very comfortable for your puppy. It also has a poly-cotton twill exterior which is very easy to clean and maintain. In addition, any piece of pet furniture needs to be as easy as possible to keep clean, and this bed fits the bill.
This dog bed is a good option for any dogs with anxiety issues or who just love to snuggle up in a warm and comfy bed.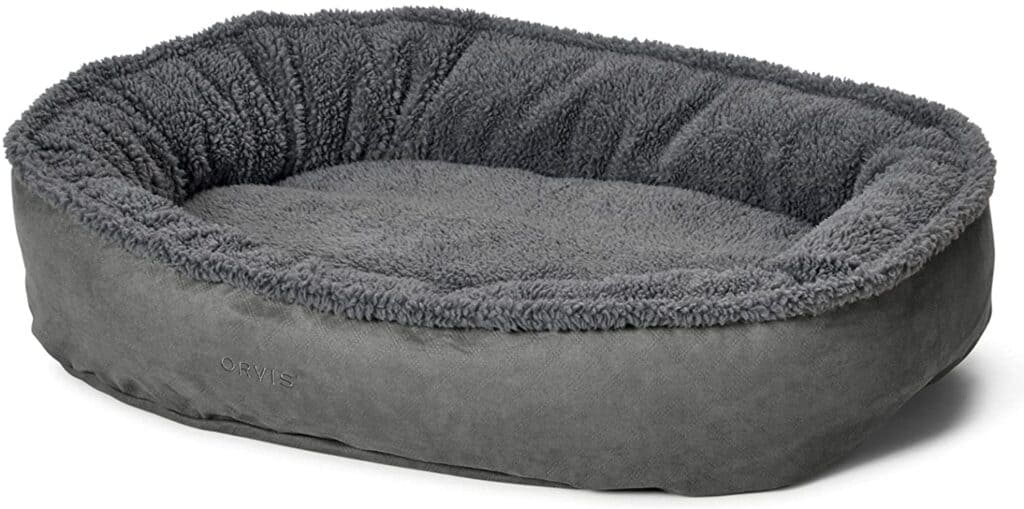 Key Features
---
The Best Friends faux fur by Sheri Original Calming Donut Dog Bed can handle dogs up to 150 pounds and comes in several sizes. It's perfect if your pet has been struggling with separation anxiety or fearfulness changes lately due to their new environment.
The fibers inside are supposed to maintain their loft and provide more support than regular dog beds without compromising comfort levels. The shape of these dog donut cuddler beds is ideal for pets who feel squinching in the dark or while alone.
The raised rim on this dog bed provides your pet with a sense of security, muscle pain relief, and restful sleep.
Key Features
---
This bed is four sizes and is perfect for any dog living through the winter months. It has a built-in heater that provides your canine with warmth and an automatic shut-off system, so you won't have to worry about overheating or fire safety.
It has a quilted exterior which is easy to clean, so your dog will always have a fresh side to relax on.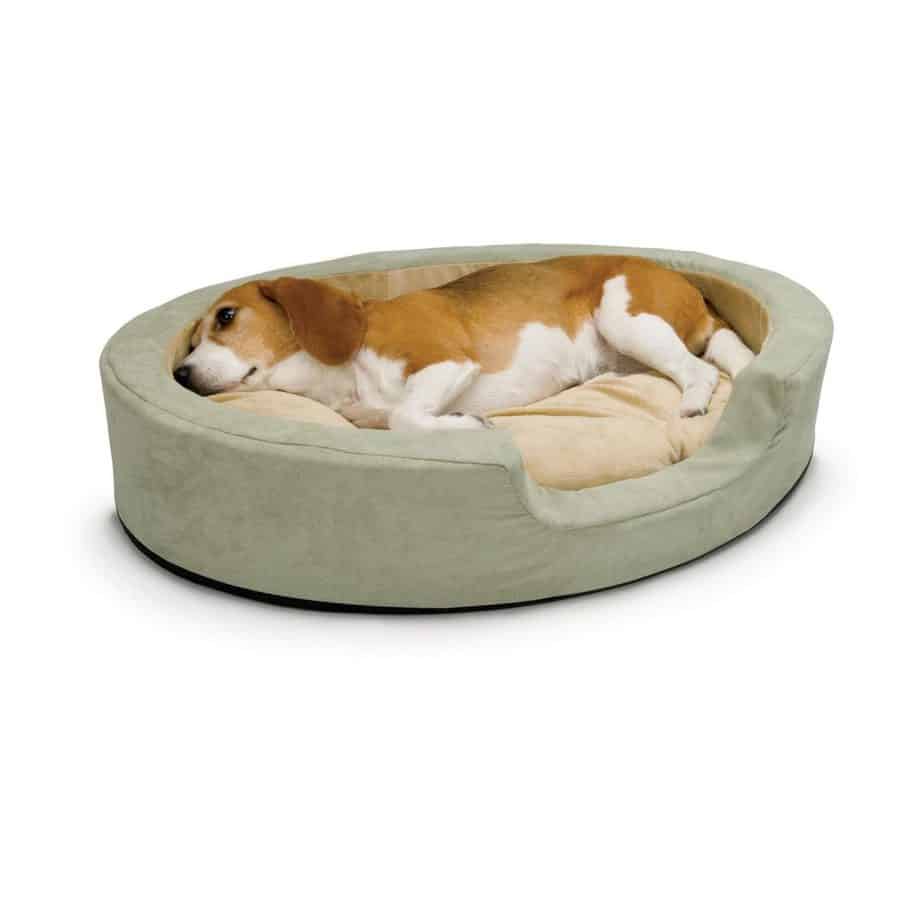 Key Features
---
This bed comes in two sizes and is a soft alternative to the more traditional dog beds. It can be used as a bed, a den, or even just as a secure place for your pooch to relax when they want to get off of the floor.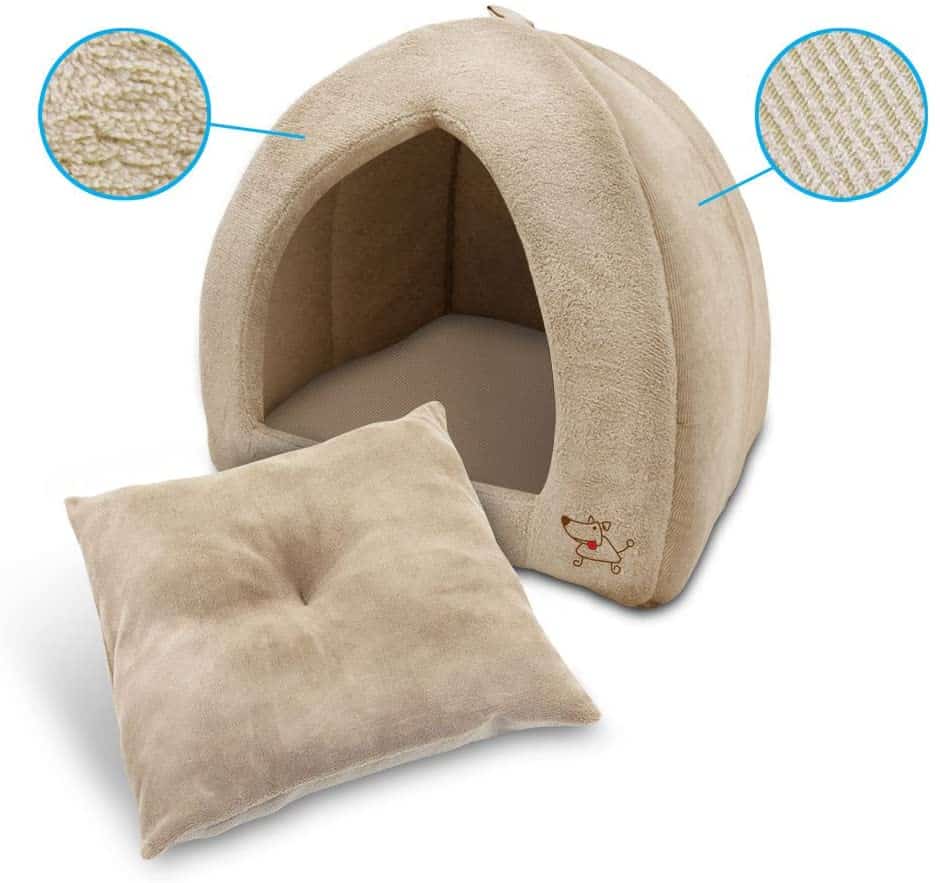 Key Features
---
This dog bed is another bedroom with a very soft interior; it also has a waterproof exterior. It is great if your dog likes to chew on their bed. It comes in four sizes and offers you lots of different choices as far as the color of the cover goes.
Key Features
---
Does My Dog Need A Calming Bed?
If your dog looks pretty anxious in certain situations, then it might be time to get them an anxiety bed.
As we've mentioned above, the bed will give them a safe place to feel secure and comfortable even if they are in a new environment or scared about something new.
We should mention that you should take your dog to the vet if there is anything physically wrong that they need to have treated.
If you've got a dog that suddenly becomes anxious when something strange happens, then it's important not to punish them because this can make things worse.
---
How Do Calming Dog Beds Work?
Calming Dog Beds Can Give Your Dog a Safe Place to Relax. It might sound a bit strange at first, but some dogs get anxious when they're on their own, but they do need to be left alone for a while, or they get nervous when they are in certain places.
One example of this is being left alone in the garden because it might remind them of being locked away in their cage at the place where you got them from. If your small dogs have an anxiety issue, you must give them a designated safe zone to go to when they want to relax and be away from everything.
A place where they can curl up when they feel anxious is something that anxiety dog beds achieve. These calming dog beds are often made with many cushioning or padding with soft pet-safe materials on the inside, so your dog will feel very comfortable in them.
In fact, most dog owners say that their dogs absolutely love these calming beds. The great thing about anxiety dog beds is that they are also very portable, so if your dog needs to come with you when you go on vacation or something similar, then the mattress will easily fit in the car.
In addition, it means that your dog will be able to feel safe and secure whenever they want.
---
How To Choose The Best Calming Dog Bed For your Pet
1. Material
There is nothing like curling up in a nice and warm bed that has your favorite material on the exterior.
It's crucial for this to be easy to clean, such as faux shag fur, as some dogs can be pretty messy, so it helps if you can just put the cover in the washing machine when it gets dirty.
2. Size
It's a good idea to make sure that the bed is big enough for your dog to stretch out on but also provide them with a cozy and secure feeling when they sleep in it.
I have found that she likes to relax in a small space with my dog, so it can be a bit of a hassle when I get her a too-big dog bed.
3. Shape
Most dogs like to curl up in the fetal position; this means that if your puppy sleeps like this, then you should consider getting them a circular or oval-shaped bed as they will be able to do this quite easily inside of it.
You don't want to choose something too big, or your dog will end up using it as an area to play in rather than relax.
4. Price
You should take this into account before you decide on which dog bed to buy for your dog. But important to remember that not all expensive beds are made equally; sometimes, the cheaper ones can be just as good if not better for your pup.
It's better to spend a bit extra on something that will last than buy something cheap just because you're not sure about the quality.
5. Heating Elements
If your dog gets anxious during certain times of the year, then it might be good for you to purchase an anti-anxiety bed with heating elements inside; this means that your pup will always be toasty and warm during the cold winter months.
6. Removable Covers
Your dog might like to chew on their bed; this is especially true if they get anxious and tend to want to take out their frustrations on something; it can be a good idea to purchase a bed with removable inner covers; this way, you can just change them out when they get dirty.
Just make sure that the covers are easy to wash and dry before you attempt to put them back on for your pooch.
7. Durability
A bed like this needs to be made from quality materials. After all, if it breaks easily and has to be replaced often, then you might as well not even bother getting one in the first place.
I would recommend choosing a dog bed made by a company with a good reputation because they will usually make durable products that last for a long time.
8. Chew Proof Cover
If your dog likes to chew on their bed, then it might be a good idea for you to purchase a dog bed with a chew-proof cover; this way, they won't be able to do any real damage to their dog bed.
It's important to remember that even though your dog likes to chew on things doesn't mean that it is normal behavior, so doing what you can to teach them not to do this is a good idea.
9. Style
It's important to consider what kind of style you want as far as the cover goes. After all, you should choose something that suits your décor and home quite nicely; it can be an excellent way to express yourself and make your dog feel at home.
This is especially important if you have guests over often, they will appreciate the effort you put into your home. In addition, it can make them feel more comfortable around you.
10. Washability
It's a good idea to purchase something easy to wash because this way, you won't have to worry about how dirty it gets when your dog spends most of its time on it.
11. Guarantee
Some companies offer some type of guarantee for their dog beds; if you are interested in purchasing a dog bed that has this, it might be good to see how long the warranty lasts and what is covered by it.
Some dogs don't seem very comfortable on a dog bed; sometimes, it's a good idea to try and figure out why that is the case before you give up on your quest.
12. Your Dog's Comfort
At the end of the day, the most important thing is to make sure that your dog is happy with their dog bed; if they're not, it might be a good idea to take a second look at it and figure out why that is the case.
Make sure that they enjoy laying on it, as this will make them want to use their dog bed more often; if you follow these tips, you should have no problem finding a dog bed that your dog enjoys using.
---
Conclusion
As you can see, there are plenty of options when it comes to choosing the right dog bed for your canine friend. I've tried to include all different types of mattresses so that no matter what your preference is, you should be able to find a dog bed that will suit your needs.
It's essential to remember that if you have a large breed dog, they may not fit into some of the smaller dog beds on this list. You'll also want to think about what material you need the dog bed to be made from as it has to fit in with your home décor.
Most are very similar if you're looking for a dog bed for your pet to sleep on. However, if your puppy has anxiety issues or needs some extra support for its joints, in that case, you'll need to find a more specialist dog bed. Remember that it's not just comfort you should consider when choosing a dog bed for your dog; safety is also essential.
If you happen to own two dogs, they each must have their own dog bed, but if space is an issue, it could be better for them to share one bed because this way, they will be able to cuddle up with each other when they sleep.
So there you have it; now that I've shown you what the best calming dog beds are, I'm sure you're well on your way to finding the perfect solution for your canine friend. Whatever type of dog bed you decide to go with, just make sure that it provides them with comfort and support so they will be comfortable using it.