What are the Best Electric Razors for Sensitive Skin?
This is a question that many of us have asked ourselves at one point or another.
Your needs and preferences determine the finest electric shavers for sensitive skin, but there are some factors to consider when shopping for the best electric razors for sensitive skin for both men and ladies. This post will discuss what features you should look for before buying an electric shaver and which brands offer the best options on the market.
The Series 9 of Braun shaver is the most recent and improved version of the beloved German manufacturer's popular Series 7. It is a more powerful and sophisticated cordless shaver, yet it's also an excellent option for men with sensitive skin.
Shaving with this electric razor is a fantastic experience; the foils remain cool throughout use, and the shaver is exceptionally comfortable, even while shaving a three-day beard or more.
The addition of a fourth cutting element, known as a Direct & Cut trimmer, improves the razor's capability to cut longer hairs that grow in various directions, resulting in fewer strokes than previous foil shavers.
Further, Series 9 is particularly commendable in how effectively it provides the closest shave while being extremely gentle on the skin. The flexing head and three-amp system make it easy to use, even for thick or difficult-to-shave hair. As a result, it won't struggle with even the coarsest stubble.
There are several changes to Series 9, all having the same performance. You may pick between a dry-only version like the 9090cc or a wet-and-dry model such as the 9390cc or 9370cc.
The automatic cleaning station is standard on the cc models, whereas it is not available on the s models. The 9390cc appears to be the best choice since it is usually less expensive than other Series 9 cc models and can be used for wet and dry applications.
However, because all Series 9 variants begin with 92 or 93 and have the same functionality, you should choose the one available for the lowest price in your nation. For these reasons, the Series 9 is unquestionably one of the best electric razors for men getting razor burns or having sensitive skin.
Pros
It's incredibly comfy and pleasant on the skin.
Great for thicker, longer, wiry hairs.
Suitable for crude beards.
Fast and powerful.
Cordless razor.
Cons
Very similar to the less expensive Series 7.
Considered a bit of an overkill for light beards and everyday use.
Manual cleaning can be quite difficult.
---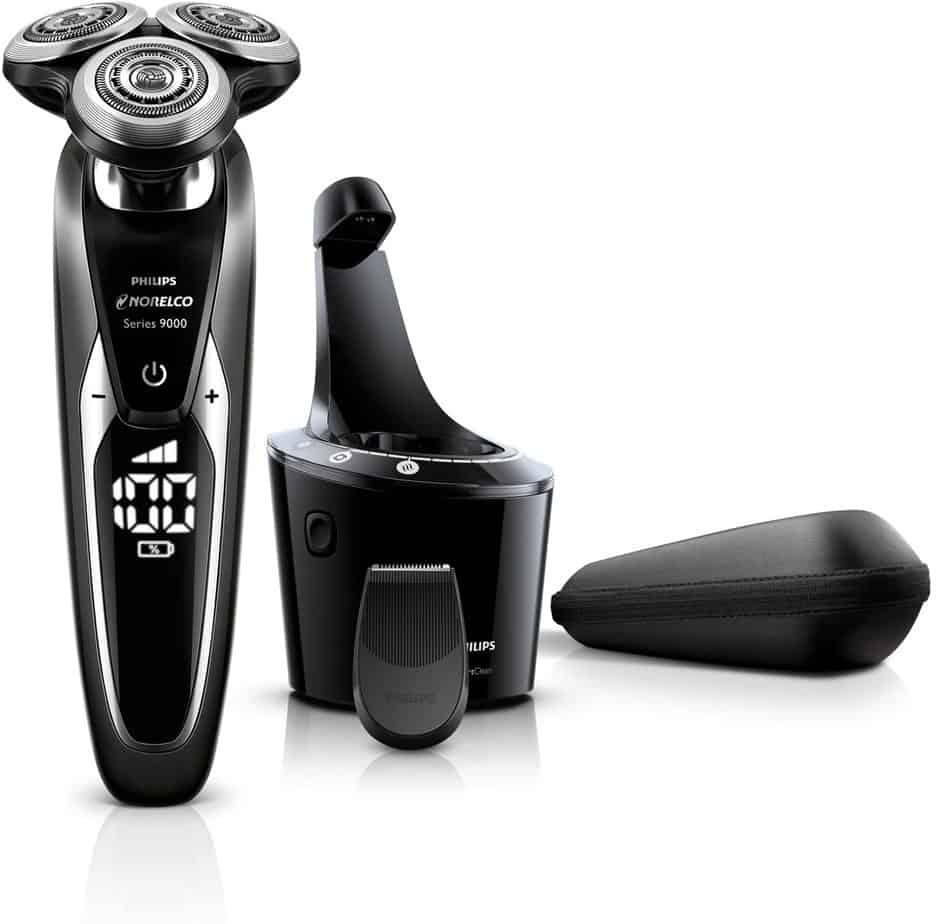 If you're a rotary shaver enthusiast, then this Philips shaver is the best rotary shaver for you. With three shaving heads working together, you can get a smooth shave with a pain-free shave.
Each head can move in eight distinct directions to correspond with the face's angles and has V-Track precision and sharp blades. Additionally, the razor blade cut and shave without pulling or tugging, making them ideal for people with sensitive skin.
Charging time is 1 hour for a full shave, and the shaver comes with a travel case. You can use the Philips Norelco Shaver with wet or dry shave because it's waterproof, which means that you can even use it in the shower. While a pop-up trimmer is standard on most models nowadays, this Norelco shaver includes a detachable precision trimmer.
This shaver is made to be gentle on sensitive skin and can help you style your facial hair with extreme accuracy. The Speed setting may be modified to your personal preference with a Normal or Fast mode, but there is also a Sensitive mode for those who have sensitive skin and need a less aggressive shave.
Featuring an unprecedented level of personalization, this electric shaver offers a superior shave experience that caters to those with sensitive skin. It's the perfect example of high-end technology paving the way for future innovations in every gadget on offer today.
For example, while the detachable trimmer is a helpful add-on, some consumers find removing the shaver head before inserting the trimmer to be inconvenient. But, at this point, it has many more benefits than drawbacks.
Pros
V-Track precision blades.
Three-speed settings, including for Sensitive skin.
Detachable trimmer.
Cleaning station and cleaning tools included.
Cons
Trimmer needs manual insertion.
Recommended: 9 Best Body Lotions For Crepey Skin in 2023
---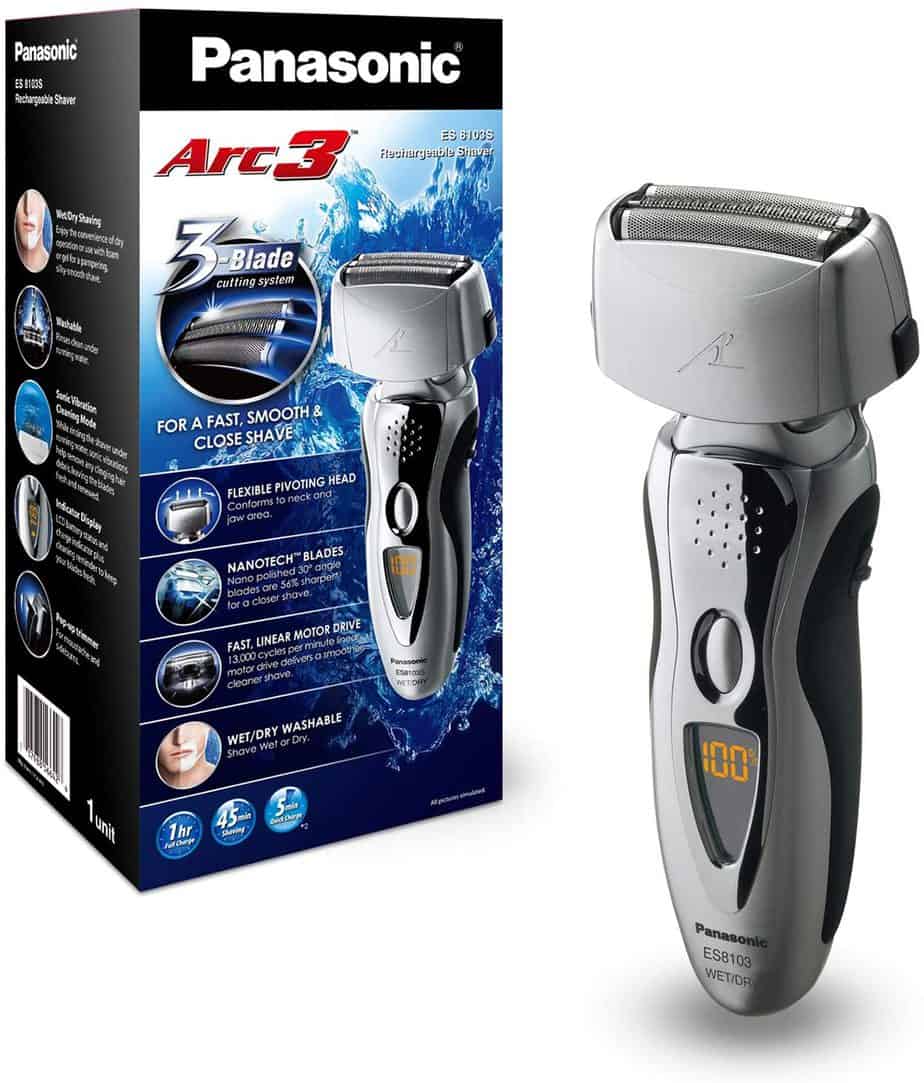 This Panasonic Arc3 model is ideal for sensitive skin types since it performs well at giving a smooth and comfortable shave. Although this shaver is marketed as a wet/dry shaver, it comes with a foil shaver head to protect your skin from irritation.
The shaving head is installed at a 30-degree angle that easily pivots to stay near the skin. Additionally, the shaver head has a three-blade system and a trimming function.
Tough beard hairs are captured by the slit foil, which is then trimmed and shaved away. The Panasonic ES8103S Arc3 also has nanotech blades, which promise a hypoallergenic shave and a safety razor for individuals who are sensitive to any form of metal.
The shaver can be fully recharged in 1 hour and provides 50 minutes of shaving time in the electric razor's battery. Additionally, the powerful motor speed in this Panasonic product makes it a force to be reckoned with.
The Power button delivers a thunderous 13,000 CPM that barely rakes through the skin without pulling or tugging. Although additional models have been brought to market, this Panasonic model continues to enjoy a devoted following.
Pros
Wet/dry shaving is compatible.
Hypoallergenic blades from nanotechnology.
Trimmer with a pop-up.
Includes a travel pouch.
The price is very reasonable.
Cons
There are no cleaning tools or charging stations included.
---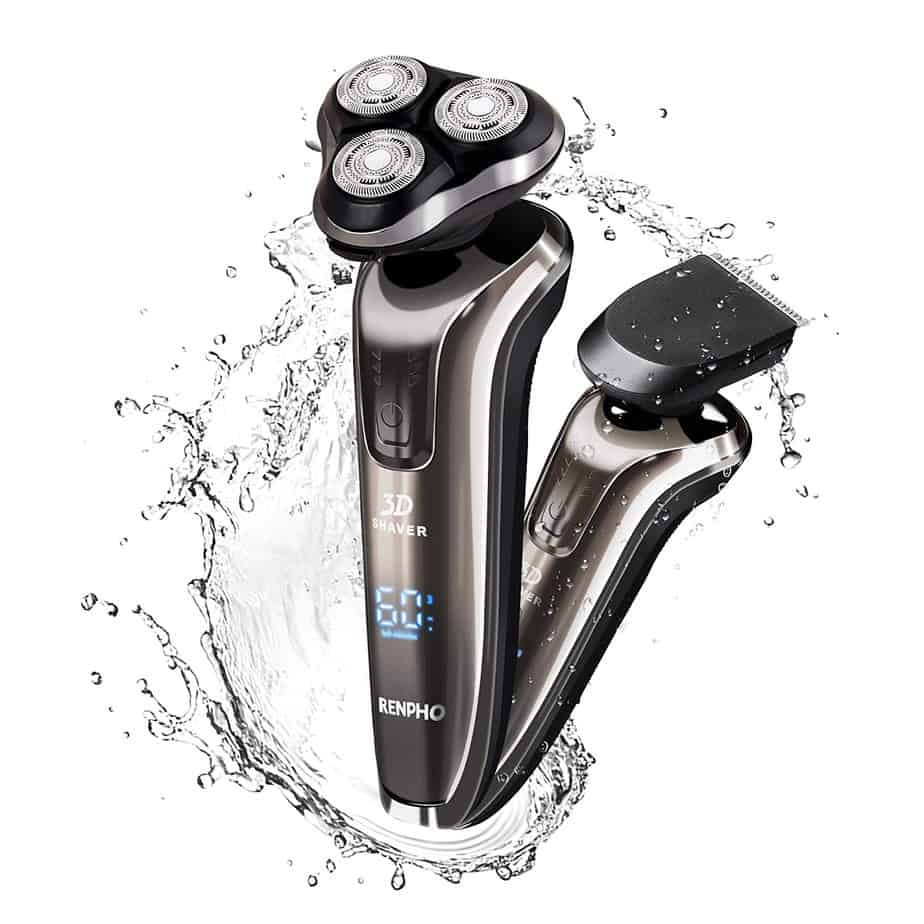 This 2-in-1 multifunctional electric razor can be used as a compact unit for travel or daily; it's a fantastic shaver. The advanced shaving blades have a slitted design that cuts lengthy and coarse beards, while the round hole is designed for shorter stubble.
Further, the three-way heads can swivel easily, allowing the razor to move independently in four directions, so you can have a clean shave to prevent irritation to your skin.
Unlike most electric shavers, the RENPHO's head can be transformed from a shaver to a trimmer in seconds, which is an amazing feature if you tend to use the trimmer a lot.
It comes with a huge battery that can be fully recharged within 1 hour and will provide you with 50 minutes of continuous shaving. This is a wet/dry model with an IPX7 rating, which means that this unit's entire body is dishwasher-safe, allowing you to clean it and use it again, even in the shower.
If you don't have a dishwasher, simply take out the blades and wash them under cold water. You may also clean the non-washable components with a mild soap.
A security lock mechanism also puts the device into safe travel mode after pressing the on/off button for three seconds. Overall, this is a budget-friendly option that will give you a clean, close shave without taxing your wallet too much.
Pros
Lightweight, compact design.
The device's battery life is shown on the bright LCD screen.
It comes with a travel-safe locking mechanism.
Great value for money.
Cons
The shaving components, according to some consumers, aren't sharp enough.
This electric-powered personal grooming tool for women with sensitive skin radiates beauty, from its stunning pearlescent pink casing to its graceful curves.
The Panasonic Electric Razor, which is shown as a wet/dry shaver, is made up of four shaving components and heads that float freely. Further, the blades are perfectly balanced, thanks to the three-blade design.
This keeps hair that is hard to remove from your legs, armpits, and bikini region at bay. In addition, the four hypoallergenic heads are also positioned beneath laser-sharpened blades for a more comfortable shave.
Overall, this razor is an excellent option for all women with sensitive skin.
Pros
The design is sleek and attractive.
Floating heads are independent.
High-quality hypoallergenic heads.
Cons
There is no charging port or carrying case.
---
The Series 7's most popular razor is the Braun CoolTec model, which makes an immediate impact. This beautiful grey unit is designed as a foil shaver with a black charging, renewing, and cleaning station.
Additionally, it is an excellent shaver that may cost more than others in this class but comes with a comprehensive package, leaving nothing to chance. It has been designed with certain special characteristics in mind.
This model, for example, employs the Active Lift Technology, which lifts flat and curly hairs and cuts them in one sweep. The Braun 790cc cut lifts the hairs first, then cuts them, making it simpler to manage curly hair.
In addition, the shaver includes three personalization modes that may be used to match your skin sensitivity and hair type. This shaver, among other things, has been praised for being one of the finest electric shavers for black men.
Because black skin is more sensitive than other hues, it is more prone to problems like ingrown hairs, razor burns, and bumps. Fortunately, with the Braun 790cc's sensitivity settings of Intensive, extra sensitive, and normal modes, you can pick a specific setting that will not harm your skin.
Furthermore, black skin is often accompanied by kinky hair that can be difficult for many shavers to deal with. Given its expensive selling price, it's not surprising that getting refills and replacement parts should not be an issue, yet with this model's extra attachments; it may become one.
Pros
Amazing design.
Excellent quality.
Features an active Lift Technology.
Three distinct personalization settings.
Great warranty.
Cons
Spare parts are not readily available.
Expensive.
---
This electric shaver is unlike others because the motor on this device can automatically adjust its power to the beard's thickness. This feature is unique to a few shavers, and it's why it's ranked as the finest electric razor for coarse beards.
Auto-sensing technology allows you to apply little pressure when using this device. In addition, the Braun 5190cc includes two foil blades and an Actilift middle trimmer.
Also, the shaving components cut and collect flat-lying hairs as they flex in eight directions to provide a close and pleasant shave. Further, this device is completely submersible and suitable for wet or dry shaving.
It also has a textured grip that makes it simple to grasp while in the shower. The Braun 5190cc offers a three-level battery indication showing how much shaving time you have left on the device.
The device's charging base holds a rechargeable battery that charges the razor for one shave. It also comes with the Clean&Charge station, which is used for optimum cleaning and maintenance of the machine. The cleaning mechanism for this unit is alcohol-based, and it works effectively.
Pros
Electric shaver with skin-sensitive technology for excellent skin comfort.
100% waterproof for a refreshing shave.
Flexible in all directions.
AutoSensing motor for efficient shaving in every stroke, even with dense beards.
Clean & Charge Station cleans, lubricates, and dries the shaver hygienically.
The battery display has three levels.
Cons
---
How To Choose The Best Electric Shavers For Sensitive Skin
Keep the following points in mind while shopping for an electric shaver for sensitive skin:
Wet/dry capability
One of the main benefits of an electric razor is that it can be used wet or dry. If you have very sensitive skin, it is best to use it wet, as this will help to lubricate and protect your skin.
Rotating/oscillating heads
Some electric razors have rotating or oscillating heads. This means that the razor moves back and forth or in circles, which helps to get a closer shave and helps to cover more ground quickly and efficiently. However, this rotary electric shaver for extremely sensitive skin may not be as gentle on your face or neck.
Number of blades
Most electric razors have multiple blades, which can help to get a closer shave. However, keep in mind that the more blades there are, the greater your chances of irritation.
As a result, if you have sensitive skin, you should choose a razor with two to four blades.
Cleaning tools
Cleaning an electric razor is very important because it helps to keep it in good condition and prevents bacteria from building up. Look for a model that comes with easy-to-use cleaning tools, such as a brush or self-cleaning system.
Charging station
A charging station allows you to place the electric razor on a recharge unit. This is an important feature for those who often shave, as there are no cords, and they can always keep their shaver charged up and ready to go. It is best to look for an electric razor that comes with a charging station.
Cordless design
A cordless design is another important feature to look for when choosing the best electric shaver for sensitive skin. This will allow you to move freely while shaving and not be limited by a cord. It is also convenient for travel.
Price
Electric razors can range in price from around $20 to $200. Therefore, finding one that fits your budget and offers all the features you need is important.
---
FAQs
1. Why Is My Skin So Sensitive?
There are many reasons why your skin might be sensitive. Some of the most common causes include allergies, dry skin, eczema, psoriasis, and rosacea.
There are also many things that you can do to improve your skin's health, such as avoiding certain ingredients in cosmetics and skincare products. To help keep sensitive skin healthy, look for gentle cleansers and moisturizers without fragrance or harsh chemicals.
If your face is irritated after shaving with an electric shaver, try using a facial cleanser or moisturizing cream. You can also try using a fresh blade to avoid tugging at the hair on your face, which can cause irritation.
If you notice that you are still having problems with your skin even after trying these treatments, It may be best to speak with your dermatologist about prescription medications that can help improve your condition.
2. What Are The Best Shaving Tips For Sensitive Skin
It is best to use an electric razor for shaving as they are gentle on the face. However, before shaving, make sure that your skin has been thoroughly washed with a mild cleanser or soap and warm water.
Pat your skin dry before you begin shaving. Apply a thin layer of shaving cream or gel to the area you will shave. Shave in the direction of the hair growth, using gentle strokes. Rinse your razor frequently during shaving.
After shaving, rinse your face with cold water and apply a moisturizer. You can also use a mild toner, such as witch hazel.
When you shave with an electric razor, make sure to stretch the skin tight and move it gently across the shaver's surface. This will help reduce irritation that may otherwise be caused by tugging or pulling on your skin while shaving.
Don't press too hard while shaving, and avoid going over the same area more than once. If you have sensitive skin, it is best to avoid using a blade razor as they can cause more irritation.
3. How To Reduce Skin Irritation After Shaving?
Once you have finished shaving, rinse your skin with cold water. This will help close the skin's pores and prevent bacteria from entering them. You can also pat your face dry with a clean towel instead of rubbing it, as this may cause further irritation.
Apply an ice pack to reduce redness or swelling caused by shaving. You can also use a cold compress, such as a towel soaked in ice water. Avoid using scented aftershaves and body washes since they may irritate your skin even more.
It is best to go with shaving creams or gels that are scent-free instead. If you have sensitive skin, it is best to use shaving creams or gels that contain natural ingredients, such as aloe vera. It is best to avoid using products like deodorant and body sprays until your skin has completely healed.
---
Final Thoughts
When looking for the best electric razors for sensitive skin, it is important to consider all factors listed above. If you have sensitive skin, look for a model with wet/dry capability and multiple blades.
Also, be sure to choose one that comes with easy-to-use cleaning tools and is cordless. If possible, look for an electric razor with a charging station. Once you find the best electric shaver for sensitive skin, you can enjoy a smooth and irritation-free shave.