What is Best Golf  Travel Bags?
Becoming a seasoned golfer takes skill, effort, and the right equipment to make your mark.
Having a sturdy, durable, and high-quality golf travel bag is what will distinguish you from the noobs on the golf course.
You should also go for a lightweight travel bag, especially if you want to carry it in your hands like a duffel bag.
When searching for one of the best golf travel bags in the market, always consider the denier of the material used, the wheel system present, and the size.
Below is a list of the top-rated golf travel bags.
Top picks of the Best Golf Travel Bags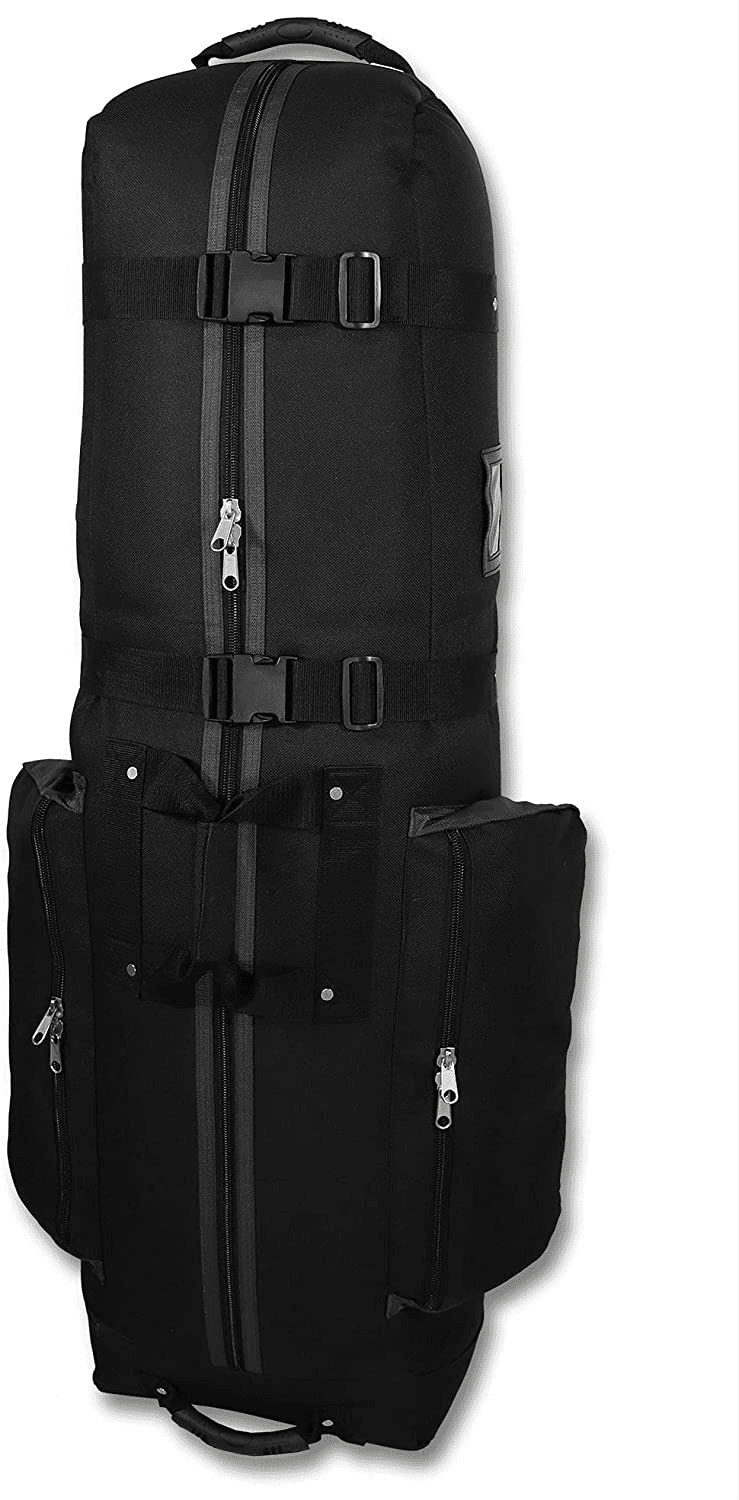 Overview
CaddyDaddy has brought to the market a sturdy, high-quality, wheeled golf travel bag that protects your golf gear while still looking chic.
It features a top-of-the-line 1800D all weather-resistant fabric, making it highly durable.
It weighs in at only 9lbs making it lightweight and a convenient companion during your golfing tournaments.
While its stress points are reinforced, this bag is only fit for people who occasionally golf as it is susceptible to tear after using it a few times.
Pros
The golf travel bag is lightweight but still durable. It is made from 1800D Nylon fabric with extra heavy padding at the top to protect your valuable club heads.
It can accommodate stand bags and cart bags of up to 10 inches.
It is very pocket-friendly thus one of the best golf travel bags if you are on a budget.
Apart from featuring a roomy interior, it has three extra pockets on the exterior, each with locking zippers. These can store shoes, tees, balls, among others.
It has two sets of adjustable straps to hold your cart bag in place inside the travel bag exterior during transit.
It has in-line skate wheels for easy rolling, making transportation that easier.
It can be folded, making storage easy and convenient.
Cons
Only comes with one year warranty with no refunds if you purchase items on sites like Amazon.
A few people reported some wear and tear after a few trips.
Price
You can purchase it on the official CaddyDaddy website. Unfortunately, the company offers no money refunds for purchases from Amazon.
If unavailable, you can also shop at the ever-dependable Amazon online store.
Overview
The Sun Mountain Club Glider Meridian travel bag is made from ballistic-style nylon with a tricky plastic tray covering the wheels, ensuring durability.
It has thin padding running throughout and extra foam padding at the top of the bag, protecting your club heads and shafts.
It has dimensions of 52″ x 14″ x 14″, making it large enough to accommodate clubs, shoes, balls, and other gear you might travel with.
And if that wasn't enough, it has retractable legs, which you can combine the legs with the roller blade wheels for a four-wheel commute.
Pros
It has two in-line skate wheels with durable heat-treated axles at the base of the case that rolls effortlessly when dragging the case through the airport. In addition, the legs support 100% of the travel cover's weight, thus eliminating the continuous bending and lifting that was previously associated with the traditional models.
It comes with additional spring-loaded foldable 360o castor legs that extend and retract in one easy motion making them durable and easy to use.
It comes with two internal straps, which you can easily adjust depending on the size of your golf bag.
Made from heavyweight ballistic-style nylon fabric with vinyl reinforcing in areas prone to wear. It is one of the best golf travel bags in the market today.
It has two internal straps to secure your golf bag (adjustable to accommodate any size bag), including one that fits around the top of the bag and one at the base.
Weighing in at only 11.3 lbs, it is pretty light with all the features it brings o the table.
Cons
More expensive compared to many other golf travel bags.
Price
You can acquire this Golf Digest Editors' Choice award-winning golf travel bag at the official Sun Mountain website. Buy Now.
Overview
The AmazonBasics Soft-Sided Golf Club Travel Bag comes in midnight black color.
It combines only the best materials and qualities for a divine golfing experience.
It is made from water-resistant nylon that protects your clubs and golfing gear from unexpected rain showers and is durable.
It is spacious enough to fit a medium-sized travel bag, a few accessories.
It can also hold a standard driver comfortably.
One other perk is that it offers high-quality features at a pocket-friendly price.
Pros
It measures  50 x 13 x 15 inches and can easily accommodate travel bags of medium size.
It is made from durable nylon fabric that is water-resistant to shield your golf clubs and gear from the rain.
The stress points are also reinforced, making the bag highly resistant to wear and tear.
It comes fitted with compression straps that help keep your club securely in place when traveling.
It has multiple compartments with a zipping system to store your extra gear.
It is collapsible and easy to fold, thus saving on storage space.
Cons
It is unsuitable for flights.
Price
Amazon has a limited 15% discount on this item so grab yours today.
Overview
As the name suggests, this bag will make you look like a pro as you walk with it through airports and on the golf course.
It is a large soft bag that weighs in at 10.6lbs and has adequate space to easily accommodate almost any golf bag and a driver of up to 47″.
The body is made from patented Invista Cordura 100D nylon fabric and also features a 1600D ballistic nylon reinforcement making it highly durable and burst-free.
It is made in the US by Club Glove.
It also tops the charts as one of the best golf travel bags in the industry today.
Pros
 It is available in 17 different colors and can also be tailored to suit your preferences, so go wild.
The bag is made from Invista Cordura 1000 D nylon fabric made by Invista, which is also water-resistant. It is three times stronger than standard polyester and lasts up to 5 times longer.
It comes with a single webbing reinforcement at the rear, making the bag much more durable.
The reinforcement fabric is made from sturdier 1600 D ballistic nylon, ensuring the durability of your golf bag. The handles also come reinforced with four metal rivets
The top section of the Last Bag features thick padding that offers additional protection for your club heads.  The large pockets on each side of the Last Bag and an ID nook with a sturdy snap closure.
Comes with a limited lifetime warranty.
Cons
It retails for $299, and the Stiff Arm costs $27, which is a bit pricy.
Price
Free Stiff Arm Now Included – $29.95 Value!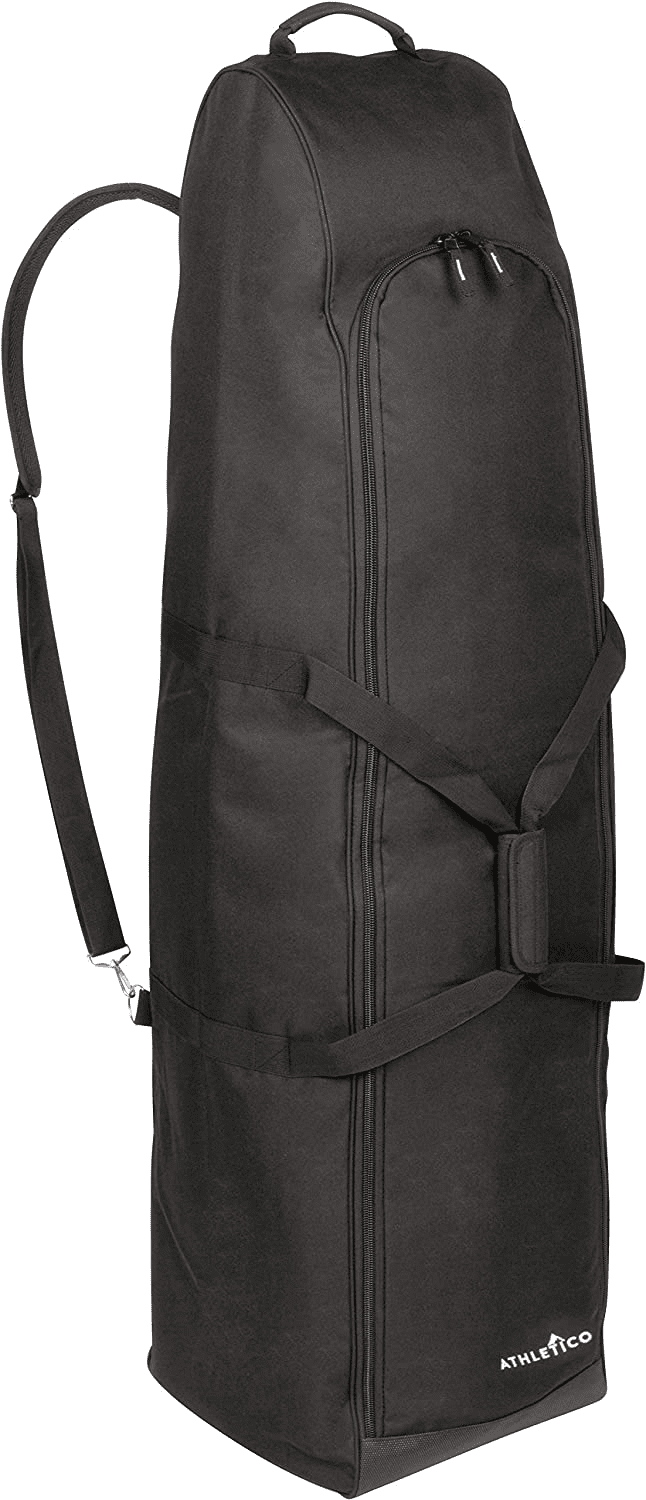 Overview
The Athletico Padded Golf Travel Bag is a soft bag designed to weather all storms.
It measures 53 x 12 x 14 inches thus has enough storage for your golf clubs and other gear you may wish to travel with.
The body is made from 600D polyester and has a vinyl base that protects your bag from damage.
While it doesn't have wheels, it possesses velcro-locking carry handles, which provide a comfortable grip when lifting and transporting the golf travel bag.
Pros
It has a 5mm thick padding running throughout, making it an ideal companion for air travel.
It is fitted with Neoprene padded shoulder straps and carry handles with velcro-locking. This gives it ultimate flexibility and comfort when taking its duffel bag style.
The Athletico Padded Golf Travel Bag is made from 600D polyester, with a rigid vinyl base that protects your bag from damage and keeps your valuables safe.
Has metal zipper pulls which can be locked together for maximum security.
Has a 100% money-back guarantee.
Cons
It doesn't have wheels.
Only has one color choice.
Price
You can purchase this durable product on the official Athletico website and enjoy the 16% discounted sale today.
If out of stock, you can also visit Amazon. Shop Amazon
Overview
The SKB ATA Deluxe Standard Cases are crafted using ultra-high, molecular weight polyethylene.
It is air-tight, thus protecting your equipment from dirt, moisture, and dust.
It also uses industrial strength latches to provide maximum security to your gear when outside or traveling.
In addition, the TSA locking system makes air travel a breeze as you will have peace of mind when traveling.
Finally, it comes with a lifetime warranty from SKB; therefore, you don't have to worry about replacing parts in case of damages during transit.
It uses patented components, making it one of the best golf travel bags in terms of quality.
Pros
It comes embedded with a TSA locking system making it ideal for air travel.
It has dimensions of  48 x 14 x 11 inches and is contoured to fit stand bags and extra gear like shoes, carry bags, and drivers of up to 48″.
Weighing in at 15.71 pounds, it is a lightweight golf travel case.
It uses the patented Perfect Match valance bending system. As a result, it provides air-tight secure fitting protecting your golfing gear from dirt, moisture, and dust, thus ensuring durability.
It includes the SKBs $1500 Club coverage to cover the cost of repair or replacement for products damaged by airlines.
Cons
It is in the higher tier when it comes to price.
Bulky when loaded.
Price
If you frequent the golf course, this is the best golf travel bag in the market. Shop here today.
Overview
The Samsonite golf travel bag is a hard-sided travel case with a padded quilted interior.
It also has extra foam cushioning on top to protect your club heads.
Its exterior has rubber reinforcement at the top, bottom, and side handles which make lifting the bag easy and comfortable on your hands.
An additional shoe bag attaches and detaches from the cover by zipper mechanism.
The Samsonite golf travel bag is undoubtedly one of the best golf travel bags to ever hit the market.
Pros
The lightweight and solid ABS Shell protect your golf bag and clubs from the damages caused by air travel.
It has a padded quilted interior with extra foam cushioning on top to protect club heads.
Four multi-directional, sealed ball-bearing in-line skate wheels allow the case to be pushed or pulled.
The internal compression straps secure the golf bag held inside the case keeping it in place during transit.
With dimensions of 54″ L x 12″ H x 16″ W, it is spacious enough to accommodate the larger 10.5″ top golf bags that hold clubs of up to 46″ long.
Cons
Price
If you are looking for a strong, top-of-the-line hard-sided golf travel bag, then Amazon has you covered.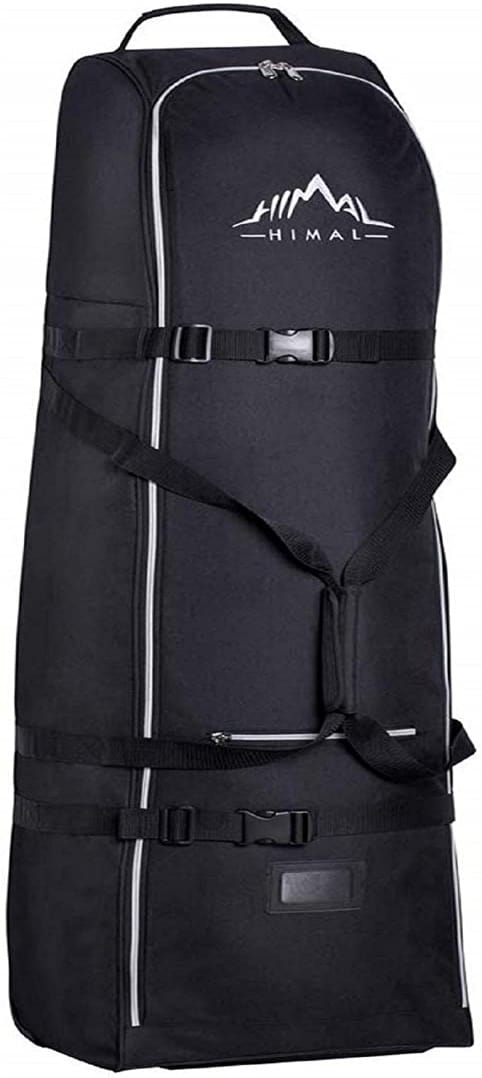 Overview
This golf travel bag from Himal Outdoors is a heavy soft-sided,  padded travel cover that offers extreme protection to your golf clubs and other accessories.
It is multifunctional with more than enough space to store all your golf gear ad then some.
It features a top handle and velcro carrying handles for convenience when moving around with the loaded bag.
And with the easy-rolling wheels, you can strut through the airport and the golf course in style.
 Pros
It is made from premium, heavy-duty 600D polyester oxford that is strong enough to protect your golf gear during transportation.
It has dimensions of 15 x 13 x 50 inches, making it large enough to fit your clubs, keys, shoes, and other accessories you wish to carry.
It has quality, easy-rolling wheels that make your trip more comfortable and convenient, especially when transporting heavy equipment.
The golf travel bag comes with a soft cushion and velcro carrying handles which are particularly useful when lifting the golf club travel bag.
It has a smooth zipper system that you can use severally.
Cons
It has no warranty period mentioned.
Price
You can check out the latest price on Amazon today.
Overview
This hybrid travel cover from the Founders Club uses only the best to offer you comfort during transit and durability when it comes to your golf gear.
It combines a hard-shell molded ABS top cover that is crush-proof and the storage capabilities of a soft-side travel bag.
It has plenty of room which you can use to store your clubs, a pair of shoes, rain equipment, and a few other accessories before hitting the golf course.
Pros
This hybrid golf travel bag combines a hard shell ABS top with a soft-side all weather 600D Polyester body for maximum durability and protection of your golf clubs.
It comes with smooth-rolling in-line skate wheels; thus, the bag is easy to transport.
With dimensions of 52″ x 15″ x 13″, it can easily fit cart bags of up to 10″ in diameter. It also holds golf clubs of up to 50″ in length.
It also features two roomy exterior shoe/rain gear pockets. Each has heavy-duty, lockable zippers to store and protect your gear.
The internal compression straps keep your golf clubs in place and secure.
The product comes with a one-year full replacement warranty.
Features a durable skid-resistant base that provides a sturdy foundation.
Cons
It only has one color variety to choose from
Price
Overview
With this sturdy companion in your arsenal, you can look forward to all out-of-town golf junkets lined up for you.
Its rugged, abrasion-resistant 900D heathered grey polyester fabric coupled and a polypropylene base makes it durable.
As a result, it can weather every storm at the airports.
It also features two large interior pockets with heavy-duty YKK zipping and three external compression straps to keep your golf gear securely in place.
Pros
The golf travel bag is rugged, abrasion-resistant 900D heathered grey polyester material.
It has dimensions of 53 "L x 17 "W x 14.5″H, making it large enough to fit up to full-size cart bags and carry bags.
The golf bag also features interlocking skid rails and four smooth-rolling urethane wheels (two in-line and two swivel wheels). The wheels provide tilted and upright maneuverability.
It has a solid polypropylene base which gives it form and helps it stand upright when loaded.
It has its own storage bag, and the travel bag fits into it easily when folded flat to about 15″.
It has six carry handles which you can use to lift your golf travel bag from practically any angle.
Cons
Price
GolfBox: $379.99
The Golf Club: $149.95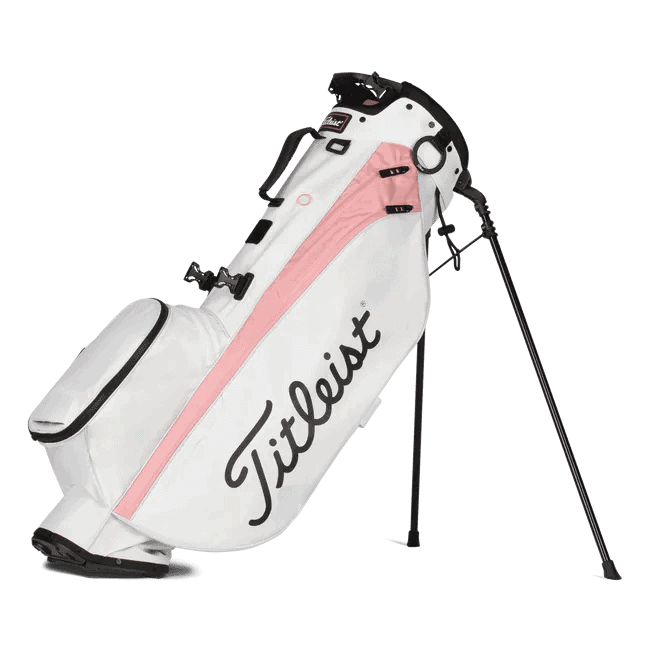 Overview
Carrying your golf equipment is now a walk in the park thanks to the premium, lightweight Titleist Players 4 Plus StaDry Stand Bag.
The roomy interior and extra pockets allow you to carefully separate and store gloves, balls, tees, and apparel when packing your gear.
It is fully water-proof if you get caught in the out-of-nowhere downpours and comes fitted with a rain hood to protect your grips.
The double strap feature is comfortable on your shoulders.
The bag adjusts itself as you walk so your equipment can't fall out quickly, making it one of the best golf travel bags.
Pros
It comes with a premium ultra-thick convertible double strap for comfort when carrying your bag.
It features seven extra pockets for extra storage, including a water-proof soft-to-touch pocket for storing valuables and a quick-access magnetic pocket for accessories.
An external lined water bottle pocket is present as they understand water is life, especially when you are in the scorching sun.
It comes with a rain hood that acts as a barrier preventing rain from getting on your grips.
It features a low-profile top cuff with four full-length dividers that help secure your clubs and prevent any damage.
It has a lightweight design and weighs 3.8 pounds.
Cons
The legs don't fully retract when the bag is being carried.
Price
If you reside in or plan to visit a rainy country, then this fully water-proof golf travel bag is the right fit for you and your clubs. Buy Now.
What To Look For in a Golf Travel Bag
A golf travel bag is a great way to protect your clubs and gear while on the road. But with so many different options on the market, it can be tough to know which one is right for you. Here are a few factors to keep in mind as you shop for a golf travel bag:
The Type of Bag
There are three main types of golf travel bags: hard-sided, soft-sided, and hybrid. Each has its own advantages and disadvantages, so think about what's most important to you before making a decision.
Durability + Padding
First and foremost, you want a golf travel bag that is durable and well-padded. After all, you will be trusting this bag with your expensive golf clubs! So look for a bag made from tough, tear-resistant fabric, with plenty of padding on all sides. Check that the bag has a sturdy wheel system; after all, you don't want your golf bag toppling over every time you try to move it.
Weight
Of course, weight is also an important consideration. Remember, you'll be lugging this bag through airports and hotel lobbies! So look for a golf travel bag that's light enough to carry easily but still strong enough to protect your clubs.
Pockets
Pockets are another critical consideration in a golf travel bag. After all, you will need somewhere to store your golf balls, tees, and gloves! So look for a bag with plenty of pockets, both inside and out. And be sure to check the size of the pockets; you don't want your golf balls falling out every time you open the bag!
Price
Travel bags range in price from around $50 to $200 or more. So it's important to find one within your budget but still has all the features you need.
Features
When deciding on a golf travel bag, consider what features are most important to you. For example, if you frequently travel by plane, you'll want a bag with a sturdy wheel system that can easily maneuver through an airport terminal. On the other hand, if you're mostly driving to your destination, you might prioritize a bag with plenty of compartments and pockets for storing your clubs and other gear.
Wheel system
Pay close attention to the wheel system if you're planning on using your golf travel bag primarily for air travel. Choose a bag with smooth-rolling wheels for easier airport terminal travel.
Warranty
As with any major purchase, buying a golf travel bag with a warranty is wise. That way, you'll be covered if there are any problems with the bag.
With these considerations in mind, you're sure to find the perfect golf travel bag for your needs!
The Best Maintenance Techniques for Keeping Your Golf Bag in Tip-top Shape
If you're like most golfers, you've had the same golf bag for years. It's seen better days, but it's still functional and comfortable, so you don't see any reason to replace it. However, if you want your golf bag to last for years to come, there are a few simple maintenance tips you can do to prolong its life.
Always store your golf bag in a cool, dry place when you're not using it.
Invest in a good quality rain cover to protect your bag from the elements.
Regularly inspect your golf bag for wear and tear, and make repairs as needed.
Unique Facts About Golf Bags
1. The Origins of "Caddy"
If you've ever teed off at a golf course, you've probably noticed the caddies lugging around bags of clubs for their players. But where did this word come from? "Caddy" actually has a fascinating history.
The word caddy first appeared in English in the 1600s, and it likely comes from the French word caddie or cadeau, meaning "gift," which makes sense when you consider that caddies originally were sidekicks who ran errands for their bosses rather than carrying their golf clubs.
But how did caddies become associated with golf? One theory is that the word caddy comes from the Scottish Gaelic term cuideachaidh, meaning "helper." This makes sense, given that golf is thought to have originated in Scotland in the 1500s. Another theory is that caddy is derived from the word cadet, used to describe young noblemen who were training to be army officers. This name could also reference the caddies' role as assistants.
Whatever its origins, one thing is clear: the word caddy has been an essential part of golf for centuries. So next time you see a caddy carrying a bag of clubs, you'll know that they're not just carrying clubs – they're carrying on an important tradition.
2. The Rise of Golf Bags
Golf's origins are a bit murky- some people say it dates back to Roman times, while others claim it was invented in the Netherlands in the 15th century. However, the game we know today began to take shape in Scotland in the early 19th century. At that time, golfers used rudimentary clubs and balls made of gutties- a rubbery substance made from the sap of the balata tree. Unfortunately, the gutties were prone to breaking and didn't travel very far, so golfers often ended up playing with a ragtag collection of clubs.
To make the game more uniform, golfers began carrying around bags filled with clubs of various sizes and shapes. This allowed golfers to select the right club for each shot, and it helped to standardize the game. As golf grew in popularity, manufacturers began mass-producing golf clubs and bags, making them more affordable and accessible to the general public.
Today, golf is one of the most popular sports in the world, and golf bags have come a long way from their humble beginnings. Thanks to modern materials and construction techniques, today's golf bags are light, durable, and easy to carry- making them an essential piece of equipment for any serious golfer.
3. The Golf Bag Identity Crisis
For years, golf bags have been relatively unchanged in design. They typically consist of a large, cylindrical shape with a single carrying strap and several pockets for storing golf clubs and other gear. However, golfers are notoriously fickle, and as the game has evolved, so have the demands placed on golf bags. As a result, golf bag manufacturers have been forced to re-evaluate the traditional golf bag design to meet their customers' changing needs.
One of the most significant changes to golf bags has been the addition of wheels. With golf courses becoming increasingly large and hilly, golfers have been seeking bags that make it easier to transport their clubs from one hole to the next. In response, many manufacturers have begun offering golf bags with built-in wheels or even detachable tripods that can be easily towed behind a golf cart.
In addition to wheels, another popular feature of modern golf bags is an abundance of pockets. While older golf bags typically only had a handful of pockets for storing balls and tees, today's bags often feature dozens of different pockets and compartments designed to hold everything from cell phones and sunglasses to cigars and spare change. For the genuinely hardcore golfer, golf bags are available with built-in coolers for keeping drinks cold during those hot summer days on the course.
With all of these new bells and whistles, it's no wonder that golfers are now paying more than ever for their golf bags. In fact, some high-end models can cost well over $500. However, as any golfer will tell you, having the right golf bag can make all the difference when it comes to playing your best game. So whether you're looking for a bag with all the latest features or something more traditional in design, be sure to choose wisely – your game may just depend on it!
Conclusion
While having the best golf travel bag is not a testament to your skill on the golf course, it will undoubtedly ensure the durability of your golfing gear.
Whether you decide to go for a bag with a soft shell or a hard shell, ensure it is tailored to meet your golfing needs.