Graduation is an exciting time for students. It marks the end of one phase of life and the beginning of another. For many graduating now, it's a once-in-a-lifetime event – so everything has to be perfect, especially the graduation cap.
I remember the first time I saw a grad cap decorated with a beautiful quote, embellishments, and sparkling colors; I was amazed at all the ideas, creativity, and personal expression it allowed. Since then, I've admired the ways graduates have used their caps to showcase their personality, journey, and future aspirations.
In today's digital age, inspiration for graduation cap ideas is just a click away, offering endless possibilities from DIY to customized designs. But, with so many ideas available, it can be overwhelming to know where to start or how to choose the perfect design.
I've gathered some tips and insights for navigating the process of creating a graduation cap that represents not only your accomplishments but also your unique journey, style, and personality.
Key Takeaways
Explore creative and personal ways to customize your graduation cap
Consider unique themes and online resources for inspiration
Keep in mind the materials and strategies for creating your memorable cap
The Concept of Graduation Cap
When I think of graduation, one of the first images that comes to mind is the iconic graduation cap. You know, that flat, square-topped hat with a tassel hanging from one corner, which just seems to scream "achievement" and celebrates years of hard work and dedication.
Over time, I've noticed that many people, myself included, put their own spin on this classic accessory to symbolize the end of their academic journey. When I was getting ready for my own graduation, I wanted my cap to reflect my college experience and future goals.
It was inspiring to see fellow students decorating their caps with quotes, pictures, and symbols, adding to the excitement of the big day.
Let me tell you; there's something truly special about seeing a sea of custom-decorated caps during the graduation ceremony. You can feel the sense of pride that comes from not only completing your degree but also being able to display your personality on such a momentous occasion. Plus, it instantly connects you to many other students who've done the same.
Graduation cap decoration has become popular in recent years. Countless online ideas inspire you to get creative and reflect on your achievements and goals.
Embrace this opportunity to leave a lasting impression on your classmates. Design a perfect graduation cap that represents you and your accomplishments. You've earned it!
Customizing Your Graduation Cap
When it comes to graduation day, I remember wanting my graduation cap to stand out and reflect my personality. So, I did some brainstorming and came up with creative ways to customize it. If you're looking for inspiration, you're in the right place.
Let me share a few ideas on how to make your grad cap memorable!
Think About a design
First, think about a design that resonates with you. Your favorite color, pattern, or picture can be a starting point. I painted my cap with an inspiring quote and some pretty florals for a personal touch. You can do the same or even get a hand-painted cap from an artist.
Print Your Favorite Quote
Another idea is to print your favorite quote on your cap using a design tool to make it more unique.
use a variety of materials
When decorating your graduation cap, consider using a variety of materials that can add texture and depth to your design. Glitter, rhinestones, and fabric flowers are just a few examples.
I used a combination of these materials, and the result was a beautiful cap that captured the attention of everyone around me.
Accomplishments and Ambition
Your customized cap should also reflect your accomplishments and future plans. A unique way to showcase your aspirations is to use symbols or icons representing your field of study or future career.
For instance, an engineering major might incorporate gears and a compass, while an art major might opt for a brush and palette.
Use a quote
What personal story do you want to share through your graduation cap decoration? Perhaps you've overcome obstacles to get to this big day, or maybe you're grateful for the support of your family and friends.
If you're a music fan, one graduation cap idea is to use a quote or decoration highlighting your journey, like "Dream Big Worry Small" or a meaningful music lyric. These cute little touches can make your cap feel even more special.
Decorate Your Cap
In my experience, decorated caps not only look amazing, but they also serve as a conversation starter during your graduation ceremony. A well-designed cap tells a story about you and allows you to connect with others who share your interests or passions.
Remember, decorating your graduation cap is a fun and creative way to celebrate this milestone and special place in your life. So don't be afraid to experiment, have fun, and, most importantly, make it uniquely yours!
DIY Graduation Cap Ideas
During my graduation preparations, I aspired to design a distinctive and unforgettable graduation cap that would truly make a statement. If you, too, desire to lend a personal touch to your cap, an abundance of uncomplicated and imaginative DIY graduation cap ideas await your exploration.
Let me share a few of my favorite DIY grad cap ideas with you.
Touch of Floral
To start with, one pin-up idea that I absolutely loved was incorporating flowers into the design. Adding a floral touch to my cap gave it a fresh and elegant look. You can easily achieve this look by lacing your cap with flowers, ribbons, and glitter, which can be found at most craft stores.
Choose Your Favorite Colors
Feel free to choose your favorite colors or simply use the colors representing your school. This easy tutorial also provides great instructions for creating a beautiful floral grad cap.
Hand Painting
Another idea that caught my eye was creating a hand-painted graduation cap. This idea is perfect if you enjoy artwork and have some painting skills. I painted my grad cap with pretty florals and a motivational quote in metallic gold lettering.
The result was absolutely stunning and definitely turned a few heads on graduation day. Check out these creative designs for inspiration on painting your own cap.
Flaunt Your Passion for Your Favorite Sport!
For sports enthusiasts, there's an opportunity to showcase your love for your favorite sport as well. When creating your graduation cap, consider incorporating elements of your favorite sport, like a soccer ball or a basketball hoop.
I found some fantastic examples using a Cricut – these designs incorporate different materials and are perfect for the sports-loving graduate.
Do a Shout-out
If you're not feeling overly artistic but still want to create something unique and eye-catching, there are plenty of simple yet striking graduation cap ideas to try. One idea I recommend is using different crafting materials to write a motivational quote or a shout-out to your major on your cap.
Sparkle Up Your Message with Adhesive Letters, Stencils, and Glitter!
You can use adhesive letters or simply paint your message using stencils. Add some glitter or decorative elements to make it stand out even more.
Lastly, remember that the most important aspect of DIY graduation cap crafting is to have fun and let your personality shine through. There's no wrong way to decorate your, so go ahead and experiment with different ideas, materials, and styles.
Make your graduation day memorable with a cap that truly represents you.
Unique Themes for Graduation Caps
When I graduated, I wished my graduation cap reflected my personality and showcased my interests. Nowadays, you have the chance to personalize your graduation cap with unique themes. So, let me share with you some funny graduation cap ideas that might inspire you for your big day.
Disney Magic with Characters and Quotes!
I'm a huge fan of Disney movies, and incorporating a favorite character or movie quote can make your cap truly memorable. For example, you can use a quote from Belle in Beauty and the Beast, like "Adventure awaits," along with an illustration of the enchanted rose.
Simba's Silhouette, All Lion King Lovers!
Or, if you're a Lion King lover, consider "Remember who you are" with Simba's silhouette.
Magical Harry Potter-Themed Graduation Caps
Are you a Potterhead? No problem! Harry Potter-themed graduation caps are magical and can showcase your love for the wizarding world. A popular idea is to use the Deathly Hallows symbol, with a quote like "The ones who love us never really leave us." You can also display your house pride with Gryffindor, Slytherin, Hufflepuff, or Ravenclaw colors and symbols.
Looney Tunes
Another theme I adore is Looney Tunes – who doesn't love those classic cartoons? You can have some fun with this one, using a character like Bugs Bunny or Daffy Duck. Make your graduation cap stand out with a quote like, "That's all folks!" or "What's up, Doc?"
Superhero-Themed Graduation Caps
Superheroes speak to our resilience and strength, making them a perfect theme for graduation caps. Whether you're a fan of Marvel or DC, there are plenty of options to choose from.
You might go for a quote from Spider-Man – "With great power comes great responsibility," or from Wonder Woman – "Only love will truly save the world." Add your favorite superhero's logo, and you have a cap showcasing your passion.
Ultimately, your graduation cap should represent you and your achievements. Choose a theme that speaks to your interests and journey so far, and you're sure to create a cap that will make your graduation day even more special.
Embellishing Your Graduation Cap
When preparing for graduation, I wanted my cap to stand out and reflect my personality. Let me share some ways I found to make a graduation cap look fabulous!
Spruce up Your Cap with Gorgeous Faux Flowers!
First, consider incorporating flowers into your grad cap's design. You can use faux flowers or even more delicate fake flowers.
The flowers will add a touch of elegance and beauty to your grad cap, making it truly one of a kind. I went with some beautiful faux peonies that matched my school colors, and they definitely turned heads!
Shine Bright with Rhinestones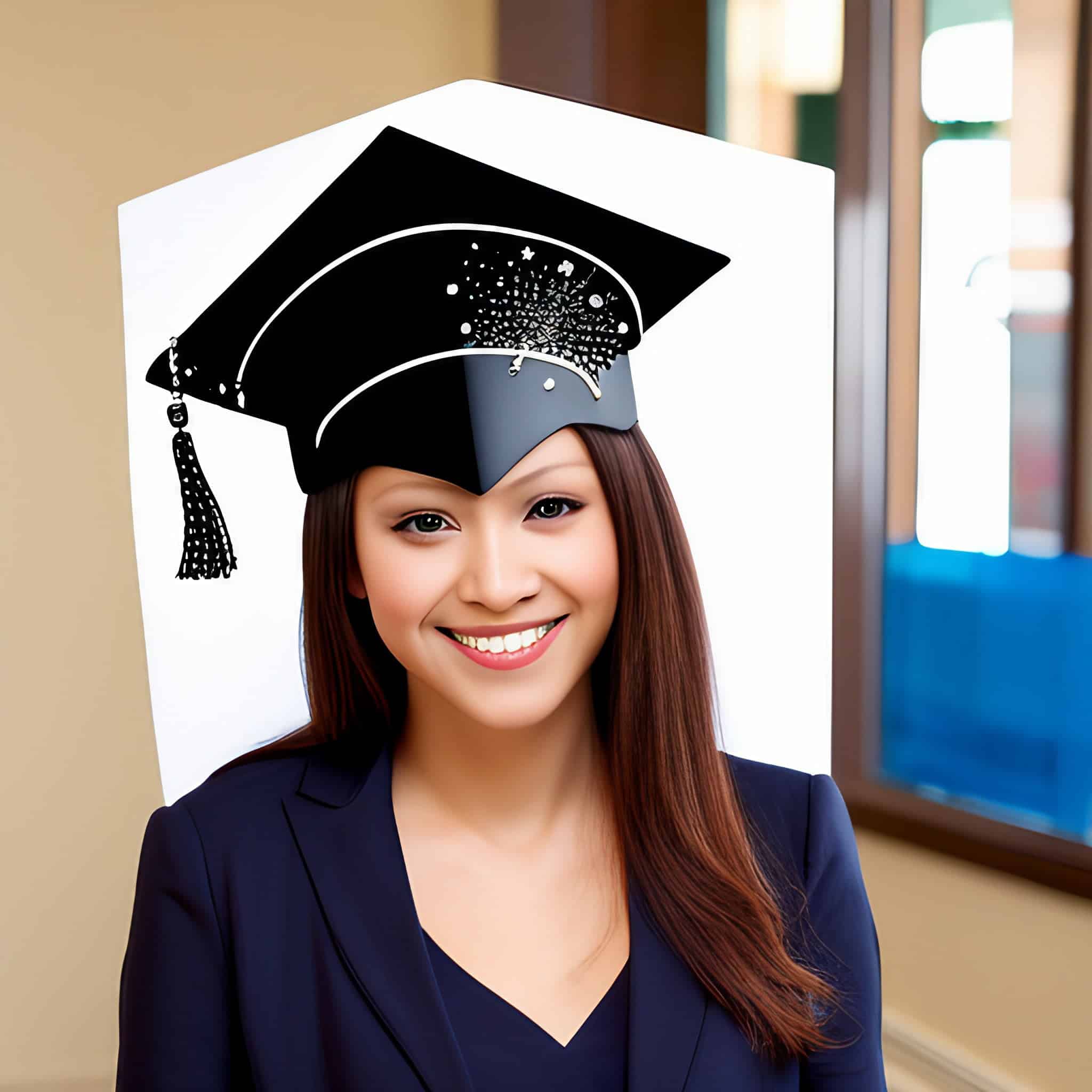 Another idea to add some sparkle is by using rhinestones. You can create a unique pattern or simply add some shine to your cap's logo or a meaningful quote.
I used rhinestones to write out my favorite inspirational phrase, which looked stunning and constantly reminded me to believe in myself.
Level up your cap style with amazing stickers!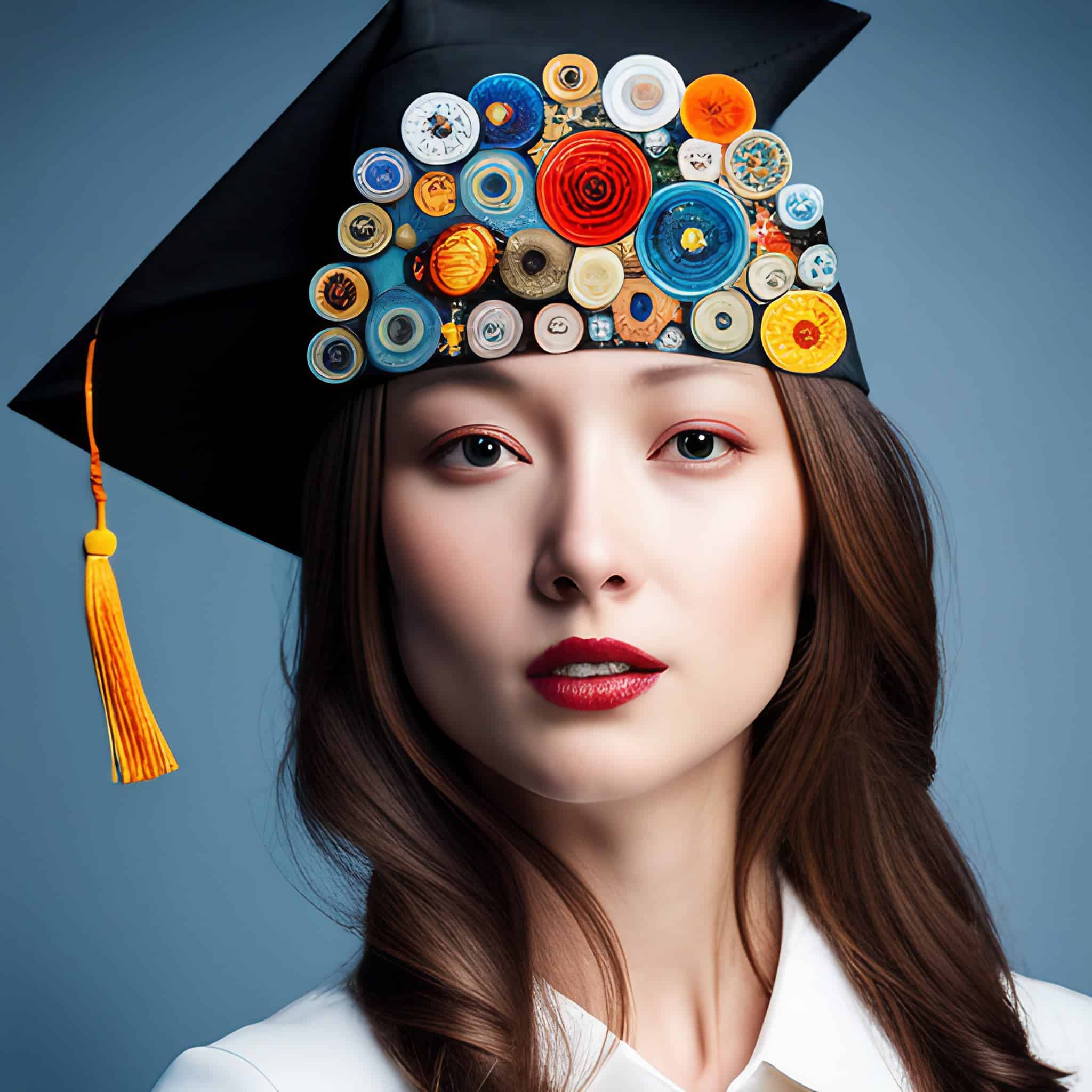 Stickers are a simple and fun way to customize your grad cap. Find interesting ones with motivational sayings, iconic characters, or anything that resonates with you.
I chose stickers that represented my major and hobbies — a great way to showcase interests while keeping the look clean and organized.
Don't be afraid to mix and match different elements. For example, combining faux flowers with rhinestones creates an eye-catching design. Play with textures and colors to create a visually appealing cap representing your unique personality.
Lastly, don't forget to have fun and get creative while decorating your graduation cap. Remember that this is a celebration of your hard work and achievements, and your cap is an opportunity to express yourself. So, go ahead and let your creativity shine, just like I did!
Creating a Graduation Cap with Words and Quotes
When decorating my college graduation cap, I wanted it to stand out and reflect my personality. Using words and quotes was key. You can choose from funny sayings, inspiring quotes, or even bible verses that hold personal meaning. Here are some great ideas to inspire you.
A quotable cap can be a great conversation starter. I chose a funny quote that said, "Thanks, Google and Wikipedia. Couldn't have done it without you." The laughter and nods of agreement from my fellow graduates showed me that my cap had resonated.
If humor isn't your thing, go for inspiration. "The best is yet to come" or "Never stop looking up" are popular choices.
For an elegant touch, try hand lettering. Find an inspirational quote that speaks to your journey and ambitions.
If you have a strong spiritual connection, include a bible verse. My friend selected one that meant a lot to her, "I can do all things through Christ who strengthens me" (Philippians 4:13). It was a beautiful addition that showcased her faith.
Don't limit yourself to quotes. Represent your interests, values, or goals with words or phrases. I added hashtags related to my field of study and future job title, sparking curiosity and leading to engaging conversations.
Stay true to yourself, and your grad cap will be a memorable symbol of your academic journey. Congrats!
Strategies and Additional Elements
When creating my graduation cap, I discovered the value of exploring diverse approaches and incorporating extra elements to make it truly distinctive. Allow me to share a handful of ideas that you may find useful as well!
Simple Solids or Eye-Catching Designs?
First, think about the background of your cap. You can keep it simple with a solid color or go for a more eye-catching design with patterns or images. For instance, I chose a galaxy background for my cap since I majored in astrophysics. It gave my cap a unique and personal touch.
Level up your cap game with 3D elements!
Incorporating 3D elements can also make a huge difference in drawing attention to your cap. For example, you could use foam, paper, or other materials to create a 3D effect. I've seen people adding small props related to their major or career goals, like a mini stethoscope for a future doctor or tiny buildings for an architect.
Personalize with Photos!
Using photos is another unique and personal way to decorate your graduation cap. Incorporating pictures of yourself with friends, family, or even your favorite college memories can make your cap feel truly special. I added a small photo collage on one corner of my cap to remember all the people who supported me throughout my academic journey.
Add a Touch of Personalization With Handwritten Quotes Or Song Lyrics
When it comes to lettering, there is a wide variety of options to choose from. Handwritten quotes, song lyrics, or even your name can add a nice touch. I used a metallic gold pen to write a motivational quote on my cap, and it really made the whole design pop!
Remember, your graduation cap is a reflection of you and your achievements, so don't be afraid to get creative and showcase your personality. I know you'll come up with something amazing! Good luck, and happy decorating!
Creating a Grad Cap that Represents Your Journey
When I was finishing up college, I always looked forward to the tradition of decorating my graduation cap. It was a cute and fun way to celebrate the end of an era and the beginning of my next adventure.
Now, you might be in the same boat as I was – looking for the perfect design to represent your journey, whether it's the end of high school or college. So, let me share some tips with you on how to create a personalized grad cap that encapsulates your story.
What Was Your Favorite Subject?
Start by brainstorming key concepts that capture your school years. Do you have a favorite subject? Were you involved in any clubs or sports teams? Think about what defined your experience and let that guide your design.
For example, if you were the type who thrived in the maths club, consider incorporating geometrical patterns or iconic math symbols. If you were heavily involved in school spirit, try to integrate your school colors and mascot into the design.
Next, add any personal touches that represent your journey. That could mean including meaningful quotes that resonated with you, song lyrics from your favorite band, or an illustration that captures a pivotal moment in your life.
This is your celebration of success, so make it personal. While doing mine, I added a little cartoon of a suitcase with stickers representing all the places I planned to visit since traveling was my next big adventure.
Lastly, consider using bold text, rhinestones, or glitter to make your cap stand out even more. Just be mindful of any guidelines your school may have regarding cap decorations; you want to make a statement, but you also want to follow the rules.
Utilizing Digital Resources
When it comes to decorating your graduation cap, the possibilities are endless. One of the best ways I've found to spark creativity and gather inspiration is by turning to digital resources like Canva and Pinterest. These platforms offer countless ideas and design templates to help you create a cap that represents your personality and achievements.
As a regular Canva user, I can attest to its user-friendly interface and a wide array of design options. From customizable typography to eye-catching graphics, Canva lets you explore various designs to make your graduation cap one-of-a-kind. If you're uncertain about your design skills, don't worry — Canva offers beginner-friendly tools to guide you through the process.
Another platform I absolutely love scrolling through during my downtime is Pinterest. This digital treasure trove is filled with diverse graduation cap ideas that cater to all interests and preferences. As a visually-driven platform, Pinterest allows you to gather and organize your favorite designs in one easy-to-find space. When I was searching for the best graduation cap ideas for my own graduation, I saved countless pins and drew inspiration from various sources to come up with my final design.
While working on my cap, I discovered a few helpful tips that I'd love to share with you:
Start early: Give yourself enough time to explore different ideas and gather the necessary materials.
Sketch it out: Draw a rough sketch and experiment with various elements before committing to a design.
Less is more: Be mindful of the cap's limited space and avoid overcrowding your design.
Glue cautiously: Use a strong adhesive suitable for your materials, but be careful not to damage the fabric of your cap.
Remember, your graduation cap allows you to express yourself and celebrate your accomplishments. With the help of platforms like Canva and Pinterest, I have no doubt that you'll create a design that truly showcases your journey and makes a lasting impression on your special day. Good luck, and happy designing!
Graduation Cap Ideas for Different Majors
When I graduated with a degree in psychology, I wanted my cap to really represent my personal journey and my passion for understanding the human mind. You might feel the same way about your major!
So, let's dive into some cool graduation cap ideas for different majors, specifically psychology, theater, education, and art.
Psychology
As a psychology major, I adorned my cap with a famous quote by Carl Rogers: "The curious paradox is that when I accept myself just as I am, then I can change." I felt it truly encompassed the essence of studying psychology and the personal growth that happens along the way.
You could also consider using a photo of a brain image with a witty pun, like "Thanks for the memories!" or even something cute and quirky, like "Mastering the mind, one hug at a time."
Theater Majors
For you theater majors out there, there are countless ways to express your love for the stage and the art of storytelling. One idea I've seen is the use of iconic lines from your favorite plays written beautifully on your cap. How about "All the world's a stage," from Shakespeare's "As You Like It?"
A fun and creative option could be to incorporate elements and quotes from various famous plays, making it an eclectic masterpiece worthy of a standing ovation. And if you're a musical theater fan, don't hold back from adding a lyric or two from your favorite movies or show tunes!
Art Major
As an art major, the world is truly your canvas when it comes to decorating your graduation cap. The possibilities are endless, from showcasing a snippet of your favorite artist's work to creating a mini-gallery of your own pieces.
You could even paint your cap to resemble a famous painting, like Van Gogh's "Starry Night" or a Monet landscape. If you're looking for a more personal touch, try including a portrait of yourself as an artist, with a palette and brush in hand, ready to take on the world post-graduation.
The most important thing to remember when decorating your graduation cap is to make it an expression of you and your unique experience at university. Remember to have fun with it, and use this opportunity to leave a lasting impression on your fellow graduates and friends as you embark on the next chapter of your life.
Materials and Supplies Required
When I first started to think about decorating my cute graduation cap, I wasn't exactly sure which materials and tools I would need. Nevertheless, I quickly learned that there are some essentials you won't want to forget. I want to share this knowledge with you so you can have a stress-free experience bringing your graduation cap decoration ideas and design to life.
Glue Gun
A hot glue gun is your best friend here. It provides a strong bond, ensuring your decorations remain securely in place throughout the entire ceremony. You should definitely have one on hand, along with some extra glue sticks, because you never know when you might need a little extra adhesive power.
Scissors
Next up is a good pair of scissors. You may be cutting out letters, shapes or trimming down fabric and paper. Trust me, having a sharp, reliable pair of scissors can make all the difference. Grab a pair that can handle both small, precise cuts and larger materials.
Colored Paper, Glitter, Markers
As for the supplies part, it really varies based on your design idea. I found using a variety of colored paper, glitter, and markers to be helpful in brainstorming and adding that personal touch to my cap.
Ribbons
Depending on your preferences, you may also want to include ribbons, faux flowers, lace, or other decorative elements.
When it comes to actually applying your design to the cap, you may want to use Cricut Design Space to determine the size of your decorations. I did this by drawing a square the same size as my graduation cap, rotating it 45 degrees, and then sizing the images I wanted to apply accordingly.
Above all, don't forget to have fun with the process and make it your own. It's all about celebrating your big achievement, so let your creativity shine.
Frequently Asked Questions
What materials are best for decorating graduation caps?
When I decorated my graduation cap, I found that using materials like fabric paint, acrylic paint, and self-adhesive gems worked well. You can also use glitter, ribbons, and even small decorative items, but be sure to use a strong glue that will hold everything together. Sticker paper is great for making custom designs and cutting out letters, while washi tape can add a fun and colorful touch to your cap.
How can I customize my graduation cap for my major?
One way to personalize your graduation cap for your major is by incorporating symbols, icons, or imagery related to your field of study. For example, as an art major, I drew a paintbrush and palette on my cap. Similarly, you might consider displaying a DNA helix or an atom symbol if you're a science major. Additionally, incorporating your major's specific colors or patterns can really make your cap stand out.
Are there any memorable graduation cap themes?
Absolutely! In my experience, some of the most memorable graduation cap themes included inspirational quotes, beautiful artwork, and tributes to loved ones. You could also choose a cap theme related to your favorite movie, book, or song. The possibilities are endless, so think about what represents your personality and your time in school the most.
What are some creative ideas for funny graduation caps?
I've seen quite a few hilarious graduation caps, and the key is usually to incorporate humor while still being appropriate for the occasion. Some funny cap ideas might include clever puns, pop culture references, or even a meme you and your classmates are fond of. Just remember to keep it light and fun, as you'll want to look back on this moment with a smile.
How can I incorporate my career plans into my cap design?
To showcase your career aspirations on your graduation cap, consider adding a visual symbol or short quote that represents your goals or the type of job you'll be pursuing. When I graduated, I knew I wanted to become a writer, so I added a small typewriter image to my cap. You could also use your cap to celebrate grad school acceptance or an exciting new job offer.
What are some tips for decorating a graduation cap for children?
When decorating a graduation cap for a child, it's essential to keep the design age-appropriate and fun. I'd recommend using bright colors, easy-to-apply materials like stickers, and child-friendly themes like their favorite cartoon characters or animals. Be sure also to keep safety in mind and avoid using any small, sharp objects that could be hazardous. Most importantly, involve the child in the design process and let their creativity shine!