Food holds an irreplaceable role in our lives, not just as sustenance but as a form of art, culture, and tradition. However, some seemingly harmless foods might carry unexpected risks. We have curated a comprehensive list of 25 foods that, under specific circumstances, can be potentially lethal.
Castor Beans: The Dual Nature
Despite being the source of beneficial castor oil, the bean contains the deadly poison, ricin. Ingesting even a handful can be fatal.
The Risk of Live Octopus
Consumed alive in certain cultures, the suction cups of the octopus can become a choking hazard, leading to potential asphyxiation.
Plum Pits: Hidden Cyanogenic Compounds
While the fruit is delicious, its pit houses compounds that the body can convert into toxic cyanide. Caution is advised.
The Truth About Honey
Commercial honey is typically safe due to pasteurization. However, unpasteurized versions might contain grayanotoxin, which can cause a series of health issues like cardiac disorders and respiratory depression, especially in infants.
Cassava or Tapioca: A Popular Yet Risky Root
Raw cassava, a starchy root vegetable, contains a naturally occurring compound called linamarin. Linamarin, when not properly processed, can release harmful cyan, posing a potential health risk. Therefore, it is crucial to take necessary precautions and ensure appropriate preparation methods when handling and cooking raw cassava.
Peanuts: An Allergic Time Bomb
Beyond being a delicious snack, peanuts are a well-known allergen. In some, they can trigger anaphylaxis, a life-threatening allergic reaction.
The Deceptive Pufferfish
A delicacy in some cultures, improper preparation can expose consumers to tetrodotoxin, one of the deadliest known toxins.
Rhubarb Leaves: Beyond The Pie
Rhubarb stalks are delightful in desserts, but their leaves contain oxalic acid, which can lead to poisoning in large quantities.
Elderberry: A Potent Mix
These berries are celebrated for their medicinal properties. However, their leaves can lead to cyanide buildup in the body.
Avocado: A Tasty Warning
Avocado pits carry persin, a fungicidal toxin that can cause health problems if ingested.
The Double-Edged Sword of Potatoes
While a staple in many diets, potato leaves, and stems contain glycoalkaloids, toxic compounds that can be harmful when consumed.
The Bitter Side of Almonds
Bitter almonds, different from the commonly consumed sweet almonds, contain traces of cyanide. Proper processing is crucial to neutralize the danger of cyanide poisoning.
Seafood: Beyond Its Allure
Shellfish allergies are widespread and can lead to severe reactions, including anaphylaxis.
The Secret Threat of Hotdogs
While not toxic, hotdogs' shape and consistency make them one of the primary choking hazards, especially for young children.
The Green Menace in Apples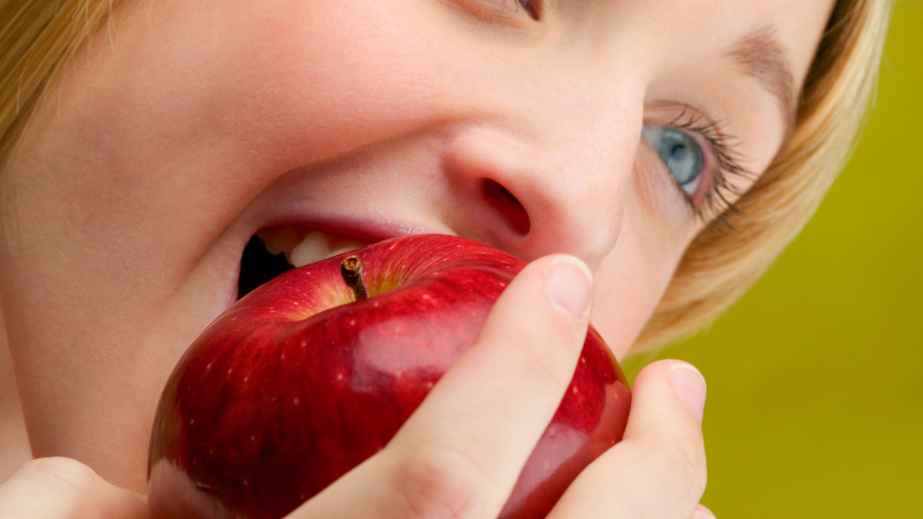 Apple seeds house amygdalin, which releases cyanide when metabolized. Though small amounts are harmless, one should exercise caution with large quantities.
The Exotic Danger of Ackee Fruit
This tropical delicacy must be fully ripened before consumption. Premature consumption can lead to "Jamaican vomiting sickness."
Wild Mushrooms: A Gamble of Sorts
While many wild mushrooms are safe to eat, others can be fatally toxic. Proper identification is paramount.
The Cinnamon Challenge: More Than Just Fun
Inhaling cinnamon can lead to lung damage. The spice is safe for consumption but should not be ingested in large, dry quantities.
Nutmeg: A Dash of Caution
While a festive spice, excessive consumption can lead to myristicin poisoning, characterized by nausea, hallucinations, and other symptoms.
Peach Pits: A Stony Hazard
Similar to plums and apricots, peach pits carry cyanogenic compounds that can be harmful if consumed.
Salmonella: Beyond Raw Meat
Eggs, especially uncooked, can be a source of salmonella, a dangerous bacteria that can lead to severe food poisoning.
Lima Beans
These beans, when raw, contain the toxin linamarin. Proper cooking is essential to neutralize the threat.
Remember, knowledge is the key to safety. By being aware of the potential hazards in these everyday foods; we can ensure a healthy, risk-free diet for ourselves and our families.
13 Foods You Are Eating That Are Gradually Destroying Your Brain
Your brain is the control centre of your body, and it needs the right fuel to work properly. Like an expensive car, your brain functions best when it gets only premium fuel. Unfortunately, some foods we consume daily could be the equivalent of pumping our brains with low-grade gasoline.
Here are 13 common foods that, unbeknown to many, may be slowly eroding your cognitive capabilities and overall brain health.
13 Foods You Are Eating That Are Gradually Destroying Your Brain
5 Best Quiet Blenders of 2023
In this post, we will be discussing some of the best quiet blenders on the market. These quiet blenders produce minimal noise by design, so you can blend without fear of disturbing those around you.
We'll also be talking about some of the features you should look for when shopping for a soundproof blender. So whether you're looking for a new blender or want to know more about Quiet Blenders, read on!
15 Stupid and Unhealthy Foods Americans Should Stop Eating (and Why)
In today's fast-paced society, convenience often trumps health regarding food choices. However, many foods Americans regularly consume contribute to weight gain and pose serious health threats.
15 Stupid and Unhealthy Foods Americans Should Stop Eating (and Why)
25 Foods You Didn't Know Were Killing Your Metabolism
If you've been struggling to lose weight and feel like your metabolism is working against you, it could be because of your eating foods. Many people don't realize that some seemingly healthy food choices can actually slow down their metabolism and make it harder for them to reach their goals.
25 Foods You Didn't Know Were Killing Your Metabolism
15 Guilty Pleasure Foods That Are Secretly Good for You
Welcome to the delightful world of "guilty pleasures" — where indulgence is permitted and heartily encouraged! We've all experienced that irresistible craving for a favorite treat, followed by guilt over the indulgence. But what if we told you that you can indulge without guilt?