Well, hello there, fellow love voyagers! Ready to navigate the choppy waters of wedded bliss, or shall we say, wedded miss? If you've clicked your way here, there's a good chance your marriage compass is spinning a tad off north. But hey, don't panic! It happens to the best of us. Let's face it, marriage is not all roses and unicorns, and sometimes, it can feel a lot like sailing into a storm.
So, if you're getting that "uh-oh" feeling in your gut, we've got something just for you. Sit back, grab a cup of coffee, and let's sift through the 10 warning signs your marriage might be in treacherous waters. But remember, it's never too late to toss out a lifebelt and start paddling back towards the blissful shores of marital harmony.
Relationship Abuse: The Not-So-Friendly Neighbor We Could Do Without
Let's talk about relationship abuse, the not-so-friendly neighbor we all wish would move out of town. Now, don't be fooled by its seemingly innocuous name. This is one uninvited guest that can cause more damage than a bull in a shop. It's not all about black eyes or broken bones; abuse can be as subtle as a series of belittling comments that strip away your self-esteem.
Or as quiet as the silent treatment that leaves you feeling like you're not even worth a response. Don't let it blend into the backdrop of your marriage. It's as out of place as a cactus in a rose garden, and it's about time we called it out for what it truly is.
When You Find Yourself Emotionally Hitching a Ride on Someone Else
Here's a fun fact no one tells you when you're walking down the aisle: sometimes, in a marriage, you might find yourself emotionally hitching a ride on your partner. When you were in high school, you'd jump in your best buddy's car without a clue or care about where they were going. Hilarious then, but not so much in a marriage.
If you're continuously looking to your partner for emotional direction or fulfillment, it's like trying to navigate with someone else's compass. Sounds as confusing as assembling an IKEA table, right? That's because it is.
Caught in the Act! You're Having an Affair… And Not the Secret Kind Where You Save Money on Taxes. It's Time To Spill the Beans, My Friend!
Alright, let's not beat around the bush. You've found a new interest, and it's not tax evasion or extreme couponing. It's a romantic interest outside your marriage, my friend. If your spouse's once-endearing quirks now irritate you more than a fly at a summer barbecue, and you're spending more intimate moments with someone else, you're knee-deep in a no-good, rotten affair. Sounds harsh?
As your witty, straight-shooting, imaginary buddy, it's my duty to tell you to snap out of it. It's time to come clean, have that tough conversation, and decide whether to rekindle the home fire or move on. Remember, honesty isn't just the best policy; it's the only one concerning matters of the heart.
Trust Seems To Be on a Vacation, Leaving Behind a Void
Trust, my dear reader, is like that reliable roommate who always pays their share of the rent on time — until they don't. Suddenly, you're shouldering the whole load and the trust fund…I mean, trust seems to have taken an unannounced vacation. Poof! It's left behind a desolate void once filled with warm memories, now echoing with uncertainty.
Those quiet suspicions creep in, the lingering doubts that you're no longer the only one holding the key to your partner's heart. If trust has packed its bags and taken a hike from your marriage, that's a billboard-size warning sign for you, my friend.
When It Comes to Your Spouse, Are You a Secret-Keeper or a Master of Deception?
So, regarding your spouse, are you more of a secret keeper or a master of deception? There's a fine and often blurred line between the two. A secret keeper might shield their spouse from certain truths to protect them, like hiding the fact that their favorite houseplant kicked the bucket.
On the other hand, a master of deception weaves intricate webs of deceit, like pretending your annual fishing trip with the buddies is an urgent work retreat. While one is benign, the other could signify that your marriage might be heading toward choppy waters. So, grab a mirror and take a long look. What do you see?
When Hanging Out Feels Like a Chore, It's Time to Reevaluate Your "Fun" Time Together
When your "couple time" morphs into "chore time," it's like getting socks for Christmas – disappointing and a bit alarming. You know, that feeling of dragging your feet to a date night with your spouse, where you should be excited, but instead, you're wondering if you left the iron on. It's as if spending time with your beloved now comes with a side order of dread, and it's not the fun kind tied to watching a horror flick together.
That's a glaring neon sign shouting, "Hey, buddy, you might want to check the state of your marital bliss!" Because when the person you vowed to love and cherish feels like another task on your to-do list, it's time for a serious relationship spring cleaning.
You've Gone Ghost on Communication! Silence Isn't Golden; It's a Sign You're Not Communicating
So, you've gone ghost on communication with your spouse, huh? Not exactly the Casper-friendly-ghost type either, we presume. Your words have taken a long hike, and silence has slid in, setting camp between the two of you. But here's the kicker: silence isn't golden in a relationship; it's actually a glaring neon sign that says, "Warning! Communication Breakdown Ahead!"
The lack of heart-to-heart chats, the missing laughter muffled by midnight whispers, or even the absence of those adorable squabbles over who controls the TV remote are all telltale signs. If your conversations dwindling to monosyllabic grunts or texted grocery lists, it's high time to sound the alarm bells. Because in the vocab of love, silence is certainly not a word.
Deja VU, Anyone? It's Like Playing a Broken Record With These Never-Ending Arguments
Ah, the infamous déjà vu in marital squabbles. It's a new day, and the sun is shining – yet there you are again, circling around the same argument like a broken record stuck on replay. Whether it's over who forgot to take out the trash or that recurring debate about whose turn it is to do the laundry, these never-ending arguments are about as welcome as a mosquito. They're exhausting, frustrating, and far from productive.
If you find that your marital conversations are more of a rerun of the same old sitcom than a healthy discourse, it's time to take a step back. It might be a symptom of unresolved issues, and sweeping them under the rug is like trying to hold a beach ball underwater – it's only a matter of time before it pops back up!
Intimate-Less, The Struggle Is Real!
Intimate-less, you say? Isn't that just a fancy way of saying you haven't been getting cozy under the covers lately? But let's be real, folks – the struggle is real! You're not running a marathon or painting a masterpiece here; it's about reconnecting with your partner on a deeper level.
If you can't remember the last time you two shared something more intimate than a Netflix password, it might be time to stop binge-watching and start wondering if there's a chill in the air that's got nothing to do with the latest 'Stranger Things' season.
You're Constantly Trading Jabs and Critiques. Sparring Partners or Besties? Who Can Tell!
Remember the days when "jab" referred to a playful nudge or a light-hearted tease between you two? You've got trouble if a boxing match of constant critiques has replaced those fond memories.
There's a world of difference between a loving, friendly jest and a mean-spirited jab. If you find your marital life feels more like a critique club than a safe haven of mutual respect, it's time to take off those boxing gloves and reassess. You're supposed to be a tag team, not sparring partners!
13 Signs It Might Be Time for a Divorce, According to Relationship Experts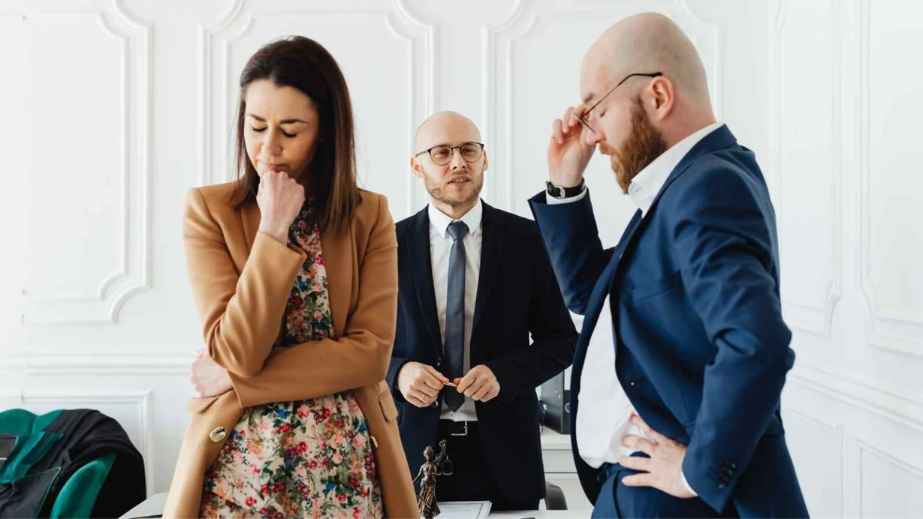 According to relationship experts, to help you decide whether this is the right path for you and your partner, here are thirteen signs that it might be time for a divorce. From communication breakdowns to financial issues, these are important indicators of an unhealthy marriage that could benefit from dissolution.
13 Signs It Might Be Time for a Divorce, According to Relationship Experts
299 Essential Household Things To Buy for a New House
Whether you are just starting out on your own or living in the same place for years, these essential things to buy for a new house will make your life easier and help you maintain a healthy lifestyle. This post will discuss those essential things to buy for a new house and why you need them! Our list is exhaustive, and we promise to keep updating the list to your relevance. So make sure you have everything you need before you run into issues!
299 Essential Household Things To Buy for a New House
American cities with the most divorced people
There was a time in American society when marriage was essentially final—intractable, incapable of being dissolved. It wasn't until New York state's Married Women's Property Act of 1848 that women even began to be seen as "legal entities," to say nothing of equals to men, at least in the eyes of the law. Divorce retained a distasteful patina through the end of the 19th century; it was a source of failure, shame, or wrongdoing.
American cities with the most divorced people
15 Things You Should Absolutely Never Utter to a Woman! Trust Me; You Won't Like the Consequences!
Let's face it, we've all been there, that moment when your words escape faster than your brain can hit the brakes, and the consequences… well, they're rarely pretty. So buckle up and prepare for a ride through the 15 phrases that could turn even the most serene woman into a roaring tempest. Trust me; you won't like the aftermath if you dare to utter these words!
15 Things You Should Absolutely Never Utter to a Woman! Trust Me; You Won't Like the Consequences!
10 Reasonable Ways Some Male Folks Justify Cheating On Their Partners
Let's be clear: this isn't a justification or endorsement of such behavior. Instead, we're taking an exploratory dive into the minds of some men who cheat on their partners, attempting to unravel the reasons they cite to rationalize their actions. Buckle up; this could be a bumpy ride.
10 Reasonable Ways Some Male Folks Justify Cheating On Their Partners