Imagine: a wide-eyed tourist arrives in America, the land of the free and the home of the brave, renowned for its intriguing food choices. Prepare to be amused, horrified, and intrigued as this piece explores 13 uniquely American food creations that the rest of the world finds hard to stomach.
From deep-fried delicacies to dentist-worthy sweets, let's dive into the world of American gastronomy, where 'strange' is an understatement! Buckle up for a wild ride!
Cookie Dough
It's raw, sticky, and loaded with chocolate chunks. Sure, raw eggs pose a salmonella risk, but we Yanks are fearless food explorers.
You might question our sanity, but the blissful sound of us indulging in this sweet, raw dough drowns out your doubts. Trust us; it's more divine than any five-star caviar or truffle.
Sweet Potato and Marshmallow Casserole
Imagine a dish torn between being a main course or a dessert – a culinary identity crisis on a plate! It all starts with the sweet earthiness of sweet potatoes, which would be tasty on their own.
But wait, there's more! They get topped with fluffy marshmallows, transforming this innocent veggie dish into a questionable dessert. It's like having candy and vegetables simultaneously. Sweet and savory? Nah, more like sweet and scary!
Krispy Kreme Doughnuts
Dipped in a glossy, sugar-inducing glaze, these ring-shaped dough pieces are as American as glazed doughnuts. But let's be real, do we really need a pastry that doubles as a sugar bomb, ready to overwhelm our unsuspecting pancreas?
And yet, we line up like loyalists at Krispy Kreme, drawn by the "Hot Now" sign, ready to risk it all for that sweet, regretful moment. Oh, America, you sure love playing dessert roulette!
Hershey's Chocolate
It's as American as baseball and apple pie, but the rest of the world struggles to appreciate its charm. To newcomers, a Hershey's bar offers a distinctive sensory experience, with some international chocolate lovers describing its flavor as 'earthy'.
This unique taste is attributed to butyric acid, giving Hershey's its tang. Like Aunt Clara's eccentric holiday fruitcake, it's an acquired taste that intrigues life.
Processed Cheese
It's like cheese, but not quite. Think of it as Cheese's neon orange distant cousin crashing family reunions, insisting on being in every photo. This bright, melt-in-your-mouth delicacy is a national treasure.
It transforms a simple sandwich into a gooey masterpiece, our uniquely American love affair. Cheese whiz in a can? It's a gastronomic mystery that leaves non-Americans politely declining.
Lobster Mac'n'Cheese
When comfort food crashes an upscale dinner party, it's a perplexing indulgence. Imagine gooey macaroni and cheese colliding with a pricey crustacean, like combining a carnival with an opera.
Fun in theory, but the execution is up for debate. Judge for yourself.
Apple Sauce
What was the thought process here? "Let's take a good apple, cook it till it loses texture, and blitz it into an unrecognizable slush. Perfect!" Really, America? You've done so much right, like jazz and national parks, but then you turn around and do something like apple sauce.
It's baffling, it's perplexing… it's squishy. Is it a side dish? A condiment? A dessert? The world may never know. This American creation leaves the rest of the planet scratching their heads.
Spam
Packed in a compact blue tin, this amalgamation of pork, water, salt, and preservatives has somehow carved its niche in the culinary world.
Despite its questionable texture and pungent aroma, it's a staple in households where quick, no-fuss meals are the order of the day. While Spam may be the food equivalent of a practical joke, there's no denying its undeniable appeal that keeps folks reaching for that blue can on the grocery store shelf.
Grits
Despite its unassuming appearance, this dish is a culinary paradox. Grits often served as a breakfast side, can be divisive due to their unique texture and subtle flavor.
As foreigners question the appeal of this American favorite, we simply embrace our love for grits without apologies.
Mayonnaise on Everything but French Fries
From subs to apple pie, Americans have a knack for slathering this creamy condiment on almost everything. However, what puzzles foodies is their aversion to mayo on French fries.
It's as perplexing as a summer snowstorm. One would expect a nation devoted to mayo to embrace dipping their crispy fries into a velvety pool, but it hasn't become popular.
Chicago Style Deep-Dish Pizza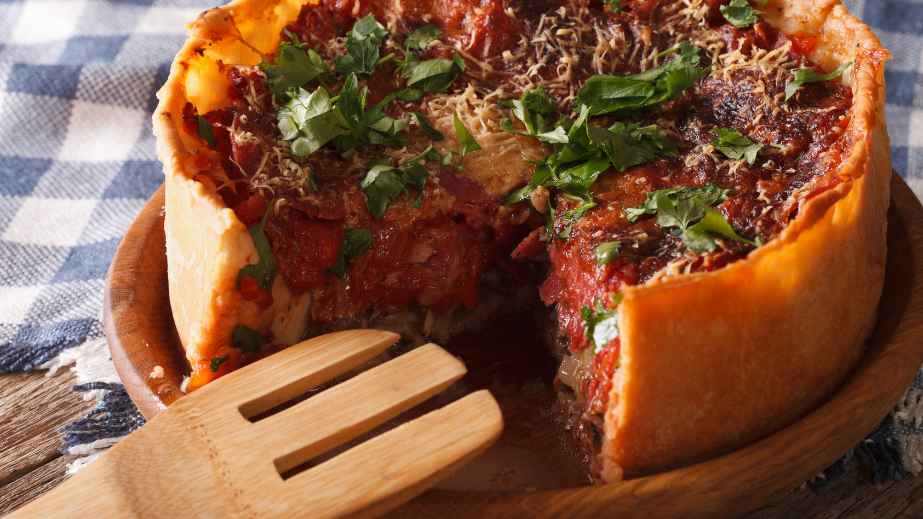 Picture a pizza so deep it's like a toppings swimming pool. The crust is thick, buttery, and almost pastry-like, challenging your cutlery skills. The cheese? Melted into a gooey, cheesy lava. And the sauce? Breaking tradition by sitting on top.
One slice keeps you full for a week. It's an absurd yet delightful testament to our talent for turning a simple pizza into an extravagant feast.
Pop Tarts
It's America's go-to "breakfast" for those in a hurry or, let's be honest, too lazy to crack an egg. Picture a cardboard slab slathered with neon fruit-ish goo and a sprinkle of sugar.
It's like the food industry's answer to modern art: indiscernible, slightly concerning, and an acquired taste. Whether toasted or not, Pop-Tarts offer as much nutrition as their box, yet they still hold a bizarre spot in the American pantry. Go figure!
Anything Deep Fried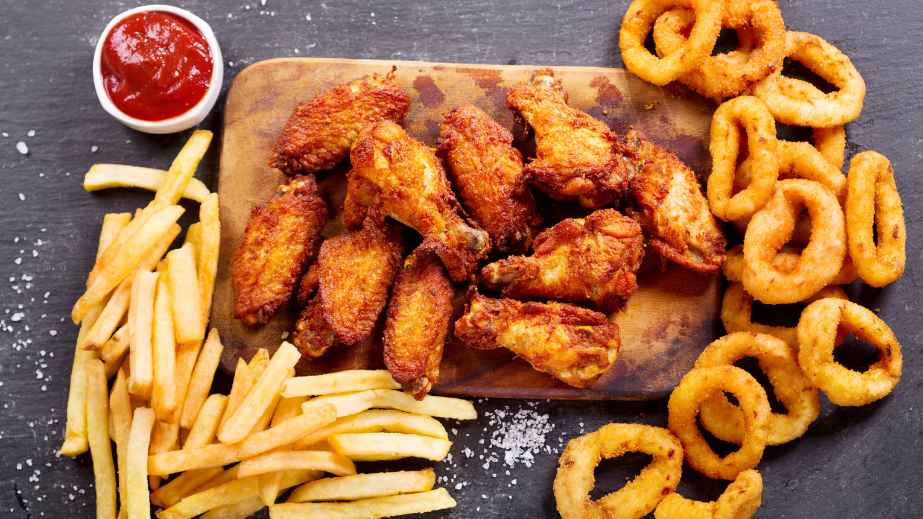 America, the land of the free and home of the brave, has a deep love for fried delicacies. From Twinkies to butter, if it exists, we've fried it. This culinary art form showcases our ingenuity and unique taste.
The golden-brown crunch of common and unusual fried treats never fails to charm. So, next time you encounter a deep-fried Snickers bar at a state fair, remember: it's not just a snack; it's a symbol of America's dedication to all things fried. Welcome to the land where grease reigns!
15 Stupid American Foods Nobody Wants to Eat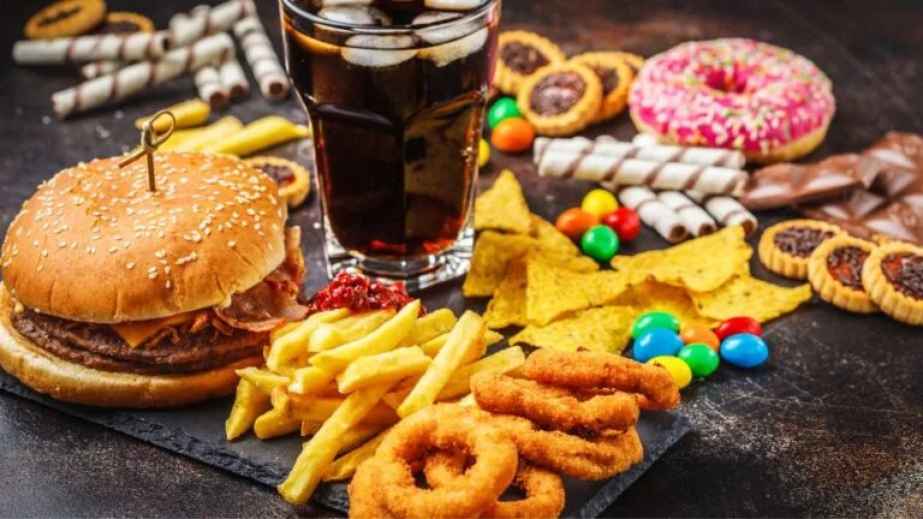 Navigating the complex world of food marketing can be challenging, especially when so-called 'healthy' products may not always be beneficial. In our pursuit of wellness, we aim to demystify some of these 'health foods' by providing clear nutritional facts for each item on this list.
15 Stupid American Foods Nobody Wants to Eat
The 13 Best Calming Dog Beds of 2023
Dogs are usually very happy creatures; however, they can have their anxieties.
The 13 Best Calming Dog Beds of 2023
20 Quintessentially American Foods That Will Make Foreigners Gag and Cringe!
Food has the power to bring people together, but certain dishes can be unsettling for people from different cultures. American cuisine is distinct, often featuring dishes that may seem peculiar to those who are not accustomed to it.
20 Quintessentially American Foods That Will Make Foreigners Gag and Cringe!
15 Stupid and Unhealthy Foods Americans Should Stop Eating (and Why)
In today's fast-paced society, convenience often trumps health regarding food choices. However, many foods Americans regularly consume contribute to weight gain and pose serious health threats.
15 Stupid and Unhealthy Foods Americans Should Stop Eating (and Why)
30 Things Americans Do That Are Seen as Disrespectful in Other Countries
As we journey across the globe, it's important for us to understand and respect the diverse cultures and customs we encounter. Certain behaviors that are considered polite in the United States can be seen as offensive or discourteous elsewhere. In this light, we've compiled a list of 30 everyday habits of Americans that could be perceived as rude in other nations.
30 Things Americans Do That Are Seen as Disrespectful in Other Countries