Bathroom renovations are becoming increasingly popular as people want to create a spa-like atmosphere in their homes. After a long day, there's nothing like unwinding in a beautifully designed bathroom. The countertops, sink, and flooring is often the focal points in a bathroom remodel. Still, the shower area is also becoming an area of interest, as it provides a large surface for showcasing features such as tiles, fixtures, and other accents. A luxurious shower experience is a must-have for many homeowners, so here are five must-consider features for your next bathroom remodel:
1. Large-format Tiles
Picking tiles for your shower can be daunting, with many options available, from various styles and hues to various dimensions. Currently, the trend is towards more oversized tiles, known as "large-format tiles," as designers believe they give a more visually appealing look and are in high demand. In addition, the absence of many grout lines helps draw attention to the tiles, making smaller bathrooms look more spacious. With new advancements in printing technology, it's possible to have images and designs directly printed on tiles, further fueling the popularity of large-format tiles.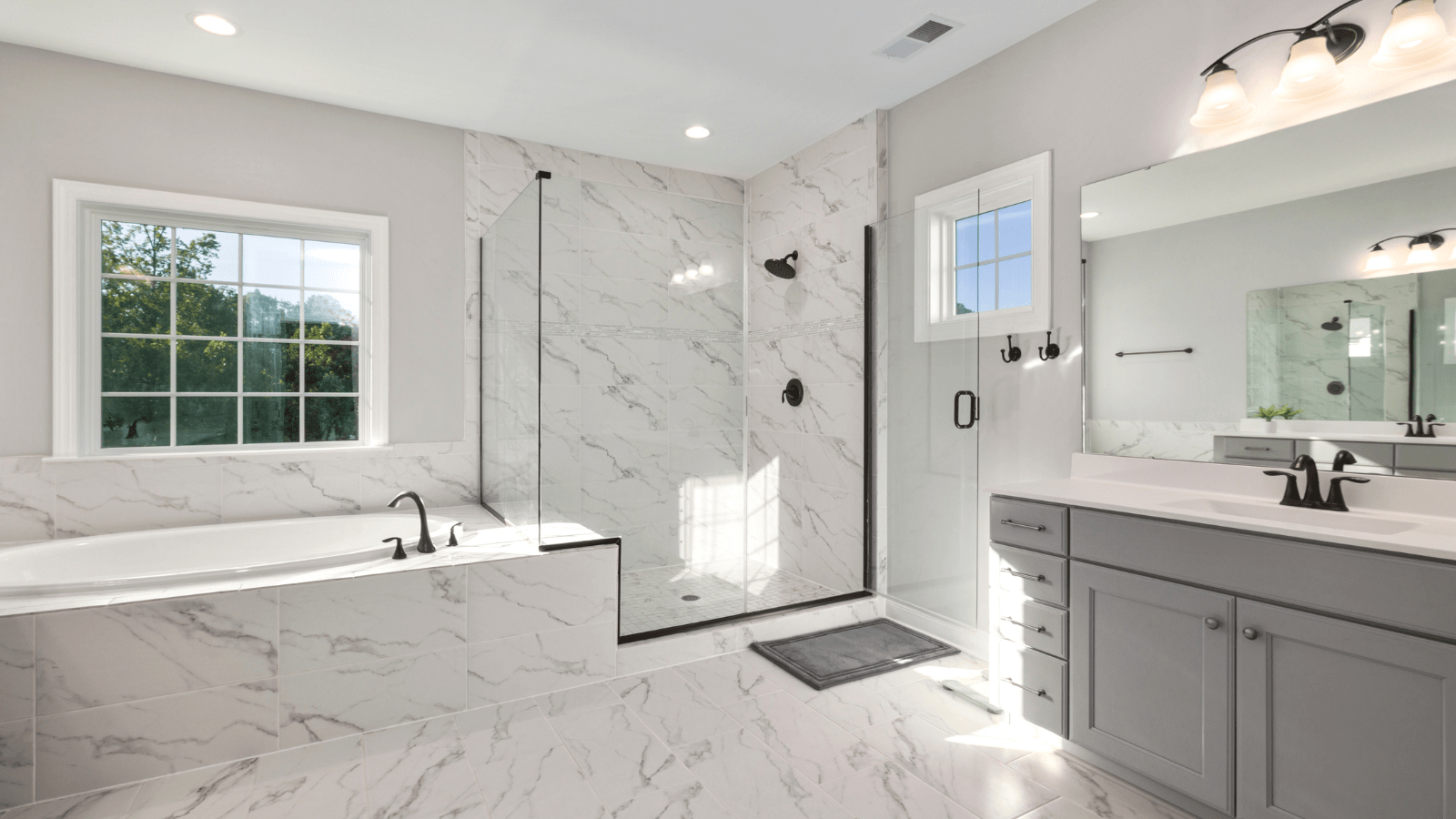 2. Shower Niches
Shower shelves, or niches, are becoming a must-have feature in bathroom design. These built-in storage spaces offer a convenient solution for items like shampoo and soap, eliminating the need for a shower caddy. Once you start using a shower niche, it's hard to go back, as they are both practical and stylish. Additionally, you can get creative with your niche design, adding character and flair to your shower space. Accent niches are also a popular way to add a pop of style and interest to your shower area.
3. Matte Black Fixtures
Designers are advocating for shower fixtures in matte black, as this finish is not only attractive but also sturdy and resistant to wear and tear. In addition, the matte black finish hides fingerprints and other signs of wear, and being a neutral color, it can easily blend into various design styles. However, the challenge is finding a desired fixture style in this finish, as it is currently only offered in limited collections. With its growing popularity, the selection of matte black fixtures will likely expand. To complete the look and add cohesiveness to your bathroom, consider incorporating matte black accents, such as shower door handles, hinges, and towel holders, to match your other matte black fixtures.
4. Frameless Shower Doors
A shower door made of frameless glass can easily fit into various bathroom designs, providing a sleek and modern appearance. This option is ideal for those who prefer a minimalist and uncluttered look.
Although open showers are becoming more popular, a frameless door may be a good choice if you want to contain the steam while keeping the bathroom open. The frameless design is also suitable for shower-tub combinations. In remodeled bathrooms, tiles are often the center of attention in the shower, and the transparency of a frameless door showcases the tile and allows it to shine. Furthermore, frameless shower doors are easier to clean, as there is minimal hardware and fewer areas to clean around.
5. Ceiling Track Shower Curtains
Shower curtains remain a practical and attractive addition to your bathroom. By hanging from a ceiling-mounted track, you can add a touch of style without breaking the bank. A curved track attached to the ceiling can add a contemporary feel to your bathroom, making cleaning and replacing the curtain simple. The track eliminates the need for a bar spanning the width of the shower, providing a clean look and giving the illusion of a larger, more open space. Plus, even when closed, the ceiling-mounted track gives the shower curtain a stylish appearance that complements both traditional and modern bathroom designs.
Final Thoughts
In conclusion, with the right upgrades, your bathroom can be transformed from a dull space into a luxurious oasis. Whether it's selecting stylish tile, incorporating convenient shower niches, opting for durable matte black fixtures, installing a sleek frameless shower door, or using a creative ceiling-mounted shower curtain, these five must-have upgrades can elevate your bathroom experience and make it a place you'll love to spend time in. So, why wait? Start planning your bathroom remodel today and create your very own spa-like sanctuary.