Scandals have come hand-in-hand with politics for as long as America has been electing presidents: even George Washington was criticized for overspending, refusing to hand over detailed documents for investigation, and even neglecting to return library books.
Hardly any of President Biden's 45 predecessors have been able to escape some level of public disapproval, though some are more notorious in that regard than others. In particular, presidential elections are rife with misconduct, as candidates steal documents, wiretap, work with unscrupulous partners, and discredit opponents to secure their nominations.
The public has repeatedly witnessed bribery, sex scandals, espionage, and theft throughout the years—as John F. Kennedy, Bill Clinton, Richard Nixon, Ronald Reagan, and even Jimmy Carter can regretfully attest. Many presidential scandals have only come to light thanks to dutiful and oftentimes courageous whistleblowing from reporters and government officials.
Today's era has seen record-breaking scandals: Donald Trump is the only president to be impeached twice and to be impeached after leaving office. Although he was charged while still in office, the trial didn't begin until after Biden had replaced him.
Stacker compiled a collection of 10 images showcasing presidential scandals through the decades. Whether as far back as 1865 or as recent as 2021, the commander in chief's tendency for dubious ethics remains an American tradition.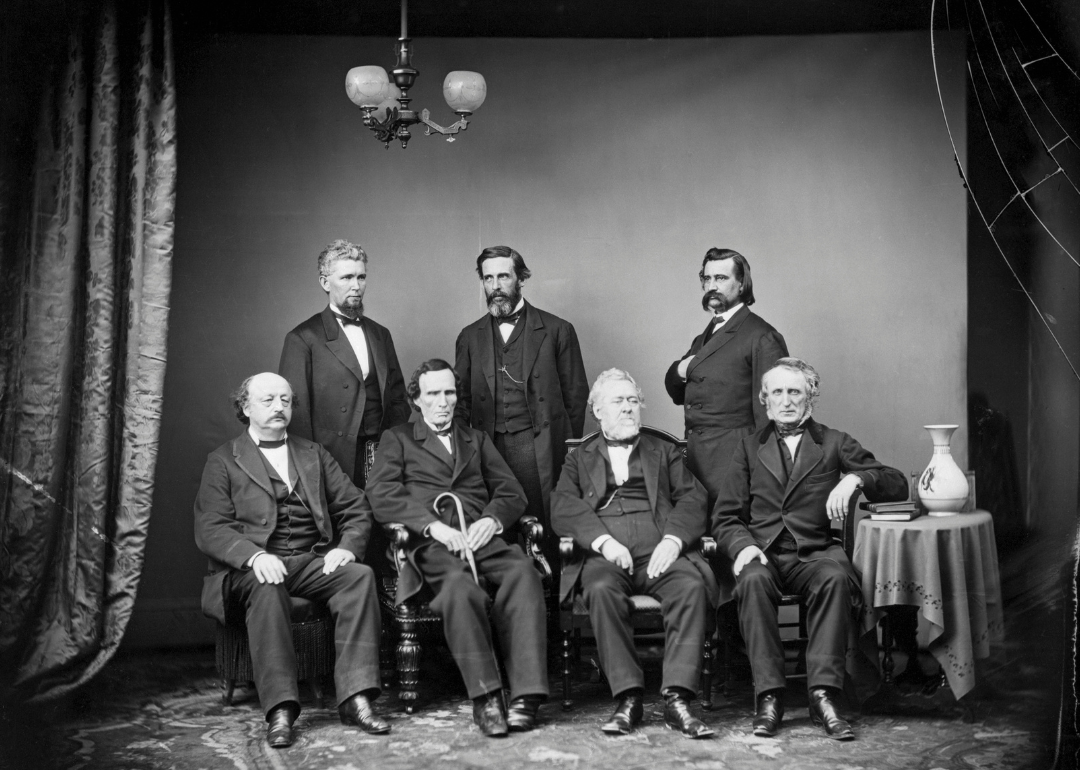 1 / 10 Corbis via Getty Images
Andrew Johnson (1865-1869): Impeached for violating the Tenure of Office Act
Andrew Johnson's impeachment resulted from years of tension between himself and Congress, which passed the Tenure of Office Act in 1867 after several attempts to impeach Johnson.
When Johnson fired Secretary of War Edwin Stanton without Senate approval—twice—the House of Representatives was finally able to charge him with "high crimes and misdemeanors" for unlawfully removing a Cabinet member.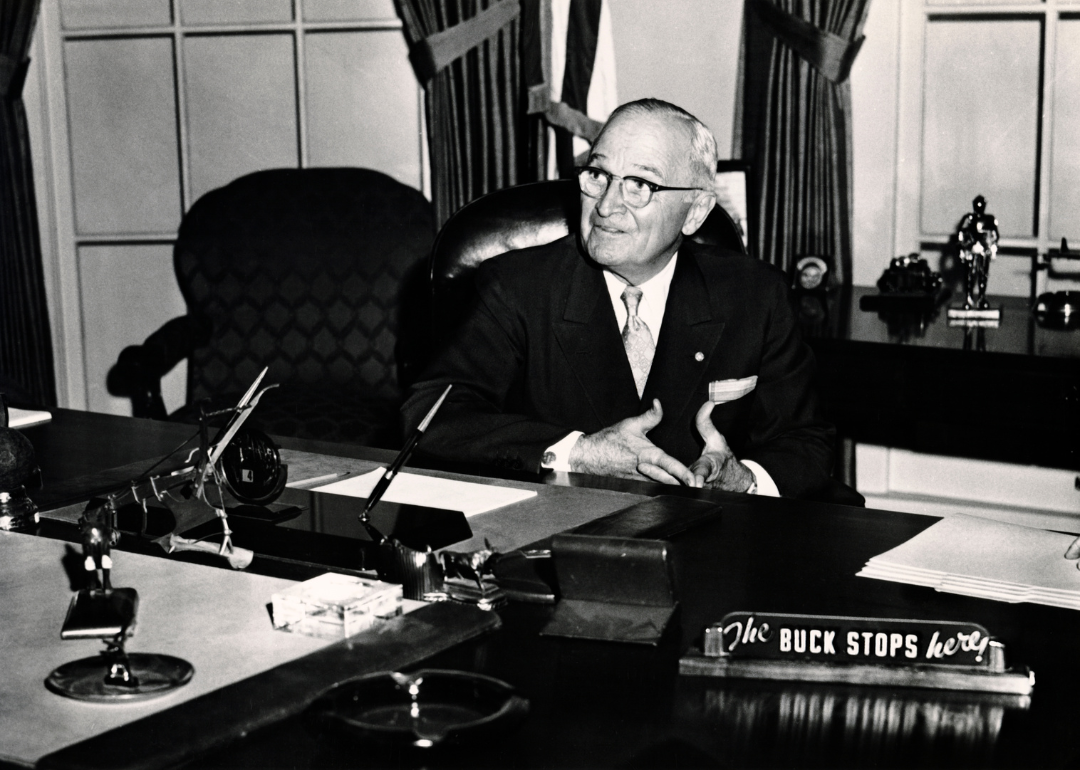 2 / 10 Fotosearch // Getty Images
Harry S. Truman (1945-1953): Accused of corruption after a Justice Department investigation of the IRS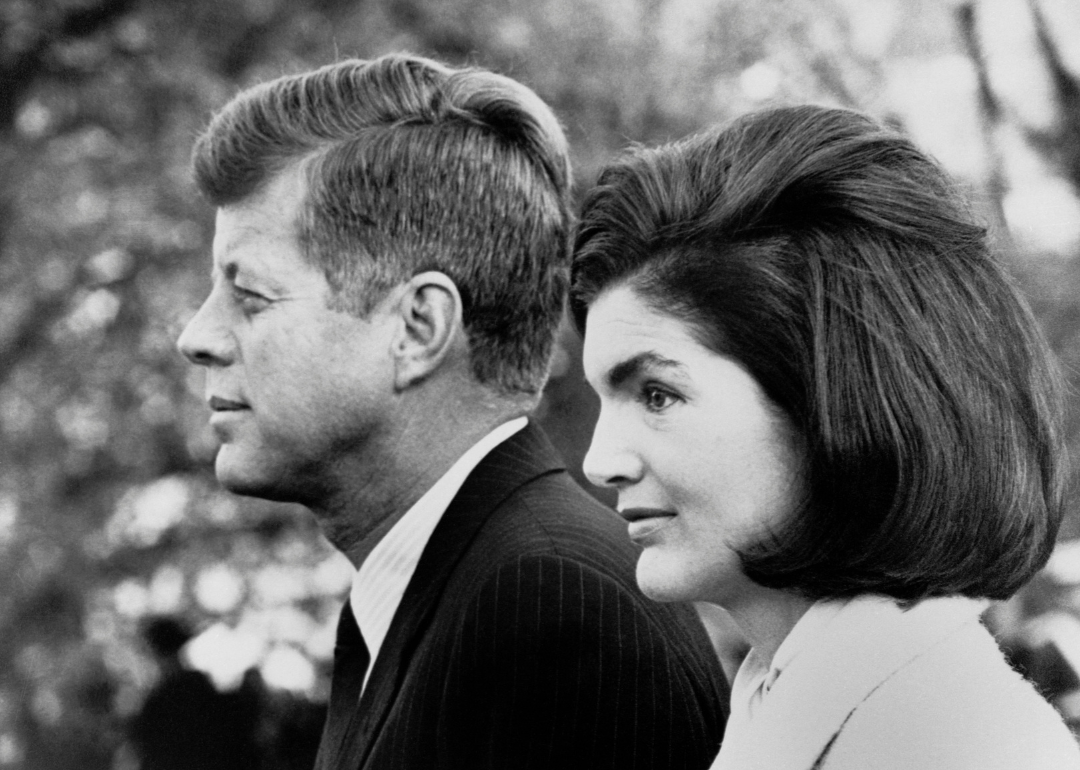 3 / 10 CORBIS/Corbis via Getty Images
John F. Kennedy (1961-1963): Conducted multiple extramarital affairs
JFK's affairs were particularly scandalous because Kennedy was the first Catholic president to take office. Alongside his wife Jacqueline, an illustrious First Lady who also became a fashion icon at the time, his strong home life gave the impression of a seemingly upright American family in the White House.
However, during their 10-year marriage, Kennedy was routinely observed to be involved in extramarital affairs. Those known or speculated to have been involved with him include Marilyn Monroe, Marlene Dietrich, and even his wife's press secretary Pamela Turnure.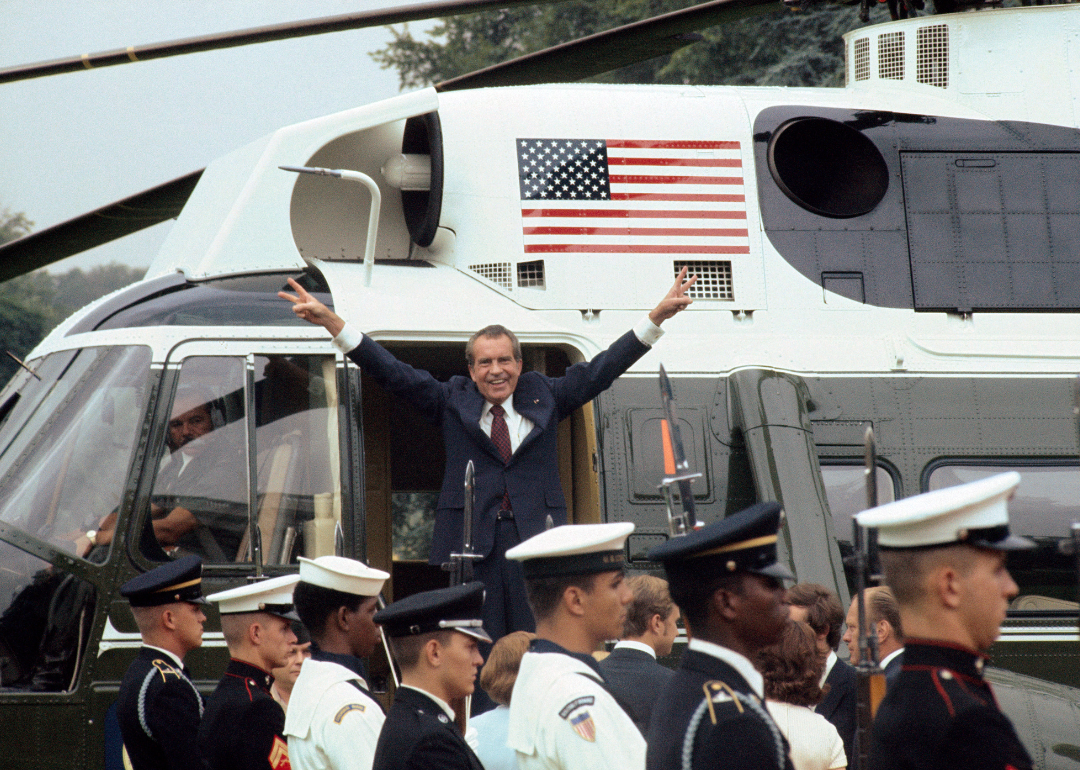 4 / 10 Bettmann // Getty Images
Richard Nixon (1969-1974): Watergate
During the infamous Watergate scandal, burglars linked to Richard Nixon's campaign for reelection were caught attempting to wiretap and steal documents from the Democratic National Committee headquarters in the Watergate building in Washington D.C.
Although Nixon went to great lengths to cover up the plot, he was nonetheless found out and consequently became the only U.S. president to resign.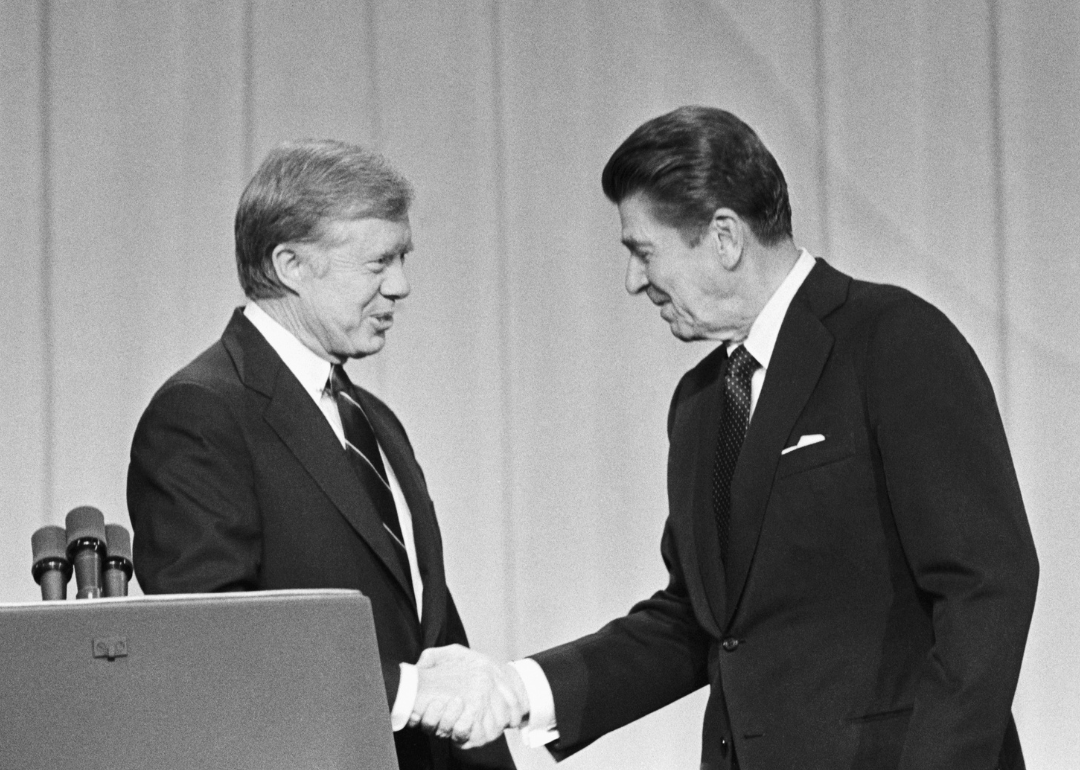 5 / 10 Bettmann // Getty Images
Jimmy Carter (1977-1981): Debategate
Ronald Reagan was the center of what became known as the "Debategate" controversy, although it occurred during Jimmy Carter's tenure.
An alleged spy from then-candidate Reagan's campaign team stole a briefing book Carter was using to prepare for a 1980 presidential debate between the two, and Carter blamed his eventual defeat to Reagan on the theft for years.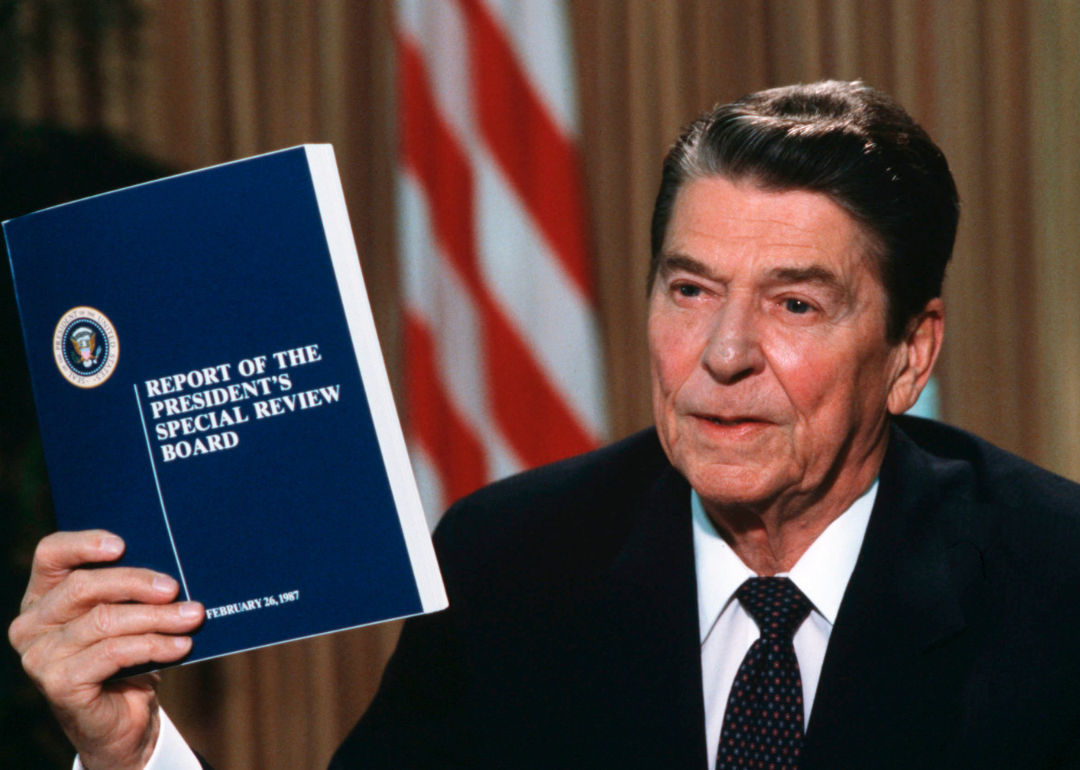 6 / 10 Shepard Sherbell/Corbis via Getty Images
Ronald Reagan (1981-1989): Multiple investigations into instances of bribery
Reagan's administration experienced much controversy over bribery, the worst of which was the Iran-Contra affair, during which the president was found to have (unsuccessfully) sold weapons to Iran in an attempt to release six U.S. hostages.
Additionally, the FBI found high-level officials within the Navy, Air Force, and Defense Department to have accepted large bribes during Reagan's term.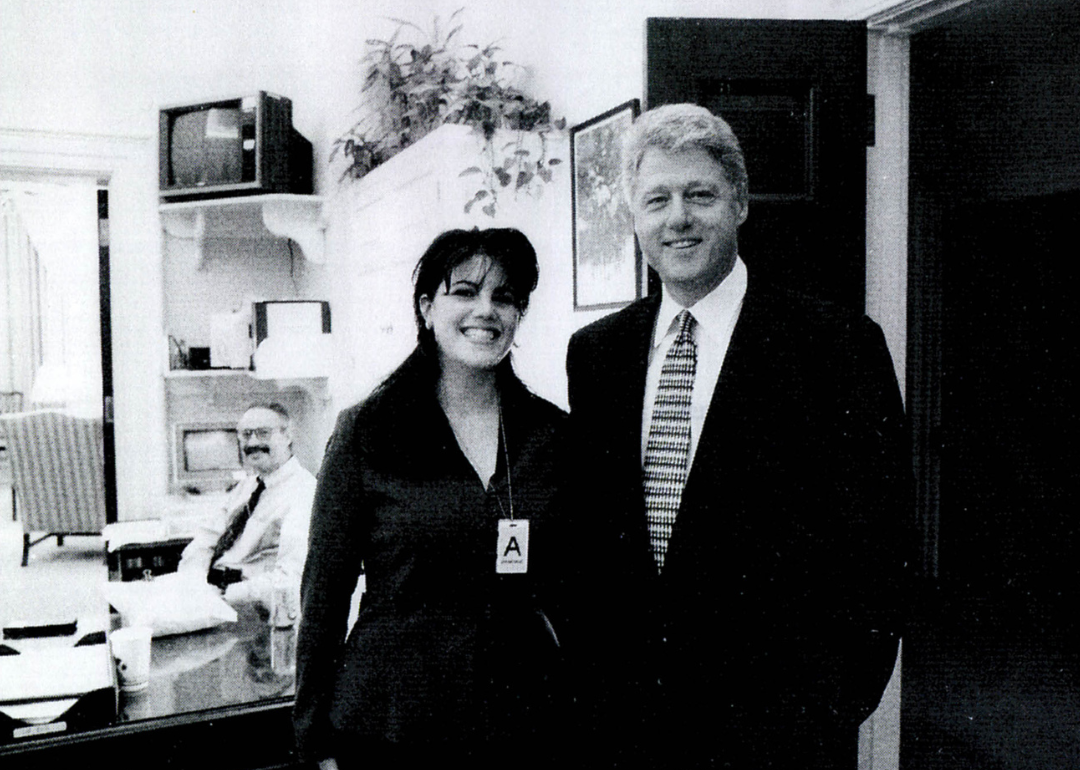 7 / 10
Bill Clinton (1993-2001): Impeached for perjury and obstruction of justice after an affair with Monica Lewinsky
Having an affair with a 22-year-old intern was only the start of the scandal for Bill Clinton, who had already been rumored to have had several extramarital affairs by the time the Lewinsky scandal broke in 1998.
After Clinton publicly denied having sexual relations with Lewinsky, he was found to have perjured himself and was consequently impeached by the House of Representatives, although he was later acquitted.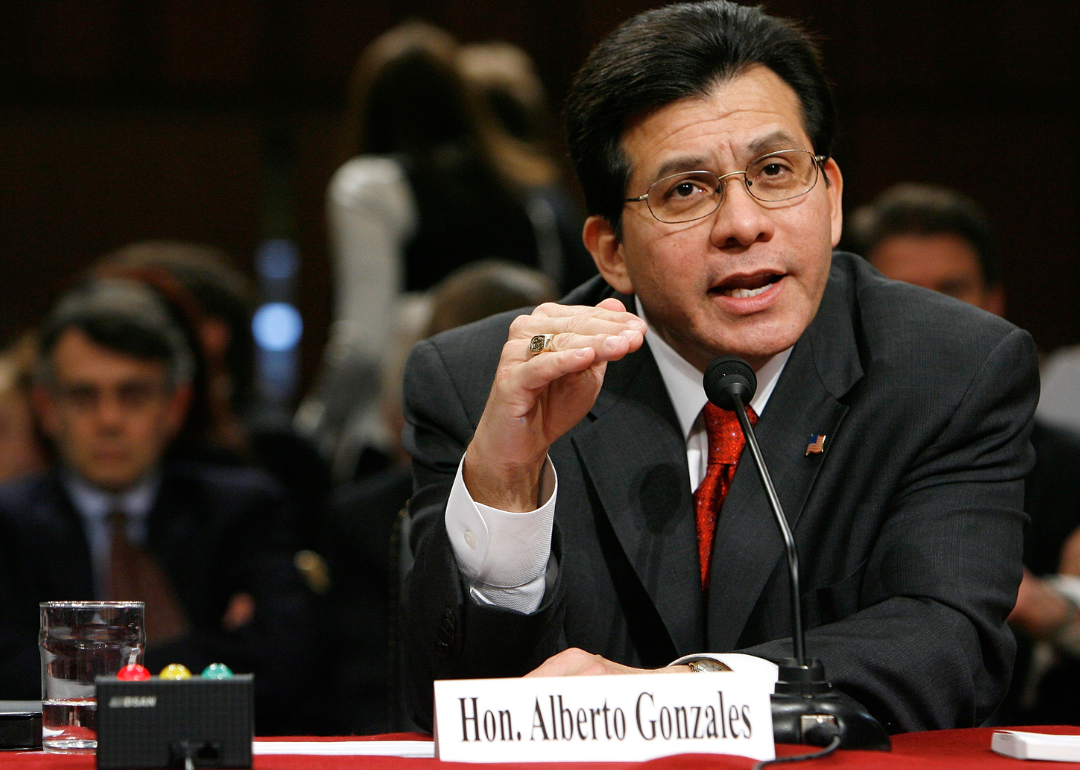 8 / 10 Chip Somodevilla // Getty Images
George W. Bush (2001-2009): Lawyergate
"Lawyergate" began when White House Counsel Alberto Gonzales and Justice Department worker Kyle Sampson began discussing replacing U.S. attorneys with "loyal Bushies" in early 2005. Ultimately, eight attorneys were fired without adequate justification, prompting public suspicion about whether the dismissals were legally permissible.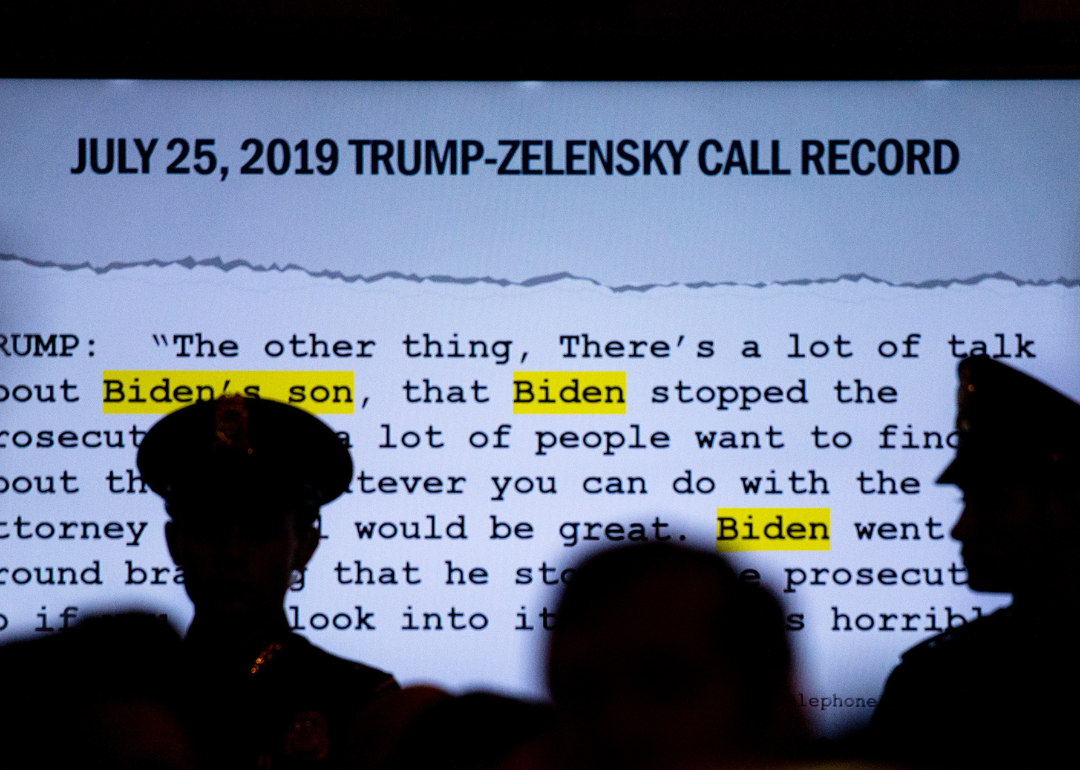 9 / 10 Caroline Brehman/CQ-Roll Call, Inc via Getty Images
Donald Trump (2017-2021): Impeached for abuse of power and obstruction of Congress after attempting to pressure Ukraine into damaging Biden's reputation
Donald Trump became the third president to be impeached after investigators found out he had called Ukrainian President Volodymyr Zelensky to ask for help interfering in the 2020 election. He pressured Zelensky by withholding $400 million in military aid to the Ukrainian government.
Aside from it being illegal for Trump to withhold military aid without congressional approval, he had also requested that Ukraine investigate Joe and Hunter Biden to attempt to discredit Biden ahead of the presidential election.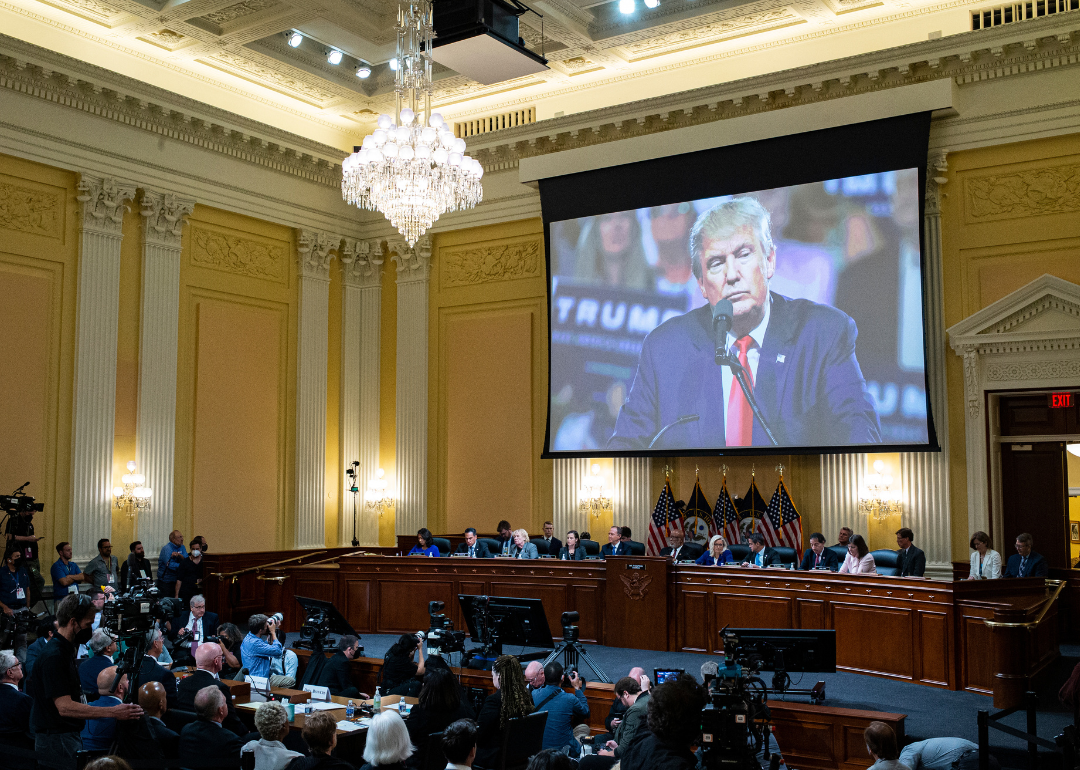 10 / 10 Al Drago-Pool // Getty Images
Donald Trump (2017-2021): Impeached for incitement of insurrection after the Jan. 6 riots
This article originally appeared on Stacker.