We all know that women are often underrepresented in executive positions, but let's flip the script – women make amazing executives! They've got the skills, the smarts, and the sass to shake things up.
From killer communication to problem-solving prowess, here are 12 reasons why women absolutely rock as executives. Businesses are finally catching on and actively promoting badass women into leadership roles. Let's smash that glass ceiling! 
They Highly Value Work-Life Balance
Women executives: experts in work-life balance, champions of breaks, rest, family, and hobbies. They're not just boss babes, they genuinely care about their team's well-being!
They Embrace Inclusivity
Women executives are inclusivity champions! They have a sixth sense of the value of diverse perspectives, paving the way for supercharged solutions.  They're conflict-savvy and take steps to dodge dilemmas. Plus, they create a safe space for ideas to blossom!
They Possess Higher Levels of Empathy
Women in leadership are masters of empathy! They have an extraordinary ability to understand their staff and customers deeper, making decisions that benefit everyone. Plus, they navigate tricky conversations like pros, staying cool and collected. Who needs just profits when you can have empathy-driven success?
They Promote Free Thinking
Women: the champions of free thinking! They excel in crafting creative solutions to workplace problems, thanks to their open-mindedness in team management and driving innovation. With a knack for valuing diverse opinions and perspectives, women executives foster an environment where everyone can freely express themselves.
This fuels the generation of fresh ideas and smarter decision-making, propelling companies toward success.
Teamwork is Their Key Focus
Women bring collaboration and understanding that amp up communication between team members, boosting morale and productivity. Plus, they prioritize employee well-being, creating an atmosphere that breeds success. Safe, appreciated, and satisfied employees? Women make it happen! 
They Excel at Multitasking
With the ability to handle many tasks efficiently, they ensure nothing falls through the cracks. Female executives rock at prioritizing projects and bringing incredible efficiency and organization to any role they take on.
Challenges Serve as Their Motivation
When it comes to motivation, women thrive on challenges like a boss! They tackle difficult tasks head-on, finding immense satisfaction in rising to the occasion.
That's one of the reasons why they make exceptional executives, always reaching for success no matter how tough the road may be. Their drive and determination lead to remarkable results in record time. You go, ladies!
They Possess Excellent Communication Skills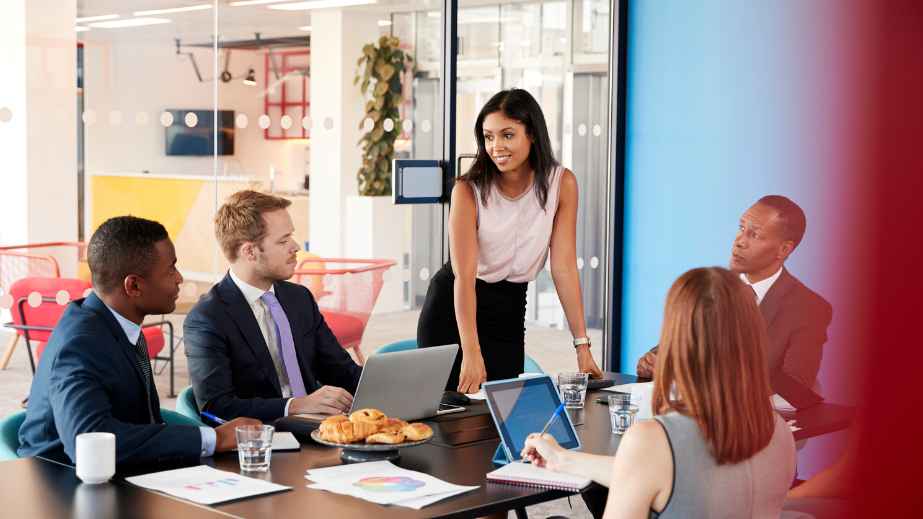 Women are the queens of communication! They effortlessly navigate the intricate web of language, conveying ideas effectively. Armed with strong communication skills, female executives artfully express thoughts, decode emotions and solve problems like a BOSS.
Their collaborative prowess unifies and amplifies workplace success.
They Have Big Dreams
Women are the ultimate dream-weavers, thinking beyond the box and pushing boundaries in ways men can only imagine. With their unmatched creativity and innovative prowess, they are problem-solving mavericks, making them top-notch execs.
Women's larger-than-life dreams can take any company to record-breaking heights. They have the ambition and drive to make a massive impact, refusing to settle for the ordinary. These exceptional executives know how to take risks without breaking a sweat.
They Excel at Managing Crisis Situations
Who says women can't handle a crisis? They are absolute masters at keeping calm, composed, and level-headed under pressure. Not only are they excellent problem solvers, but they also think outside the box and consider all angles.
Talk about creativity! They know the power of communication and how to encourage dialogue without fueling the fire. Ladies, for the win!
They Can Wear Multiple Hats
Women in executive roles got more hats than a hat shop! They multitask like pros, think outside the box, and solve problems with style. Their emotional intelligence? It's on another level, making team management and conflict resolution a piece of cake.
Sorry guys, but women rule in the world of leadership!
They Maintain Their Ego in Check
Women: masters of compassion and understanding. They have the uncanny knack for keeping calm, analyzing situations from all angles, and avoiding irrational judgments that could sink their business. Admirable, isn't it?
10 Things Women Can Get Away With at the Workplace That Men Can't
Have you ever noticed that some women in the workplace get away with things that men would be penalized for? From preferential treatment to less stringent expectations, certain realities of office life favor female employees.
10 Things Women Can Get Away With at the Workplace That Men Can't
5 Best Quiet Blenders of 2023
Do you want a blender that won't disturb your quiet? If so, you're in luck!
15 Powerful Women in History With Uncomfortable Secrets
Throughout history, women have been a major influence in shaping our world today. From their pivotal roles in politics and culture to their immense contributions to science and art, powerful women have left an indelible mark on society.
However, many of these influential female figures kept secrets hidden from public view for various reasons.
15 Powerful Women in History With Uncomfortable Secrets
10 Intriguing Psychological Facts Every Man Must Know About Women
The relationship between men and women is complex, fascinating, and often confusing. While every individual is unique, there are some general psychological facts that all men should know about women to help them better understand the opposite sex.
10 Intriguing Psychological Facts Every Man Must Know About Women
Top 5 Opportunities To Write Meaningful Thank You Notes at Work
There are many opportunities to write "thank you notes" at the workplace. While you should make an effort to say thank you whenever possible, there are several occasions where writing a thank-you message is worth the effort.
Top 5 Opportunities To Write Meaningful Thank You Notes at Work