Vintage Christmas decorations are one of the most popular antiques to hunt for and collect. Whether it's the nostalgia these decorations hold, their quirky vintage charm, or the elevated craftsmanship from the past, they are highly sought after.
Vintage designs are so revered, that modern manufacturers and big box stores boast aisles and shelves full of reproductions of vintage Christmas trees, ornaments, and other decorative elements during the holiday season.
While some people luck into inheriting an attic filled with vintage holiday décor, many find themselves scouting for these festive collectibles at stores, sales, and online. Everything from vintage tinsel trees in exquisite condition to used Christmas cards and gift wrap is desirable. Crafters and upcyclers are especially fond of imperfect or flawed Christmas trinkets to incorporate into their holiday craft projects, such as ornaments, snowglobes, and wreaths.
Many of these sought-after antique decorations have historical ties to Germany and German manufacturers. However, popular vintage decorations in the mid-20th Century were made in Japan. Collectors and buyers often look for location stamps or tags from these countries and other locations in Europe and Asia (Taiwan, in particular).
Vintage Christmas Decorations To Collect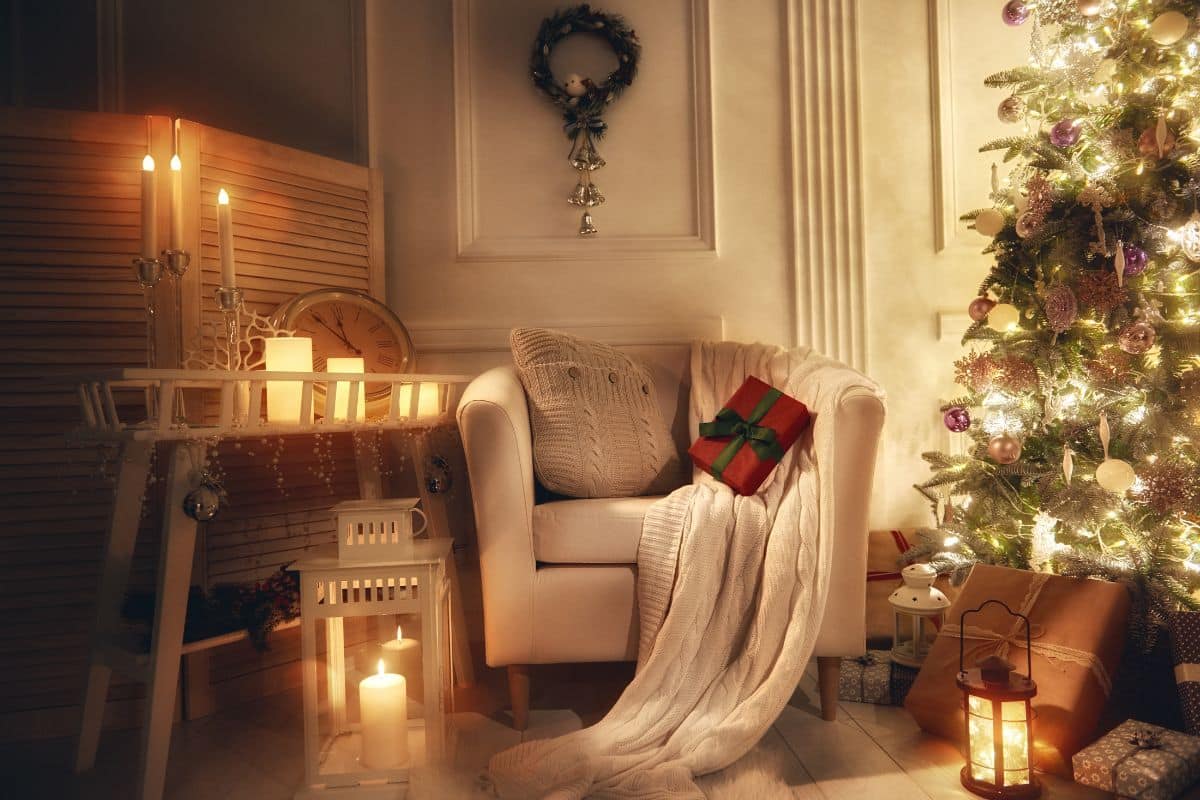 While all vintage Christmas decorations are potentially collectible, particular examples are more sought after and prized than others. Here are many of the most desirable and collectible vintage Christmas decorations that remain popular today:
Christmas Trees
While traditional evergreen trees were, and continue to be, a favorite element of Christmas decorating, various artificial versions are popular with collectors. One of the most coveted vintage Christmas decorations is the aluminum or tinsel tree from the mid-20th Century. Most were silver in color, but pink aluminum trees also existed. Corresponding color wheels that lit up and bounced colorful light off the metallic trees are also in high demand.
Ceramic Christmas trees were incredibly popular as tabletop trees, varying in size and embellishment (color, shape of light pegs, use of mica snow, etc.). While older versions from the 1970s and 1980s are popular for collectors, they are often missing light pegs. However, replacement pegs are available for both vintage and contemporary ceramic trees.
Bottlebrush trees are also a perennial favorite of fans of vintage Christmas décor. Vintage bottlebrush trees pre-decorated with ornaments and glitter are rarer and typically more expensive. Plainer versions, with or without artificial snow, are more easily found and particularly sought after by crafters who may prefer trimming them with beads and glitter. These older bottlebrush trees (and modern reproductions) are essential to Christmas villages, DIY snow globes, and other craft projects, such as wreaths and ornaments.
Ornaments
As popular and desirable as vintage Christmas trees are, vintage ornaments are arguably the most popular Christmas decoration. And while there are older ornaments made from cardboard and wood, blown glass ornaments are what most collectors and buyers seek out.
Shiny Brite is the most recognized name in vintage Christmas ornaments, dating back to mid-19th Century Germany. However, Shiny Brite as a brand name has become synonymous with any vintage glass ornaments, regardless of the manufacturer.
From the vibrant colors to the intricate blown-glass designs, Shiny Brites are collected and prized by anyone with an affinity for nostalgic Christmas décor. Vintage Christmas fans treasure the ornament boxes for their graphics. They are incorporated into holiday vignettes, and broken ornaments are ground down into glass glitter for many craft projects.
Lights
Historically, Christmas trees were outfitted with candles to provide illumination. However, Thomas Edison changed all that with the advent of Christmas lights. 
The most common vintage Christmas lights are the C7 and C9 incandescent light bulbs, which are large and teardrop-shaped. Collecting these string lights doesn't involve plugging them in for various safety reasons; instead, the vintage bulbs are used as vase- and bowl fillers during the holidays.
Vintage bubble lights, with their bright colors and bubbling liquid, were also popular in the mid-20th Century. While modern buyers may look at them through nostalgia-colored glasses, they were pretty dangerous to use due to the chemicals in the liquid.
Holiday Fabrics and Linens
Decorating for Christmas seems incomplete without stockings on the mantel and a decorative skirt under the tree. Unsurprisingly, vintage holiday fabrics are another treasure antiquing shoppers and collectors look for.
Vintage stockings, particularly those made from felt or flannel and decorated with retro graphics, are favored by collectors. Even homemade stockings made from felt or crocheted yarn are considered heirlooms.
Other linens, such as older Christmas tablecloths, napkins, and placemats, are collectible favorites. Like other vintage Christmas decorations, these fabric pieces are favored by crafters and sewists who repurpose them into new creations.
Figurines
Regarding Christmas figurines, Santas are always the most cherished and prized of any Christmas character. Ceramic Santa Claus and other Christmas figurines made by notable brands such as Holt Howard, Napco, and Lefton are some of the more valuable ceramic collectibles. But other vintage figures made from ceramic, plaster, spun cotton, and resin are also in high demand.
Non-Santa figurines are collectible favorites, including vintage nutcrackers, elves/pixies, angels, and reindeer.
Unsurprisingly, vintage nutcracker soldiers made in Germany or Austria are some of the most collectible versions. Knee-hugging elves, which inspired Elf on the Shelf, are trendy vintage pieces. Plastic reindeer are especially popular with crafters, who use them in decorative Christmas craft projects.
Putz Houses
Vintage Putz houses, those little cardboard Christmas village houses, are a treasured favorite of many vintage buyers. Like anything miniaturized, they are exceptionally charming and often embellished with mica snow, tiny bottlebrush trees, and stained-glass windows made from colorful cellophane.
It's important to note vintage Putz houses that still have their bottlebrush trees intact are more collectible than others. The trees typically fell or broke off over time or from too much handling.
Paper Ephemera
When it comes to vintage Christmas decorations, many are made from paper or cardboard. Crafters have a particular affinity for paper ephemera, from Christmas cards and wrapping paper to old children's books and vintage advertisements. These paper elements are ideal craft supplies for making any number of projects, including new cards, ornaments, and other mixed-media crafts.
Vintage Christmas cards and retro gift wrap are covered with graphics that feature retro fonts and imagery. Older paper ephemera, particularly Victorian postcards, are highly prized and can be quite collectible. Postcards that feature Santa Claus are considered rare and more valuable. But some vintage Christmas postcards are downright peculiar and, therefore, collected for their quirky graphics and provocative sayings.
Outdoor Christmas Decorations
Unsurprisingly, most vintage holiday decorations are used inside our homes. But there are specific outdoor decorations that vintage shoppers look for.
In particular, vintage blow molds are rare and regularly fetch extravagant prices. Large plastic Santas, snowmen, candles, and reindeer are popular and getting increasingly more challenging to find, especially if they still light up.
Collectors and decorators also favor vintage wooden sleds. They are often used as porch decorations during the holiday season, with wreaths and vintage ice skates as embellishments.
Other Collectibles
There are several other collectible vintage decorations worth noting. These include artificial flowers and greenery, glass Christmas tree toppers, mercury glass beaded garlands, and vintage Nativity sets.
Vintage toy trucks have also become very popular in modern-day Christmas decorating. The image of a vintage pickup truck bringing a Christmas tree home is incredibly iconic. Modern manufacturers often incorporate imagery onto items such as throw pillows, decorative signs, ornaments, Christmas cards, and wrapping paper.
Where To Buy Vintage Christmas Decorations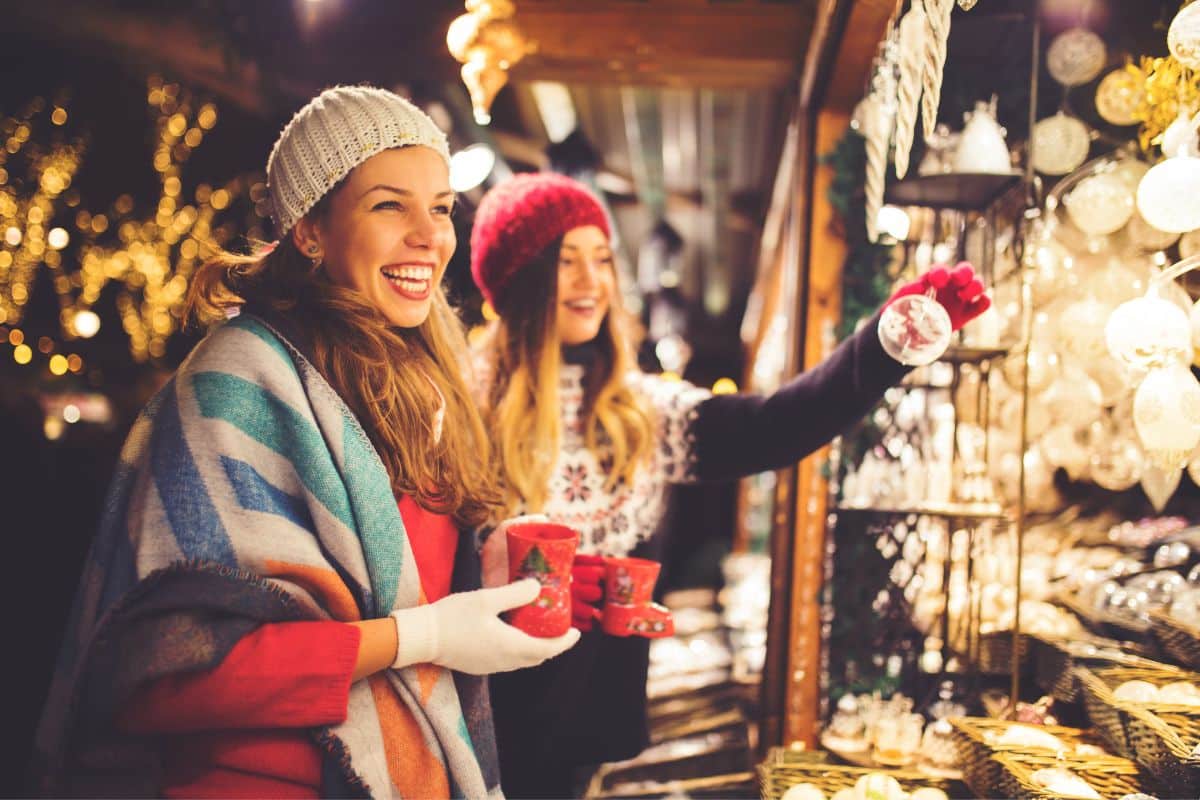 As collecting vintage Christmas decorations grows in popularity, so does the number of places that sell them. Advertising the availability of these festive collectibles is a surefire way to attract buyers, so older holiday décor is regularly displayed front and center.
Buyers looking for vintage holiday decorations should look at any of the following locations when building their collection:
Antiques stores and malls

Estate sales

Online auctions

Online resale stores (eBay, Etsy, Facebook Marketplace, etc.)

Thrift stores

Garage/Yard sales

Family homes and attics (if applicable) 
Because of the rising cost of these decorations, rummaging through a parent or grandparent's attic for vintage pieces is not to be missed if the opportunity presents itself.
But when all else fails, secondhand sellers are the best bet when looking for vintage holiday treasures. There are also dedicated sellers on sites like Instagram that host online sales; searching the #vintageChristmas hashtag (and similar variations) is an excellent way to locate their accounts.
Storing Your Vintage Holiday Décor
While previous generations regularly stored their holiday decorations in attics, basements, and backyard sheds, they are best stored in climate-controlled environments.
Many vintage Christmas decorations are fragile (glass, ceramic, paper), and some embellishments (glitter, mica, flocking) can deteriorate or rub off when not stored properly. 
Waterproof storage containers such as plastic tubs with locking lids are ideal for more delicate decorations. And those tubs should be kept in areas located away from extreme temperature changes or high humidity.
The most delicate ornaments, such as bubble wrap and cardboard dividers, may need additional padding and protection. Christmas fabrics should also be stored in sealed plastic tubs to protect them from potential pests (mice, insects, etc.) and mold/mildew.
A Very Vintage Holiday
While some vintage Christmas decorations are more valuable than others from a resale perspective, that doesn't need to be a decision-making factor while shopping for them. There are vintage decorations for every budget and decorative style, conjuring different memories in all of us.
From heirloom pieces passed down over generations to nostalgic treasures found while antiquing, vintage Christmas decorations have a unique, sacred place in our memories and homes. Enjoying them in your home is the best way to keep memories of the past alive while making new ones with your loved ones each season.
This article originally appeared on Wealth of Geeks.