Do you ever feel guilty when your kitty glares at you with pleading eyes while begging for a delicious treat? Worry not; you can now feed your furry friend guilt-free! An endless array of delicious treats are available to delight cats everywhere.
From cheeseburger-flavored crunchies to fish-shaped nuggets, pet owners have never had more choice when giving their furry friends an extra yum-yum snack. This post will discuss eight of the best cat treats on the market today, so put away those feelings of guilt and give your cat something special – after all, they deserve it!
---
What Are Cat Treats?
Cat parents utilize treats to train their furry friends. These can be anything from a yummy milk snack, cooked fish or fresh meat dishes, delectable biscuit morsels, and even catnip for an extra special treat!
Treating your furry friend is an excellent way to show affection and reinforce positive behaviors; however, it's critical to pick treats that are beneficial for their age, breed, and health condition. In addition, selecting the proper snacks for your cat companion can ensure they thrive while being rewarded.
Paying attention to labels and serving recommendations is critical to ensure your treat doesn't cause unwanted reactions or health issues. Always make sure you check the ingredients before indulging in a snack!
Feeding your cat treats should be done judiciously, as they shouldn't make up more than 10% of their diet in terms of daily caloric intake. Additionally, you must remain vigilant and observe any reactions that could indicate adverse side effects from the treats.
A good cat treat provides an enjoyable addition to your feline's food regimen, so long as you use them wisely and sparingly. This way, both health, and well-being are assured for your pet. Remember to pick the most suitable cat treats for their needs!
---
What Are the Best Cat Treats?
Our top picks for the best cat treats include the following.
Give your kitty the delight of savoring tasty playtime treats with 100% top-notch nutrition. TEMPTATIONS Mixup's crunchy treats and soft morsels provide a complete meal for keeping adult cats healthy. The treat also helps fight tartar buildup!
Treat your beloved feline to something truly special with a delicious medley of exotic flavors, including shrimp, tuna, and seafood. Not only will it tantalize their taste buds, but the crunchy outer shell supports dental health by assisting in tartar control! Finally, give your cat an exquisite playtime that they won't forget.
The interior has a plush feel and is incredibly smooth. And since each treat contains less than two calories, you can give your pets TEMPTATIONS MixUps daily as a special indulgence!
Pamper your cat with the ultimate snack experience! Indulge them in a delicious 30 oz. tub of TEMPTATIONS MixUps Cat Treats and watch as they go wild from all three mouthwatering flavors; cheddar cheese, chicken, and even catnip fever! Plus, there are no artificial additives lurking around, so you can rest assured that only the best-tasty treats await their furry little mouths.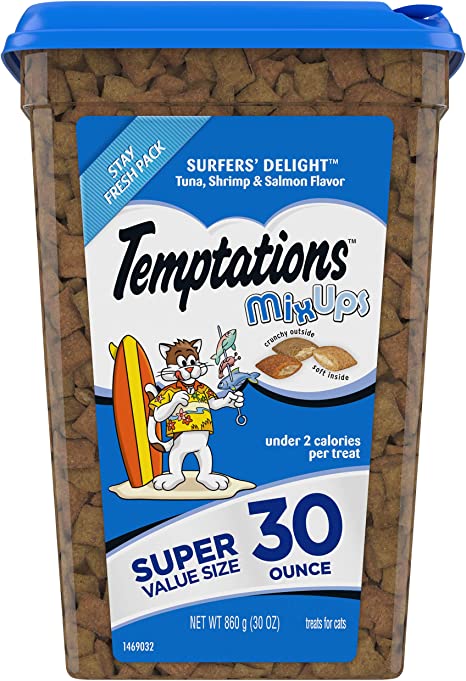 Pros
One 30oz. Tub of TEMPTATIONS MixUps Cat Treats.
It includes chicken, catnip flavor, and cheddar cheese.
Zero artificial flavors for a fantastic taste.
Crunchy outer shell to help control tartar and support oral health.
It has less than two calories per cat treat which can provide a daily serving.
100% nutritionally complete with balanced healthy cat treats for adult & Senior Cats maintenance.
Resealable tub to keep cat paws off when you're not watching.
Cons
They may cause addiction in cats.
Final Verdict
Give your cat an exciting and nutritious playtime snack with TEMPTATIONS MixUps! This irresistible mix of crunchy and soft treats is not only delicious but 100% nutritionally complete for adult & senior cats. So reward your kitty companion with something that will make them purrr-oud!
These kitty cat treats are among the best on the market, featuring a tantalizing blend of chicken, cheese, and catnip. Each treat has less than two calories, so you can be sure your pet is getting the nutrition they need. Plus, with three delicious flavors to choose from – or mix up – there's something for every feline! So don't wait any longer – give your furry friend a flavor-packed snack today!
---
Cat owners should look no further than FELINE GREENIES natural dental care cat treats for the perfect dental hygiene! This is an unequaled way for cats to get clean, healthy teeth without additional effort on their owner's part.
With these crunchy treats, you can reduce tartar build-up and improve your cat's breath. Also, having fresh breath will make cuddle time even more special!
This package includes one 21 oz. Tub of FELINE Greenies Dental Natural Treats for cats. These dental treats are oven-roasted chicken with natural cat treats, vitamins, minerals, and other nutrients.
Feline Greenies guarantees complete nutrition with a balanced snack for your adult cat, all while containing zero flavors or preservatives. Furthermore, every bite contains less than two calories – no need to be concerned about any diet troubles! So give your beloved furry friend the well-deserved treat they deserve without feeling guilty!
End the search for a healthy dental treat that keeps your cat happy – Feline Greenies natural dental care is rated #1 by veterinarians and beloved by cats everywhere. You and your furry friend will enjoy the all-day joy with just one tasty snack!
Pros
Has a tasty, crunchy texture and is proven to help minimize tartar buildup.
Contain natural ingredients plus extra vitamins, minerals, and other trace nutrients.
Irresistibly delicious, including tuna, salmon, oven-roasted chicken, etc.
Low-Calorie Treats- It has less than two calories per serving, which is ideal for treating your cat anytime.
It has no artificial additives.
Nutritionally complete and balanced for adult cats.
Number one vet-recommended feline dental treat.
It contains one 21 oz. Tub of Feline Greenies dental treats for cats.
Cons
The treats may have a powerful addictive effect on a cat.
Final Verdict
FELINE GREENIES stands out from the competition with its ability to help keep cats' teeth clean and healthy while reducing tartar buildup. This amazing product contains natural ingredients, vitamins, mineral salts, and trace nutrients – everything a cat needs for better oral health.
Furthermore, each dental treat is no more than two calories – perfect for rewarding your feline companion anytime and every day!
---
If your cat has lost enthusiasm for the same old treats, try Sheba meaty tender sticks cat treats! Break them into manageable bite-sized pieces to keep your kitty engaged and entertained.
Alternatively, you can give your cats the entire stick to savor as a durable chew treat. This will make them feel like they are carrying around their tiny mouse!
The Sheba Meaty Tender Sticks Cat Treats offer your cat a fun and delicious form of enrichment, as their bite-sized kibble is perfect for cats to enjoy. Plus, with no artificial colors or flavors added and being free from corn, soy, and wheat, these treats are 100% meaty!
The cat sticks come in special packaging that will keep them fresh until you are ready to give them to your cat.
If your cat doesn't eat all of the SHEBA meaty, tender sticks at once, keep them in a zip-top bag for freshness. Each package contains fifty 0.14-ounce sticks, so you can enjoy every stick without worrying about spoilage!
Cats go crazy for the salmon flavor of these treats! Not only does it provide a delicious taste, but it is also packed with protein and omega-3 fatty acids.
Pros
It has fifty 0.14 oz. Sheba meaty tender sticks salmon flavor cat treats.
The treats have real meat, the taste adult cats appreciate.
The irresistible cat treats have no corn, soy, or wheat and are without artificial flavors or colors.
Each stick has an individual packaging for enhanced freshness.
Cons
The cat must consume the treat within four hours after opening.
Final Verdict
Sheba meaty tender sticks cat treats are perfect for your feline friend. Not only does each stick come individually packaged to ensure freshness, but they also have a delightfully chewy texture that cats love. With Sheba Meaty Tender Sticks Cat Treats, you can be sure that your pet will always enjoy the best snack experience possible!
With Sheba's Meaty Tender Sticks Cat Treats, you can easily adjust the number of treats to give your cat. Plus, they contain real meat and are free from any artificial additives. These treats make it easy for you to provide the right balance of love and nutrition!
---
TEMPTATIONS jumbo stuff large cat treats provide your cat with a nutritionally complete and balanced diet, giving them all the nourishment they need in precisely the right amounts. Unlike other cat snacks, you can be sure that each soft treat is packed full of nutrition for optimum kitty health!
Enjoy the savory taste of chicken-flavored TEMPTATIONS Jumbo Stuff Large Cat Treats with this 14 oz. Tub providing plenty for your cat to savor!
Treat your feline to the delectable jumbo fish flavor of these savory snacks – crunchy on the outside and velvety smooth within. They'll love it!
In addition, every piece of low-calorie chicken looks more tantalizing than the traditional TEMPTATIONS offering. However, it is about two calories per serving. Thus, you can indulge your kitty with a reward every day without feeling guilty!
TEMPTATIONS cat treats are more than just a pleasure – they're 100% nutritionally comprehensive and adequately balanced for adult cats. Not only do these tasty morsels keep your feline friend in peak condition, but you can use them as meal replacements, snacks, or even toppers on their regular kibble.
TEMPTATIONS value-sized cat treats come in a convenient, resealable tub that will keep your furry friend away from the delicious snacks – even when you're not around to supervise!
Pros
It has a crunchy texture on the outside but a soft texture on the inside.
Scrumptious jumbo fish flavor.
Low-calorie chicken flavor, larger than TEMPTATIONS classic.
Has about two calories.
100% nutritionally complete and balanced for adult cats.
Cons
Have animal fat preservatives as the other ingredient.
Final Verdict
Look no further if you're searching for the perfect treats to keep your cat healthy and satisfied! TEMPTATIONS jumbo stuff large cat treats are sure to exceed expectations.
They contain three essential nutrients – taurine, riboflavin, and niacin – and they also come in various mouthwatering flavors that cats love! In addition, each stick is richly packed with quality protein so your cat can relish their snack time experience.
Also, your feline friend will be highly stimulated by the dual-textured bar during treat times.
---
When your beloved pet begins displaying symptoms such as excessive scratching of objects, it may be a sign they are undergoing stress, anxiety, or even excitement. Taking proactive steps to ensure their well-being is essential in keeping your furry friend happy and healthy.
Sometimes, they may urinate away from their litter boxes and react when they meet other pets or people. To calm your pet from such eventualities, you need a special treat different from ordinary ones.
VETRISCIENCE offers Composure-calming treats to help control your pet's behavior. These treats are adequate and contain three essential ingredients:
Through careful scientific research, there is proof that natural calming aids are effective for dogs and cats in distress without the need to sedate them.
For a calmer, more relaxed pet and to reduce their stress levels, you can offer them chews containing colostrum, thiamine, and l-thiamine half an hour before any anticipated stressful period. This unique formulation helps pets stay calm during otherwise anxious times – perfect for the health and well-being of your beloved animal.
COMPOSURE provides rapid relief from daily anxiety triggers, such as going to the vet, thunderstorms, visitors in your home, and separation stress. In addition, their delicious chicken flavor treats make it hard for pups to distinguish between a reward and their medication – now that's clever!
Furthermore, Composure chews possess a four-hour duration in your pet's system. Therefore, they are highly effective when used alongside proper nutrition and regular exercise. With their natural behavioral aid components, you can guarantee that your furry friend will be well taken care of even during long absences from home.
Pros
The formula contains colostrum, thiamine, and l-thiamine to support relaxation and calmer behavior.
Fast-acting chews help with daily stressors.
Easy to administer chews with chicken liver flavor.
Best issued thirty minutes before stress-causing event.
Easy weight-based dosing for small breed pets.
Cons
Not all pets may like the flavor or consistency of the chews.
Final Verdict
You will like the scientifically researched elements of the VETRISCIENCE Composure calming formula. The three parts, colostrum, l-thiamine, and thiamine, will support relation and calmer behaviors without any effect.
Additionally, Vetriscience doesn't sedate your pet and has a soft sensation.
---
Temptations MixUps catnip fever healthy treats are the perfect blend of crunchy and soft treats, providing your adult cats with balanced and complete nutrition. These delicious snacks have an irresistible flavor that will make them purr for more!
Each package of Temptations MixUps Crunchy and Soft cat treat plus catnip fever offers your furry friend three diverse flavors in one 16-ounce tub – a delicious variety sure to excite their taste buds! Your cat will absolutely adore the original flavor of these treats, as they come in a variety of delightful options, such as catnip, chicken, and cheddar cheese – all without artificial additives.
These Temptations MixUps cat treats and delicious Catnip Fever will not only tantalize your feline's taste buds, but their crunchy outer shells help reduce tartar build-up while promoting better dental health. With less than two calories per treat, Temptations makes a perfect snack for rewarding your cat daily.
Pros
Has one 16-ounce tub of Temptations MixUps Cat Treats Catnip Fever.
It doesn't have artificial flavors for a fantastic taste.
It has a crunchy outer texture that helps to control tartar and support dental health.
Less than two calories per treat.
100% nutritionally complete and balanced.
Cons
Cats can easily open the container in your absence.
Final Verdict
With Temptations MixUps, you can indulge your feline in three of their favorite flavors: catnip, chicken, and cheddar cheese. Now it's easier than ever to cater to any preference or combination thereof so that your beloved kitty gets the best treats!
Temptations bolster your cat's dental hygiene and help regulate and prevent tartar build-up thanks to their crunchy exterior.
---
INABA Churu Cat Treats come in convenient skinny plastic tube packaging, making them the most sought-after treat on the market. Not only are they an excellent snack for your cat, but they also serve as an opportunity to build a closer bond with your cat!
Hold it while your pet licks away – and voilà, an instant connection is created between both of you! Therefore, you can build trust with your new Feline using INABA treats.
Fostering a pet can be a gratifying experience but requires dedication and patience. INABA Churu cat treats have made gaining their trust easier than ever for foster cat parents of rescued cats everywhere!
INABA Churu cat treat offers your feline friends the best nutrition and taste. Every product is made with fresh, human-grade ingredients like farm-raised chicken and wild-caught tuna.
Plus, each tube contains 91% moisture content with only six calories per serving – a snack you can feel good about feeding your cats while keeping them healthy!
Pros
Grain-free, artificial colors, preservatives, or carrageenan.
Features Taurine that helps with the overall health of your cat.
It has 91% moisture with less than six calories.
Designed to feed pets from the tube.
Cons
It requires several pieces of plastic packaging.
Final Verdict
A remarkable benefit of Churu lickable is how it brings you and your pet closer together. All you have to do is squeeze the delicious purée onto their tongue for a unique bonding experience that will leave an everlasting impression in both of your hearts!
Furthermore, the high moisture content in the treats helps perfect your cat's hydration.
---
If you prefer varieties in your selection, Hartz has a solution for your needs. A package of Harts delectables contains:
Eight tuna squeeze-up pouches.
Eight tuna and shrimp squeeze-up pouches.
Eight chicken squeeze-up pouches.
With every flavor, you'll get a conveniently squeezable puree that any cat will adore. In addition, it includes tiny chunks of meat to satisfy even the hungriest felines!
Pros
Hand-held cat licks.
Each pack has 48 (0.5 oz.) squeezable charms.
Each lickable treat tube has a thick and creamy puree.
Easy-to-use tube without creating any mess.
Cons
The small meat chunks usually remain sticky in their pouches.
Final Verdict
The delectables squeeze-up interactive lickable wet treats are great because your cat can lick them right from the tube. You can also pour them into a bowl for your cat to enjoy as a snack.
---
Frequently Asked Questions (FAQs)
Do cats really need treats?
Treats can be beneficial for cats in several ways. They can help with training, provide mental stimulation and act as a reward for good behavior. However, cat treats should not make up more than 10-15% of a cat's diet, as too many treats can lead to health issues like obesity. Make sure you choose treats carefully and regulate the number of treats your cat receives.
How can you train a kitten that does not like treats?
If you're having difficulty training a kitten with treats, don't worry! You may need to shop around for their favorite snack. Alternatively, if your kitty is unresponsive to treats, try using toys or other reward-based methods instead. Cats tend to respond to training that rewards good behavior rather than training that punishes bad behavior.
What are the healthiest cat treats?
To keep your beloved feline healthy, opt for treats made with hand-selected natural ingredients such as chicken, fish, and fresh vegetables. Also, refrain from snacks high in sugar or artificial additives; you want to stay away from these fillers that will do more harm than good!
Should you give your cat treats every day?
With mindful moderation and appropriate portion sizes, daily cat treats are a safe way to show your cat, extra love. Just remember not to let the treats make up too much of their diet!
Should cat treats be refrigerated?
Unless containing perishable components like dairy or meat, cat treats do not need to be refrigerated.
What should I avoid in cat treats?
For your beloved cat's well-being, it is best to abstain from offering them treats full of sugar and artificial additives. Doing so may result in health issues such as obesity or dental problems.
What is the best snack for a cat?
The best snack for a cat is usually a small piece of wet food or a few kibble pieces from their regular diet.
What natural treats can I give my cat?
To keep your feline companion healthy, try offering them some natural treats like cooked chicken or fish in small pieces, diced vegetables, and a handful of fruity snacks such as berries and bananas.
What are some of the best cat treat recipes?
Are you looking to give your cat a special treat? Try whipping up some homemade chicken jerky, salmon treats, freeze-dried treats, or liver snacks. You can also craft soft goodies with wet food, cooked lean meats, and just a pinch of grain-free flour for extra flavor. Your furry friends will be sure to love it!
---
Final Thoughts
So, there you have it; eight of the best cat treats money can buy. Of course, your kitty deserves only the best, so don't hesitate to splash out on one (or all!) of these delicious snacks. With such a wide range available, there is sure to be a treat out there for every cat's unique taste buds. So put away those feelings of guilt and give your cat something special – they deserve it!