Are you a fruit smoothie and shake lover but hate having to clean your blender every time? Well, then you need one of the best portable blenders on the market! These small and lightweight blenders are perfect for making healthy smoothies, and protein shakes on the go.
They are also great for traveling since they don't take up a lot of space in your luggage.
This post will discuss five of the best portable blender models on the market, and in case you have a small kitchen, you can also find them of great use in your home cook spot. We will also provide a buyer's guide to help you choose the right one for your needs.
Buyer's Guide to Choosing the Best Portable Blender
When it comes to on-the-go blending, nothing is more convenient than a portable blender. Portable blenders are perfect for making smoothies, puree, protein shakes, etc.
Some of them with powerful blades can be used as a kitchen blender. But with so many different portable blenders on the market, how do you know which one is right for you?
Here's a buyer's guide to help you choose the best portable blender for your needs:
Portability
One of the most important factors to consider when choosing the best personal blender is portability. Below are important questions to answer when deciding if the blender is portable:
How easy is it to take with you on the go?
Does it come with a carrying case or bag?
Is it lightweight and compact?
Consider your lifestyle and needs when deciding on the portability of your food blender.
Power
Another important factor to consider is power. Most portable blenders run on batteries, so you'll want to ensure it has enough power to get the job done.
If you plan on using your blender for more than just smoothies, purees, and shakes, look for one with a higher wattage. The best portable blenders have a minimum of 150 watts, but some can go up to 1000 watts.
Runtime
You'll also want to consider how long the blender will run on a single charge. Some portable blenders can only run for a few minutes at a time, while others can run for hours.
The best portable blenders will have a runtime of at least 30 minutes.
Speed
The speed of the blender is also important to consider. There are variable-speed blender models and blenders with a single speed.
The best portable blenders will have at least two speeds to choose the right setting for your ingredients.
Capacity
It's also worth noting that the blender's capacity is crucial to consider. Some portable blenders only have a few cups, while others have a gallon or more. The best portable blenders will have a capacity of at least 16 ounces.
Blending capabilities
When it comes to blending, not all portable blenders are created equal. Some are better at making smoothies, while others can easily handle ice and frozen fruit and vegetable.
Consider what you'll be using your blender for most often and choose one that can handle your needs.
Price
You get what you pay for with a portable blender like anything else. The more expensive models will usually have more features and be made of higher quality materials.
However, some great budget-friendly options are out there that can still get the job done.
Blender Reviews
Blender reviews are an important factor to consider before purchasing a blender. Portable blenders come in all shapes and sizes, and they can be used for a variety of purposes.
Some people use them to make smoothies, while others use a portable blender to blend soups or sauces. No matter what you plan to use your portable blender for, it's important to read reviews on high authority and trusted platforms like Amazon before making a purchase.
There are a few things you should keep in mind when reading blender reviews.
First, take note of the overall rating. This will give you a good idea of how other users feel about the blender.
Second, pay attention to the pros and cons that other users have listed. This will help you identify any potential problems with the blender.
Finally, look for user-generated photos or videos. These can be helpful in getting a better idea of how the blender performs in real-world situations.
Blender Features
Some portable blenders have additional attachments, like travel cups with lids, a juicer, or a chopper. The best portable blenders will have all the attachments you need to make smoothies, shakes, and more.
Now that you know what to look for in a portable blender, it's time to start shopping!
Five of the Best Portable Blenders (with details)
1. Hamilton Beach Personal Blender for Shakes and Smoothies
This Hamilton Beach personal blender is the perfect size for whipping up shakes and smoothies on the go.
Features
Compact design and BPA free perfect for an on-the-go blend.
Stainless steel blades for crushing ice and chopping frozen fruit.
Dishwasher safe parts make cleanup a breeze.
14 oz. blending jar doubles as a travel cup with lid.
Corded.
175-watt motor.
One-touch blending.
Cons
It is not the most powerful blender on the market.
Not the most versatile blender, with only two-speed settings.
Buy on Amazon
2. Cuisinart RPB-100 EvolutionX Cordless Rechargeable Compact Blender

Features
Cordless and rechargeable, so you can take it anywhere.
Compact design is perfect for small spaces and on-the-go lifestyles.
Blends smoothly and evenly with a powerful motor and stainless steel blades.
Easy to use and clean with one-touch operation and dishwasher-safe parts.
Quick charge- up to 2-hours to fully charge.
LED Display Controls.
16 oz. To-go cup with travel lid.
Cons
The Cuisinart evolutionix is not very durable and can break easily.
Click here for a detailed review of the Cuisinart RPB-100 EvolutionX Cordless Rechargeable Compact Blender.
Buy on Amazon
3. Blendjet 2 Portable Blender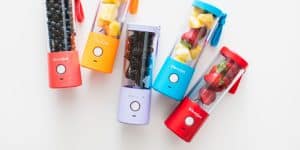 Features
The Blendjet is one of the most powerful portable blenders on the market, with a 200-watt motor that can blend just about anything.
It has a sleek design and comes in various colors to choose from.
4000mAh Rechargeable Battery.
The blender is also very easy to clean, with all of the parts being dishwasher safe.
15+ blends per hour charge.
What's more, the Blendjet comes with a built-in carrying strap so you can take your smoothie on the go.
6-Point Stainless Steel Blade.
Cons
The buttons are on the bottom of the device, so if you're using it while it's charging, you have to lay it down on its side or upside down.
It doesn't come with a travel cup, so if you want to take your smoothie to go, you'll need to find a container that fits snug.
Read here for a comprehensive review of Blendjet 2 Portable Blender.
Buy here
4. Nutribullet GO Portable Blender
The Nutribullet GO Portable Blender is one of the best blender models on the market.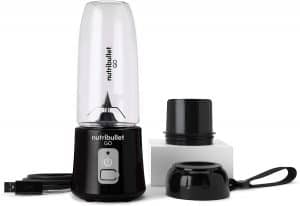 Features
Cordless.
70 watts of power.
13 oz. Capacity.
BPA free.
Dishwasher safe.
2000mAh offers up to 20 blending cycles.
Includes a travel cup, lid, blade cover, and USB charging cord.
Cons
You have to grind your ingredients into small pieces before adding them to the blender cup; otherwise, the blades might not be able to reach them properly. This can be pretty time-consuming and adds an extra step to your smoothie-making process.
Not dishwasher-friendly.
Read more here
Buy here
5. Ninja Nutri Pro Compact Personal Blender
Features
900-watt of professional power.
Ninja blade technology crushes through ice cubes, seeds, skins, and stems for a smooth, even consistency.
24 & 18 oz. capacity To-go cups.
Dishwasher safe.
BPA-free and FDA compliant.
High power smoothie blender – can easily crush ice and frozen fruits.
The 24 oz. Capacity is perfect for making single-serving for two people.
It comes with a recipe book that has 30 smoothie recipes.
Cons
This Ninja Professional Blender is noisy.
Low versatility and can only be used for smoothies and shakes.
Click here for a full review of this Ninja Blender.
Buy on Amazon
Conclusion
There you have it!
The five best portable blenders are perfect for on-the-go smoothies, milkshake, soups, etc.
These blenders are compact and lightweight, making them easy to take with you wherever you go. And they all come with dishwasher-safe parts for quick and easy cleanup.
So, whether you're looking for a powerful blender or one that's easy to use and clean, there are sure to be blender models on this list that are perfect for your kitchen.
Do you have a favorite portable blender that we didn't mention? Let us know in the comments below! And be sure to check out our other blog posts for more great kitchen appliances reviews and roundups.
BONUS: 35 Best Healthy Smoothie Recipes to Energize Your Mornings