You can't travel abroad without a passport unless you are King Charles III *wink*. Add to that the requirement of some countries for your passport to be valid for at least six months beyond the dates of your trip plus the record number of international travelers (this April, it was 10.6% higher than in April 2019) – and you get it.
It's a surefire recipe for passport processing backlogs. So – why not consider passport-free summer destinations? Discover hidden gems no matter what your passport says!
Three Kinds of No-Passport Destinations
You might wonder how this trick works. So there are three ways of traveling without a valid passport with a photo at hand.
1. Consider U.S Territories
Quite often forgotten and underrated, the US territories are unincorporated areas, including the Caribbean Sea and Pacific Ocean islands. Leaving aside legal details, these tropical islands are easily accessible yet distinctive in culture and landscape. How cool is that?
2. Canada or Mexico
You can reach those destinations by land in certain cases.
3. Closed-Loop Cruise Destinations
A cruise like this begins and ends at the same port but visits many other ports in between. It's the perfect way to enter Central American and Caribbean nations, as well as US's closest neighbors. All you need is a government-issued photo identification and proof of citizenship (like a birth certificate or certified copy of a birth certificate).
Before we move on to planning vacations, there is one crucial point. Please, stay updated. The locations I'm writing about are independent countries, so their regulations can change over time. Remember to check all requirements before you set out.
Now – let's take a look at some stunning destinations!
No-Passport Summer Trip Ideas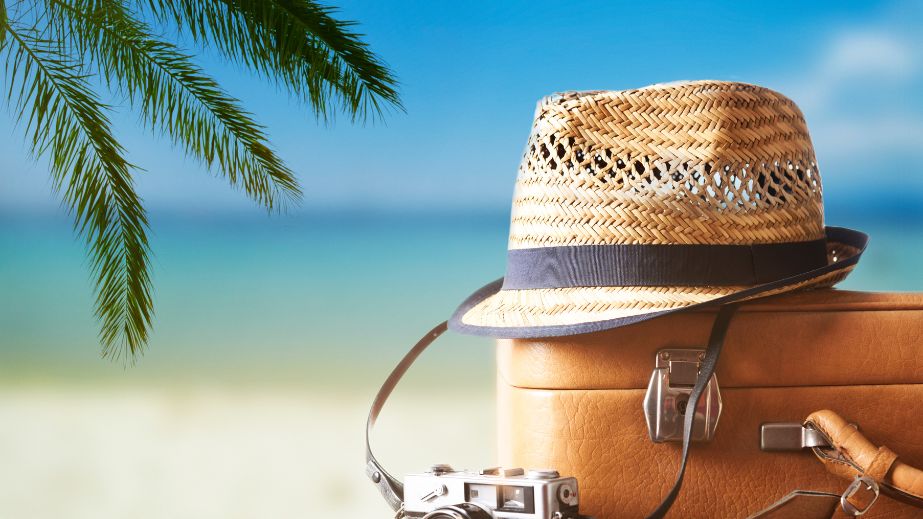 Puerto Rico
The tropical rainforest. Having to choose only one reason to visit Puerto Rico, I'd definitely point out this one.
El Yunque is the *only* tropical rainforest in the US, making Puerto Rico one of a kind island. This jungle is full of animals you can't see anywhere else, and it's known for its waterfalls, crags, and lush greenery. When you are taking in the jungle's vibe, keep in mind that the Taino people, an indigenous group, regard it as a sacred location. They considered Mt. El Yunque to be the home of their primary god, Yucahu.
Puerto Rico is a foodie paradise, as it attracts famous chefs from all over the world. It's also the birthplace of the pina colada, so do not pass it up!
U.S Virgin Islands
When deciding on this location, you can choose between St. John, St. Croix, and St. Thomas islands. All get fabulous Caribbean flair, but each one has its unique vibe.St. John is a national park on two-thirds of the island, making it the perfect hiking spot. You should consider it if you are the kind of person who recharges in nature.
The largest one, St. Croix, is less commercialized and attracts the fewest tourists. Thus, I recommend it for meeting locals, exploring culture, and tasting delicious food. There's also a place for nightlife enthusiasts: St.Thomas. It offers the most tourist activities, shops, and luxury accommodations with plunge pools and other spas to spoil each visitor.
The best thing? You can get them all, traveling between those islands by ferry. With stunning landscapes, US Virgin Islands are an ideal destination for all social media influencers and UGC creators.
Guam Island
Guam Island offers a crazy mix of military bases and amazing beaches, so you don't have to choose between sightseeing and sunbathing. But that's not all.
Fun fact here: Guam is home to an indigenous group of storytellers. Yes, Chamorro individuals are renowned for their rich oral traditions. So, while watching stunning landscapes, you can listen to incredible stories about those locations.
Guam Island, after all, provides an array of travel experiences for all types of visitors.
American Samoa
When visiting an exotic island, you expect a well-developed infrastructure, including beach bars, luxury hotels, and a great choice of tourist attractions.
Which is not true about American Samoa.
Indeed, American Samoa is not like the other girls. You can feel there more like a guest than a tourist. Thus, it allows you to fully immerse yourself in the Samoan culture while also forcing you to respect local customs. Keep in mind that it's a modest culture that values family and communities and avoids inappropriate behavior.
In return, you can enjoy a fafia night (local culture event), as well as explore talc-white sand beaches and coral reefs. This experience is totally worth it, as Samoan beaches are often listed on the world's best beaches rankings!
Canada
You can cross the Canadian border without a valid passport, but only under certain conditions. First, choose the right way: you can do it only by road or sea. Secondly, you need an alternative document, such as a NEXUS card, passport card, or Enhanced Driver's License, offered in some U.S. states.
Once you get there, everything Canada has to offer is at your fingertips:
extra-long days and warm, mild temperatures;
hiking and camping activities in Banff National Park and the Canadian Rockies;
admirable Niagara Falls;
charming Prince Edward Island;
thirty thousand lakes for swimming, boating, and chilling.
Mexico
Sadly, you must have a passport to travel to Mexico by air.
Luckily, a passport is not required when traveling by land.
You can drive across the Mexico border even if you don't have a passport, as long as you keep your passport card or a SENTRI Card. If you travel by car, an import permit is also required.
Chocolate is one of my top reasons to consider Mexico vacations. Known as the cacao birthplace, this country is probably the world's best spot to taste sweet treats. Also, you'd be amazed by the number of UNESCO World Heritage sites, including Mayan ruins and Aztec pyramids.
Lush jungles, endless deserts, and snow-topped peaks are icing on the cake of Mexican tourist gems.
13. Roundtrip cruise destinations
For the grand finale, I spotlight the best locations you can visit during closed-loop cruises, even if your passport expired. It's an excellent choice if you want to treat yourself to a luxurious escape and bask on sunny chill-out shores while getting a taste of adventure (and local cuisine.)
The best-way-to-unwind. I know what I'm saying.
Here's the top destination list:
Bermuda
Dominican Republic
British Virgin Islands
Jamaica
Belize
Costa Rica
Honduras
Despite the wide acceptance of US dollars, I recommend exchanging some money for a local currency. It might be a lifesaver if you'd like to visit a less touristy attraction.
Final thoughts
Adventure knows no bounds! Passports-equipped or not, intrepid travelers can still embark on unforgettable journeys to incredible destinations worldwide. All you need is good research and a pinch of creativity.
Well, did I awaken your inner adventurer? Perfect. Now, let's chart your journey! Bon voyage!
—
Short bio: Karolina Turowska, a writer and travel enthusiast at PhotoAiD. When it comes to writing, she loves bringing dry facts to life. When it comes to traveling, she just loves bikes.
10 National Parks To Put On Your Summertime Travel Bucket List
Famed for its towering granite cliff, Yosemite holds other wonders that may sneak into your dreams long after you've left it. Prepare to see some of the most exotic and magnificent waterfalls there are. Yosemite National Park can be your paradise if you're a biker or climber hunting for new elevations.
10 National Parks To Put On Your Summertime Travel Bucket List
The 9 Best Travel Backpacks For Women in 2023
To assist you in making an informed purchasing decision, we've compiled all the necessary information and curated a list of the top nine travel backpacks for women. Rest assured, we've got you covered every step on your exciting journey.
The 9 Best Travel Backpacks For Women in 2023
10 Worst Tourist Traps in the World According to the Internet
Travel is undoubtedly one of my passions in life, and I've been fortunate to visit many places worldwide. However, there are some destinations that I would never visit again because they're just too crowded, overtly touristy, and ridiculously overpriced.
10 Worst Tourist Traps in the World According to the Internet
Discover the Hidden Gems: 33 Most Beautiful and Picture-Perfect Small Towns in America That Will Take Your Breath Away!
What makes a town so irresistibly enchanting? Well, that's a tough one, but whether you're captivated by jaw-dropping coastlines, spellbinding historic buildings, mind-boggling architectural feats, or simply the awe-inspiring wonders of Mother Nature, we have the perfect small towns. Brace yourself for this exquisite list of 33 charming American gems, all with a population under 20,000. Prepare to be charmed!
Discover the Hidden Gems: 33 Most Beautiful and Picture-Perfect Small Towns in America That Will Take Your Breath Away!
10 Travel Destinations That Made People Want To Pack Up and Move There
For the love of Ronaldo, make a trip to Portugal as soon as possible. Fair warning, though: If you have any attachments in your hometown, venture to Portugal at your peril. Travelers attest that the locals' pleasant demeanors, Ramsey-esque cuisine, idyllic weather, and postcard scenery make you want to stay in Portugal indefinitely.
10 Travel Destinations That Made People Want To Pack Up and Move There