The United States is home to magnificent lakes that attract tourists with their natural beauty. These ten lakes, each with its own distinct allure, are the aquatic royal jewels of the nation.
Crater Lake, Oregon
Crater Lake, the deepest lake in the United States, provides breathtaking views that captivate visitors. Because it solely receives water from rain and snow, it has the distinction of being the world's purest major body of water. Over 30 beautiful pullouts along the stunning Rim Drive reveal frozen volcanic ash and the historic place of this natural wonder.
Lake Tahoe, California and Nevada
Lake Tahoe, North America's largest alpine lake, straddles the boundary between California and Nevada, surrounded by gorgeous, snow-capped mountains. Lake Tahoe is the second deepest lake in the United States, with an average depth of 1,645 feet. During the balmy summer months, enthusiasts throng to its sun-kissed shores for sunbathing and aquatic activities. The shimmering expanse becomes a playground for explorers who enjoy parasailing and boating.
Lake George, New York
Because of its timeless beauty, this lake in the middle of New York is often called the "Queen of American Lakes." Stone mansions from the lake's early days still stand along a beautiful 10-mile stretch known as Millionaires' Row. They are a reminder of the lake's long and interesting history.
Lake Willoughby, Vermont
The lake is 300 feet deep, and the water is so clear that you can see all of it. This gives you a fascinating look into its clear depths. Adventurers and nature lovers can go boating, fishing, and swimming, but the water is cold because glaciers formed it and can drop to 32 degrees. Visitors looking for a peaceful break can rent kayaks, paddleboards, or canoes, and lakefront cabins invite those who want to stay the night.
Lake Superior, Minnesota, Wisconson, and Michigan
This lake boasts an incredible 10% of the world's surface freshwater, a testament to its grandeur. Its clear, inviting waters beckon swimmers year-round, as the shoreline beaches remain open for most of the year. With an astounding visibility of 100 feet, Lake Superior earns its reputation as one of the cleanest of the Great Lakes, luring water enthusiasts with its pristine beauty.
Lake Winnipesaukee, New Hampshire
Lake Winnipesaukee is New Hampshire's largest body of water. Both locals and visitors find the annual Lake Winnipesaukee Ice-Out Contest a big draw. It entails predicting the day and hour when Lake Winnipesaukee's ice will thaw sufficiently to let the cruise liner MS Mount Washington visit all of its ports without running into any ice. Lake Winnipesaukee is a fantastic vacation destination all year round. Water sports fans can take advantage of many starting points and boat trips to enjoy various aquatic pursuits.
Table Rock Lake, Missouri and Arkansas
The lake got its name from the thin, flat granite layers covering its shores. It is a great place to chill out and watch the pretty boats float by. Table Rock Lake is a beloved and popular destination for people all over the Midwest due to its abundance of annual fishing contests that bring in fishermen from all over the region.
Flathead Lake, Montana
This lake is the largest freshwater body located west of the Mississippi River. The Mission Mountains to the east and the Salish Mountains to the west serve as formidable barriers, safeguarding the pristine streams. This lake, located in the western United States, is the largest natural freshwater lake outside of Alaska in terms of surface area. Lake Tahoe has a greater water volume than Flathead due to its significantly greater depth, reaching nearly 1650 ft, in contrast to Flathead's depth of 380 ft.
Caddo Lake, Texas,
This 27,000-acre lake has an interesting atmosphere and is home to the world's largest cypress grove. Spanish moss hangs from tree branches like ethereal drapery. Caddo has a linked maze of bayous, marshy marshes, and backwaters, and formed entirely naturally. Lake levels dropped precipitously in 1912, prompting the construction of a dam, but the lake's natural beauty and wildlife richness were preserved.
Echo Lake, New Hampshire
On average, the lake is around 14 feet deep and spreads across 21.5 acres. Around 65 constructed acres in a watershed (the area of land draining into the lake) measure 184.2 acres. The neighboring 700-foot cliffs of Cathedral Ledge and Whitehorse attract rock climbers with their stunning views of Echo Lake and the surrounding mountains.
8 Top Dog-Friendly Beaches in the United States
With the arrival of summer comes the urge to hit the beach, bask in the sun, and listen to the soothing sound of waves crashing on the shore. But what about our four-legged friends? 
8 Top Dog-Friendly Beaches in the United States
The 12 Best Microwave Air Fryer Combo (2023)
Air fryers offer a healthier alternative to deep frying and can be used to cook various foods. But what if you could have the best of both worlds?
The 12 Best Microwave Air Fryer Combo (2023)
10 American States With The Worst Highways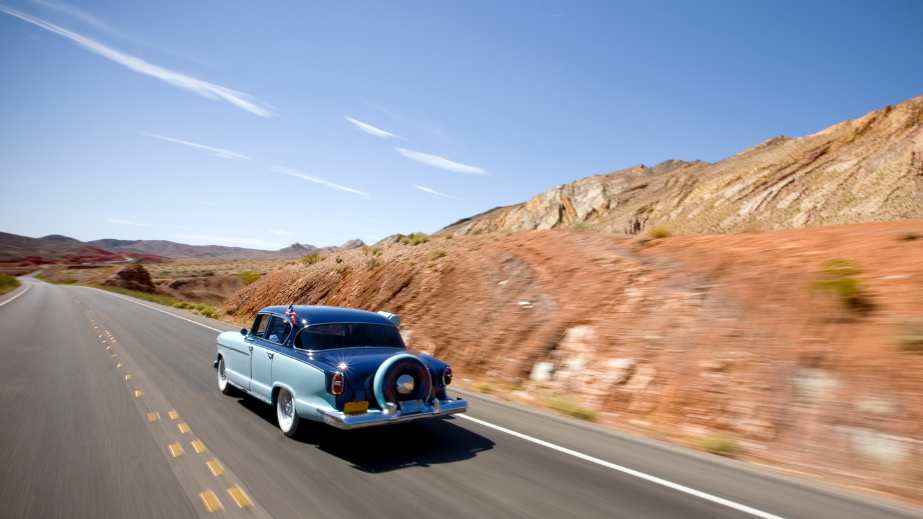 If there's one thing that truly binds America together, it's not hot dogs or baseball – it's our network of highways. A drive on these roads can lead to breathtaking scenic views, thrilling cityscapes, and, occasionally, a pothole the size of a compact car. Buckle up, and let's traverse the 10 states with the most challenging highways.
10 American States With The Worst Highways
13 Things That Creep Me Out About America as an African Immigrant
As an African immigrant, arriving in America has been an experience filled with fascination, discovery, and moments of culture shock. The United States, often called the land of opportunity, has a diverse cultural palette, progressive ideologies, and unique societal norms.
13 Things That Creep Me Out About America as an African Immigrant
10 Overrated Tourist Spots in America That Are Not Worth Your Time
Traveling to the United States has become increasingly popular in recent years, with millions of people flocking to iconic cities and attractions. But while there are some amazing places to visit in America, not all tourist spots live up to their hype.
10 Overrated Tourist Spots in America That Are Not Worth Your Time