In the vast melting pot of America, a rich and varied tapestry of dishes thrives, some of which may seem quite peculiar to the uninitiated. From breakfast classics to dinner delights, this intriguing mix of unique American foods teems with flavor and quirkiness, ranging from well-known nationwide staples to regional eccentricities.
Let's embark on a fascinating journey through these American gastronomic oddities, leaving no stone unturned.
Cornbread: The Grainy Goodness
Cornbread, a delightful dish made from a unique blend of corn and other ingredients, offers an interesting texture and flavor. It beautifully complements both sweet and savory dishes. The preparation methods may vary, affecting the bread's overall quality, which can range from dense and dry to fluffy and flavorful.
Corn Dogs: Fried Fun on a Stick
Corn dogs, hot dogs coated in a sweet cornmeal batter and deep-fried, serve as a handheld savory treat. The distinctive sweetness and the savory hot dog interior make it a popular choice among locals and foreigners alike.
Hush Puppies: Deep-fried Delight
Hush puppies, deep-fried balls of cornmeal, are a simple yet delectable treat. The flavor profile can be enhanced with the addition of spices or hot peppers, offering a flexible dish that can be customized to suit individual preferences.
Bloomin' Onion: The Floral Fritter
The Bloomin' Onion, a fried onion cut to resemble a blossoming flower and served with a special sauce, is a purely American creation, despite being popularized at Outback Steakhouse. Its unique shape and innovative cooking method have endeared it to many.
Circus Peanuts: A Sweet Surprise
Circus peanuts, strange yet popular candies, are unique for their distinctive orange-peanut shape and unexpected banana flavor. Despite being an entirely artificial treat, they continue to be a beloved snack among Americans.
Canned Cheese: Convenience in a Can
Products like Cheez Whiz and Kraft Easy Cheese, while controversial, represent an innovative approach to the consumption of cheese. These products may not emulate traditional cheese's taste and texture perfectly, but they provide a unique twist to the concept of convenient snacks.
American Cheese: An Everyday Essential
American cheese, a blend of multiple kinds of cheese and other ingredients like spices, emulsifying agents, and artificial flavors, may deviate from traditional cheese. Yet, its distinctive taste and convenience have made it a popular choice in the United States.
Peanut Butter and Jelly Sandwiches: The Classic Combo
Peanut butter and jelly sandwiches, a sweet and savory treat featuring distinct textures and flavors, are an integral part of American food culture. The balance struck between the two main ingredients, coupled with the typical sweetness of American peanut butter, makes it a beloved dish among locals.
Pork Rinds: Crunchy and Satisfying
Pork rinds and fried pig skin are common snacks in America. Their crunchy texture and high protein content make them a satisfying alternative to traditional snacks like potato chips.
Grits: The Southern Staple
Grits, made from ground corn kernels, often cooked with milk or butter, are a favorite in the Southern United States. The dish's mild flavor is typically enhanced with toppings such as cheese or shrimp, making it a versatile dish that can be adapted according to personal tastes.
Fried Chicken With Waffles: Sweet Meets Savory
The combination of fried chicken, waffles, and maple syrup might sound odd, but it's a revered dish in the Southern states. The dish offers a tantalizing contrast of sweet and salty flavors, perfectly balancing fat, carbs, and protein.
Biscuits And Gravy: Comfort on a Plate
Biscuits and gravy, a classic Southern meal, is the epitome of comfort food in the United States. The savory white gravy and fluffy biscuits create a culinary experience that stands out even among the diverse American food culture.
Chicken Fried Steak: A Misnomer Delight
Despite the name, chicken fried steak contains no chicken. Instead, it is a breaded and fried steak covered in a creamy white gravy, a dish that tastes as distinctive as its misleading name implies.
Sweet Potato Casserole: A Veggie Dessert
Sweet potato casserole, typically garnished with brown sugar, marshmallows, and pecans, is a dish that straddles the line between savory and sweet. It's an unusual yet delightful way to incorporate vegetables into a dessert-like dish.
Marshmallow Fluff and Peanut Butter
Fluffernutters, as they're known, combine marshmallow fluff and peanut butter in a delightful sandwich that might seem odd to non-Americans. The slightly salty, nutty taste of the peanut butter and the sweet, creamy fluff create a flavor combo that is tantalizingly delicious. This simple concoction is much loved by both kids and adults alike, often bringing about nostalgic memories of childhood.
Sloppy Joes
Sloppy Joes, a unique American sandwich, have been a favorite in family dinners across the country. It's a messy and delightful combination of ground beef, onions, peppers, and a tangy tomato sauce; all served on a soft hamburger bun. While the origins are murky, its unique name comes from the messiness of eating this delicious sandwich, which seems to be a part of its charm.
Ambrosia Fruit Salad
Ambrosia Fruit Salad, true to its name, is considered 'food of the gods' by many. A Southern classic, this creamy, sweet, and slightly tangy salad combines an array of colorful fruits, marshmallows, and coconut shavings, all suspended in a mix of whipped cream or sour cream. Some variations even include maraschino cherries or nuts for extra texture and flavor.
Miracle Whip
Miracle Whip, despite the name, is not your traditional mayonnaise. It was created by Kraft Foods as a sweeter, tangier alternative to the popular condiment. It's used in similar ways, such as on sandwiches, in salads, and as a base for other sauces and dressings. It even has a loyal fan base that swears by its unique flavor.
Gumbo
A Louisiana specialty, Gumbo is a hearty stew known for its thick, flavorful base and a variety of meats and seafood. Typically, it includes ingredients such as shrimp, chicken, and andouille sausage, combined with the "Holy Trinity" of celery, bell peppers, and onions. The key to its distinctive, robust flavor is the roux, a mix of fat and flour that's slowly cooked until it reaches a deep, rich color and flavor.
White Castle Burgers
White Castle burgers, or 'sliders' as they're more commonly known, have garnered a cult-like following due to their unique, small size and distinctive taste. They're served on a soft, steamed bun with a square-shaped beef patty that has holes in it to ensure it cooks evenly. Topped with onions, pickles, and a slice of cheese, these mini burgers are a favorite fast food option across the country.
S'mores
Few things evoke memories of American summer nights like s'mores. A traditional treat consisting of a gooey, toasted marshmallow and a piece of chocolate sandwiched between two graham crackers, s'mores are a sweet treat loved by all. They're often enjoyed around a campfire, and the name is a contraction of the phrase 'some more,' hinting at their irresistible nature.
Frito Pie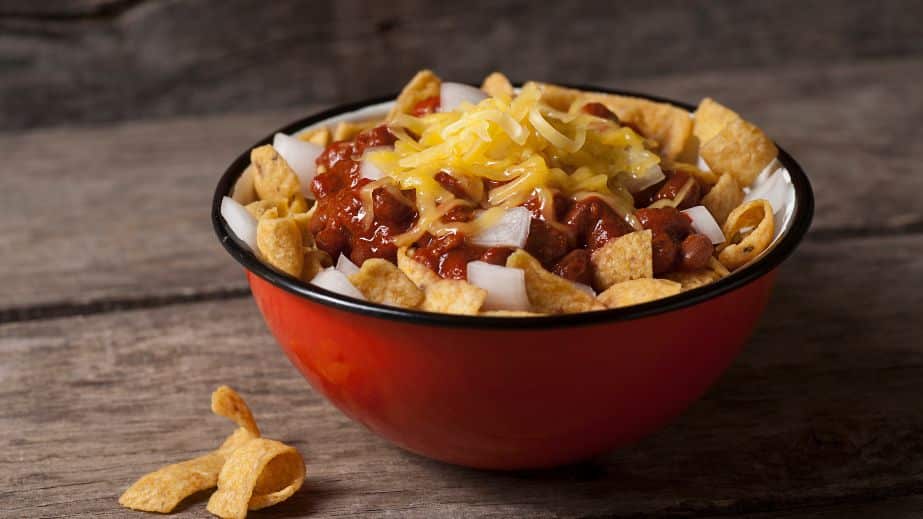 A Frito Pie isn't actually a pie in the traditional sense. It's a dish often served directly inside a bag of Fritos corn chips, topped with chili, cheese, and sometimes onions and jalapenos. This Texan specialty perfectly balances crunchy, salty Fritos and warm, spicy chili. It's an excellent choice for a quick, satisfying meal, especially during sporting events.
Deep Fried Butter
Deep Fried Butter might sound like an exaggeration, but it's a genuine (though controversial) American food. It involves butter that is frozen, coated in dough, and then deep-fried until golden. The result is a warm, buttery pastry that, while delicious, isn't for the faint-hearted.
Funnel Cake
Funnel Cake is a popular treat at fairs and carnivals across the country. Made by drizzling batter through a funnel into hot oil, it's fried until golden brown and typically served dusted with powdered sugar. The result is a crispy, sweet, golden-brown delicacy that's best enjoyed hot.
Rocky Mountain Oysters
Despite the name, Rocky Mountain Oysters have nothing to do with the sea. They are, in fact, bull testicles, which are often deep-fried and served as a delicacy in certain parts of the United States. The unique dish is particularly popular in the Western and Midwestern regions, where it is sometimes served as a novelty at events and festivals.
Olive Loaf
Olive Loaf is a type of lunch meat that combines chunks of green olives with pork, beef, or chicken. The olives give the loaf a distinctive appearance and a unique, slightly salty flavor. It can be sliced and used in sandwiches, or served as part of a charcuterie board.
Spam
Spam, a canned cooked meat product made from pork, is an American staple with a history dating back to World War II. Known for its versatility, Spam can be baked, fried, or even microwaved. It's popular across various cuisines and has even found its way into sushi in Hawaii, dubbed "Spam Musubi".
Pop-Tarts
Pop-Tarts are a beloved American breakfast pastry. These pre-baked, rectangular tarts come with a variety of fillings, such as strawberry, cherry, and cinnamon, encased in a thin pastry shell. They're typically toasted and often frosted, providing a quick, sweet start to the day.
Twinkies
Twinkies are an iconic American snack cake. These golden sponge cakes are cylindrical in shape and filled with a creamy, sweet vanilla filling. Their long shelf-life and distinctive taste have made them a classic in American convenience foods.
Chicken and Waffles
The combination of Chicken and Waffles might sound odd to the uninitiated, but this dish is a beloved staple in American Southern and soul food. The dish typically consists of a sweet waffle topped with fried chicken and often drizzled with syrup. The contrast between the sweet waffle and salty, savory chicken creates an irresistible blend of flavors.
Cincinnati Chili
Cincinnati Chili is a unique dish that's more of a Mediterranean-spiced meat sauce than a typical chili. It's most often served over spaghetti or hot dogs, with a heap of shredded cheese on top. Some variations include additions like onions and kidney beans. The unusual combination of flavors and ingredients makes this a uniquely Ohioan dish.
Buffalo Wings
Named after their place of origin, Buffalo, New York, Buffalo Wings are a popular American bar food. These chicken wings are typically deep-fried and then coated in a spicy, tangy sauce made from vinegar-based hot sauce and butter. They're often served with celery sticks and blue cheese dressing to cool the palate.
Philly Cheesesteak
A Philly Cheesesteak is a sandwich made from thinly sliced pieces of beefsteak and melted cheese on a long roll. Originating in Philadelphia, this sandwich is a favorite fast food across the country. Common additions include onions, peppers, and mushrooms, and the choice of cheese can vary, but the most traditional is Cheez Whiz.
Root Beer Float
A Root Beer Float is a classic American dessert drink that combines root beer with a scoop (or two) of vanilla ice cream. The ice cream floats to the top, creating a frothy, creamy top layer. This combination of the cold, creamy ice cream and the sweet, bubbly root beer is a delightful treat on a hot summer day.
Key Lime Pie
Hailing from the Florida Keys, Key Lime Pie is a tart, creamy dessert made from key lime juice, sweetened condensed milk, and egg yolks, all baked in a pie crust. It's usually served cold, often with a topping of whipped cream. Its unique lime flavor and creamy texture make it a favorite across the country.
Pumpkin Pie: The Holiday Staple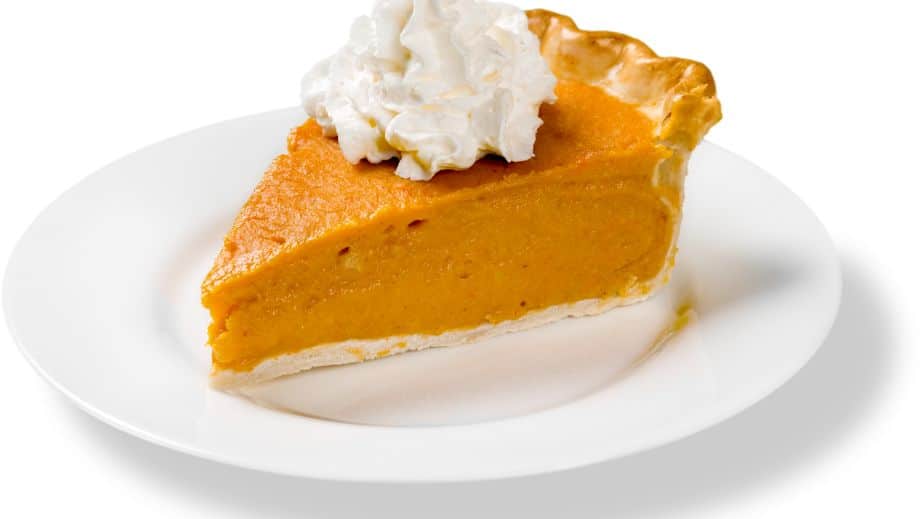 Pumpkin pie, a classic holiday favorite, is made with mashed pumpkin or pumpkin puree, sugar, eggs, and spices like ginger, nutmeg, cinnamon, and cloves. The mixture is placed in a pre-baked pie crust and baked until it's set. It's typically served cold with whipped cream or ice cream to balance the sweetness.
These are just a few examples of the diverse and unique foods that you can find across the United States. American cuisine has something for everyone, from savory to sweet, traditional to innovative.
Delicious French Food: 14 Local Delicacies To Try in France
If you're planning a trip to France, you're in for a treat because the country is home to some of the most delicious local delicacies in the world. From hearty stews and sumptuous desserts to cheese-laden dishes and mouth-watering pastries, french food will satisfy everyone's taste buds.
The 12 Best Microwave Air Fryer Combo (2023)
Air fryers offer a healthier alternative to deep frying and can be used to cook various foods. But what if you could have the best of both worlds? What if you could get an air fryer and a microwave in one appliance? That's where microwave air fryer combos come in. These nifty little devices combine an air fryer's cooking power with a microwave's speed and convenience, making them a popular choice and essential item for busy families & households.
The 12 Best Microwave Air Fryer Combo (2023)
15 Stupid and Unhealthy Foods Americans Should Stop Eating (and Why)
In today's fast-paced society, convenience often trumps health regarding food choices. However, many foods Americans regularly consume contribute to weight gain and pose serious health threats.
20 Quintessentially American Foods That Will Make Foreigners Gag and Cringe!
Food has the power to bring people together, but certain dishes can be unsettling for people from different cultures. American cuisine is distinct, often featuring dishes that may seem peculiar to those who are not accustomed to it.
20 Quintessentially American Foods That Will Make Foreigners Gag and Cringe!
15 Food Trends Nutritionists Wish You Would Forget About
Every day, there seems to be a new food trend that people are trying to get healthier. From veganism and keto diets to juicing and intermittent fasting, keeping up with the latest trends can be challenging. But just because something is trendy doesn't necessarily mean it's healthy or beneficial for you.